• by Jenn Farmer  •
Spring Restaurant Week on Nantucket starts Monday June 3, and it's a great opportunity to journey out and seek new foods, and new venues.  So plan a date night, get the dog a sitter, call some friends, take out the family, or just relax and sit at a bar and dine on your own, but do try to take advantage of this great event.  This year the list of participating restaurants includes many classic venues, as well as some newer eateries.  Participating restaurants are offering 3 course menus for between $25-$45, and range from casual dining to upscale and fine dining establishments.  There is something for everyone, and I for one am going to have a difficult time deciding which ones I will go to. I will be a very busy person this week, and probably a very active one, after all the food I intend to consume.
Here is a recipe I served at a restaurant years ago, and it is still a favorite with my friends.  Fondue is a classic go-to for parties and has made a comeback in recent years. It is really difficult to go wrong when we are talking about lobster.
Lobster Fondue
1 lb of American, or soft gouda cheese(any highly meltable cheese works—I like a combination.)
1/2 cup half and half
1/2 teaspoon cayenne
1/2 teaspoon smoked paprika
1/4 lb lobster, cooked & chopped (crab, shrimp, crayfish may be subbed)
1/4 cup sweet peppers, small diced
Chervil or chives, fresh chopped
Sherry (optional)
One boule (round loaf) of Sourdough French bread
Slice the lid off the bread boule, and hollow it out, cutting or tearing the center into bite sized pieces, for dipping in the fondue.  Brush with olive oil and toast the boule and bread pieces.  Meanwhile combine the cheese, half and half, cayenne, and paprika in a saucepan or double boiler, and melt the cheese completely.  Add the peppers, and lobster, and heat them through.  Taste the fondue, and add sherry and seasoning if necessary.  Fill the boule with the fondue, and serve with fondue forks, toasted bread, and garnish with fresh herbs. The boule can be cut and eaten with the remaining fondue. Serves about 8
I got the following recipe from a fisherman that I met many summers ago.  He would bring me seafood in exchange for a room to stay during bad storms.  He was Portuguese and a great cook.  He learned it all from his lovely mother. This was her favorite stew, and it has become one of my go-to recipes, since it is very good and quick to make.  I would frequently run it as a special at one of the places where I cooked a few years back.  I have always wanted to try it with bluefish, since I think it would be a great combination of flavors (maybe without the wine?)  The reason I haven't tried it, is that we end up cooking my blues topped with sliced onions, carrots, red and green peppers, shredded ginger, garlic, scallions, and homemade teriyaki sauce, wrapped in foil, and then grilled until the fish is tender.  If the blue is fresh, and cleaned properly, it is delicious, my family requests it every time.
Portuguese Mom's Favorite Stew
1 lb fresh eel or Spanish mackerel, cut into big pieces
Seasoned flour for dredging
2-4 Tablespoons lard
2-4 Tablespoons olive oil
1 1/2 cups onion, small diced
2 garlic cloves, minced
1/3 cup white or red wine
1 cup fresh diced tomato
1 sprig mint, chopped
1 sprig parsley, chopped
3 sprigs cilantro, chopped
Herbs for garnish
Hot sauce to taste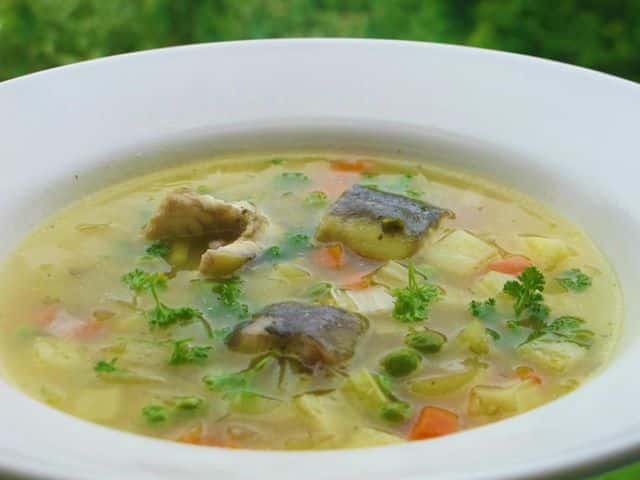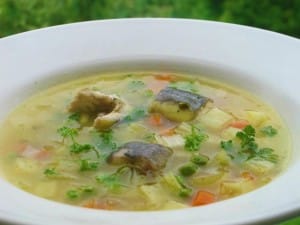 Heat the lard and olive oil in a large cast iron skillet, or Dutch oven.  When the oil is ready, add the onions and sauté for a couple of minutes then add the garlic, and let sauté until it begins to get brown around the edges.  Add the tomato paste and stir well, then deglaze the pan with the wine.  Let reduce for a moment, and remove the onion mixture from the pan.  Add a little more oil if necessary, and heat the pan back up.  Meanwhile dredge the eel in the flour.  When the pan is hot, add the eel pieces to the pan.  Cook the pieces for a few minutes on each side.  Then re-introduce the onion mixture, and add the fresh tomatoes.  Cover and reduce heat to medium low.  Cook for about 10 minutes, and check to see if the eel is done.  Add the fresh herbs, and then taste for seasoning, and add salt, pepper, and hot sauce as necessary.  Divide into four bowls.  Recipe serves up to 4 people.
The best way to enjoy the eel stew is with a crispy green salad, Portuguese bread, and a glass of wine or beer.
Greens are back in season and so are fresh herbs, so check out all the local markets, and buy a mélange of what looks good to build a salad. A nice chopped salad I love starts with crispy romaine or iceberg, with tender but flavorful baby greens. Then I add diced cucumber, cauliflower, broccoli, peas, beets, corn, carrots, peppers, spring onions, and tomatoes.  Then I chop some fresh herbs: dill, basil, chervil are all nice additions.  I add whatever leftover protein may be in the fridge to the salad.  I really like garbanzo or white beans when I make it. Then I add in anything else that would complement the salad, like black olives or cheese, then I toss it with some vinaigrette.  Great for a snack or as a side dish for the above fondue or stew.  Be creative and try anything that sounds good together, you may surprise yourself.
Nantucket Sound Adult Iced Tea
 1 ounce 888 vodka
1 ounce 888 hurricane rum
1 ounce 888 gin
1 ounce 888 orange vodka
5 ounces limeade
2 ounces cola
Lime wedges
So just like the namesake, Long Island Iced Tea, it does not contain any tea.  But it is potent, so beware!
Fill a shaker with ice and pour in all the ingredients except cola and lime.  Cover and shake until the outside of the shaker is frosty.  Pour over ice in a highball glass, float a little cola on top, and garnish with a lime wedge.
During Spring Restaurant Week, June 3 through June 7, be adventurous, try new restaurants, or at least try something different at one of your favorite Nantucket eateries.