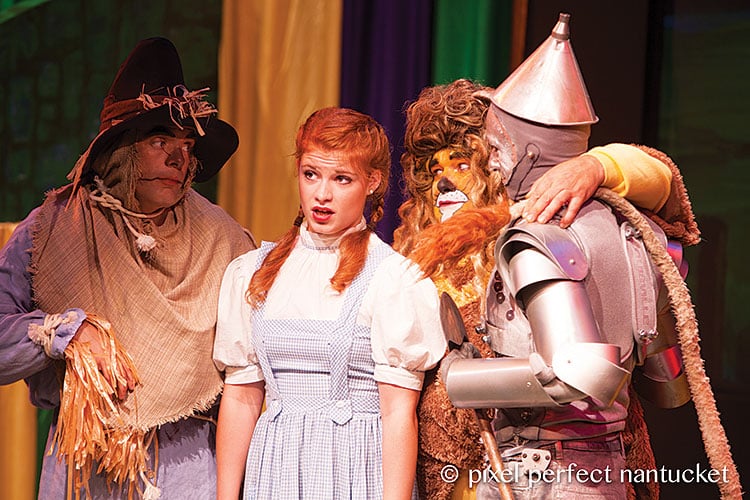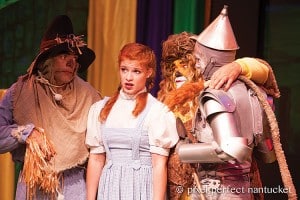 TWN is thrilled to be reprising their hit production, The Wizard of Oz, this summer. With sold-out houses last year, Oz grabbed hearts and imaginations, carrying audiences on a fantastical journey with music, dancing, and special effects. One of America's greatest and best-loved tales, The Wizard of Oz promises to take you and your family "Somewhere Over the Rainbow," as The Theatre Workshop of Nantucket brings this magical show back to thier stage.
Molly Martin directs The Wizard of Oz, with musical direction by Robert Behrman. Mary Hannah Dober plays Dorothy, Caleb Kardell is Uncle Henry, Michelle Birmingham plays Aunt Em, and the Cowardly Lion, Tin Woodsman, and Scarecrow are played by A.T. Wilce, Vince Veilleux, and Troy Davies.  The Wicket Witch is played by Susan Lucier, and Glenda the Good Witch by Michelle Birmingham.  Duncan Will plays the role of The Wizard.
On Wednesday, August 21 families with children on the Autism Spectrum or with needs that may make attending live theater difficult, will be admitted free as guests of TWN.  The Wizard of Oz continues through August 24.
Opening on Wednesday, August 14, with an opening night party before the show, is Edwin Gorey's Dracula.  Forty years ago, Gorey's play premiered on Nantucket—a production that was originally conceived and produced by American scenic designer, producer, director, and former Nantucket resident, John Wulp. Wulp's production moved to Broadway, earning him a Tony for Best Revival, and a nomination for Frank Langella in the title role. TWN's artistic director, John Shea, who was in the 1973 production and who will direct this revival, is excited to bring this thrilling classic back to the Nantucket stage.
To reserve seats and buy tickets, call the TWN Box Office at 508-228-4305 or visit www.theatreworkshop.com.