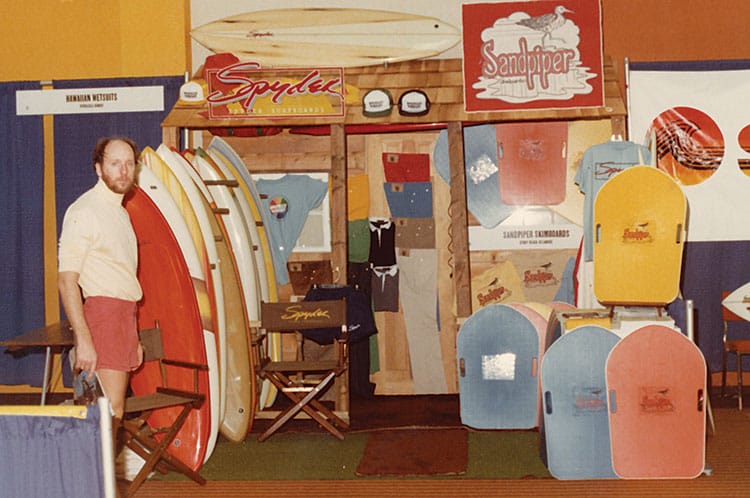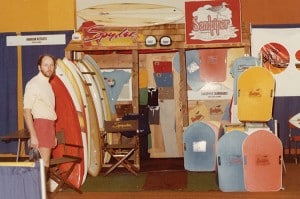 In 1963, Trinity Collection, the exclusive Main Street shop known for classic Rolex, rare antique watches, and sought-after Patek Philippe designs, started out as a small case in a surf shop in Maryland owned by E. Townsend Wright II, legendary in surfing circles as "Spyder" Wright.
Though the focus of this shop was surfing and surfing apparel and accessories, Wright also had a passion for fine watches.   "When I was 15 years old, my father gave me a project:  I was to take apart his WWII watch, inventory all the pieces, and put it back together so that it worked…after that I was fascinated…every time I got some money, I bought an antique watch.  Surfing and watches are at different ends of the spectrum, but there are engineering aspects to both."
He began making his own watches in the 1970s, starting with his DC3 watch, modeled after a pilot's watch.  The watch has a surgical steel case, platinum rotors, a waterproof screwdown back, and 25-jewel movement.  He's constantly sketching new design ideas to add to the ten watches he has in production.
It wasn't long before Spyder Inc. grew to include shops in Palm Beach, Florida, in Rehoboth, Annapolis, Georgetown, and here on Nantucket.  Now, half a century after it began, Spyder's son Edward Townsend Wright III, runs and has expanded the business.  He operates their shop Palm Beach, Florida shop as well as the Trinity Collection on Main Street.
Like his father and his grandfather, Wright loves the engineering aspect of watches, he explained, and he has great respect for the classics.  "I hand-select every watch that I sell based on the design, complexity, and intrinsic value."  Townsend has had many rare and collectible timepieces pass through his shop.  One of his more recent finds is a 1940's Patek Philippe Perpetual Calendar.
Wright and his father have collaborated on new models of Spyder's line of Swiss handmade watches developed in the 70s, including a Swiss sport watch called the Spyder Chrono Surf.  They also designed a watch with a triple date calendar, porcelain dial, and British officers case.
Wright loves being able to guide clients and help them decide what watch best suits them and their lifestyles.  "Watches have really become mens jewelry as well as ladies.  Everyone carries a cell phone and can easily access the time.  A fine timepiece tells you the time, of course, but complexity and intricacy required to create it is a statement of style."
Spyder Wright celebrated his 70th birthday this summer, as his business celebrated it's 50th, but he can sometimes still be found in The Trinity Collection at 50 Main Street with his son.  There he loves to chat about his watch collection and his stunning selection of watches by Patek Phillippe, Franck Muller, Vacheron, Cartier, Rolex, and more, as well as his case full of exquisite vintage watches.