• by Carri L. Wroblewski, BRIX Wine Shop •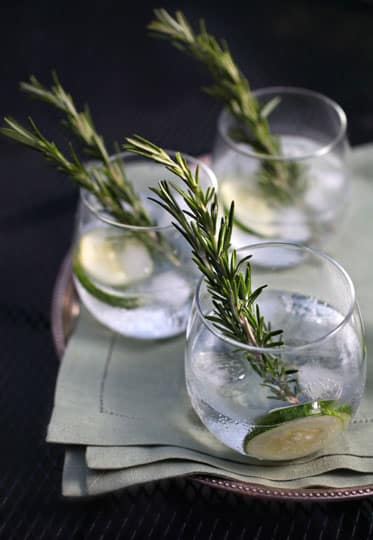 From beachfront bars to the toniest of country clubs the gin and tonic has long been a summer staple. Easy to make, straightforward ingredients, and lack of precise measurements, one can turn out a tasty tipple without much effort.
However, over time vodka's popularity has slowly tried to nudge gin out of the limelight. But not so fast! With the birth of new, small batch gins and craft tonic waters, this back in fashion cocktail will have you happily sipping this Fourth of July. Ease your way into the summer with a fresh take on an old classic.
A couple of years ago we had the opportunity to travel with one of our wine importers to seven different regions in Spain over ten days. And though wine was the reason we were there, gin was the reason we had so much fun.
After a day of touring three vineyard sites and two cellars, the winemakers took us up the hillside to their house for an al fresco dinner. As the first few bottles of wine emptied and the first round of tapas disappeared, platters of Pan Con Tomate (Spanish-style bread with tomato) and chickpea fritters emerged from the kitchen.
As we overlooked the vineyards anticipating old vintages of Rioja to be poured, out the winemakers came with something else. Cradled in their arms were not precious pours of wine, but rather multiple bottles of gin and various types of tonic water.
That night we learned very quickly how passionate the Spanish are about their G & T's. Not served as a highball, the Spanish prefer you sip from a ballooned wine glass to more easily appreciate the botanical aromas. And yes, a lime is nice with a gin and tonic, but how about juniper berries, fresh rosemary, lemon verbena, or a stick of cinnamon? They came out with handfuls of fresh herbs and spices to add to our drinks that evening—some of which we had never heard of.
And the tonic water does matter.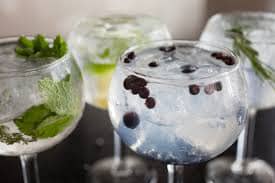 My business partner, Klaudia, is also my best friend. For the past 17 years we've had the good fortune to travel the world together, whether it be for business or pleasure. On a recent trip to China (a bucket list trip), we found ourselves in the amazing city of Shanghai. Because of our passion for food, wine, and cocktails we always come armed to any new city with a list of "must eat and drink" places. After a delicious dinner of dumplings we headed to one of the city's top craft cocktail bars.
A couple of drinks later and our long conversation with the bartender must have stirred up curiosity from the bar manager. "Another drink?" he asked? We hesitated—it was getting late. "Let me make you one more." You guessed it. Out came an elaborate collection of gins. Then there was a parade of special spoons, strange herbs, and most importantly he told us, his array of tonic waters. Who knew there were so many? We closed the bar with him that night in Shanghai and left with an education.
So, where did this cocktail come from? Winston Churchill once declared, "The gin and tonic has saved more Englishmen's lives, and minds, than all the doctors in the Empire." The gin and tonic was first introduced in India by the British East India Company. In tropical regions like India, where malaria was prevalent, it was discovered that quinine could be used to treat the disease. But quinine offered up an unpleasant and very bitter taste, so the British officers started to add a mix of water, sugar, lime, and gin to their ration of quinine to make it more drinkable, and thus, protect them from disease.
Today, our gin and tonics are usually sipped at the ninth hole, on a blanket at the beach, or at 5 o'clock when cocktail hour "officially" begins. One of my favorite craft gins for a gin and tonic is a hometown hero. GrandTen Distilling (GTD) Wireworks American Gin is made in Boston on Dorchester Avenue, not too far from my house. Produced in small batches and distilled in copper, this American style gin is soft, with loads of citrusy flavors that make the juniper notes take a supporting role.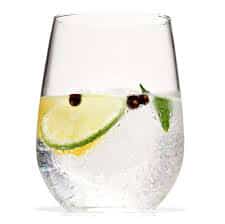 But truth be told, my all-time favorite G & T gin is an oldie but goodie. Plymouth Gin. Produced by the Black Friars Distillery, the oldest working distillery in England, it has been in operation since 1793 and remains the only gin distillery left in Plymouth. Made from seven different botanicals and soft Dartmoor water, its unique style highlights a slightly earthy flavor and a hint of sweetness—all due to a higher percentage of root ingredients.
And about that tonic water, I favor Fever-Tree. Coincidentally started by Charles Rolls (who made a name for himself running Plymouth Gin) and Tim Warrillow, their tonics are top notch. The name, Fever-Tree, is slang for the cinchona tree where quinine (the key ingredient in tonic) is found. Made from the highest quality natural ingredients, the fresh citrus flavors and natural sweeteners bring life to the gin.
I like a twist on an old classic. It keeps things interesting. So for your Fourth festivities, go ahead, make a G and T this weekend—and do it the way the Spanish do.