It's been said that September is the finest month on Nantucket. As summer turns to autumn, the weather is warm enough to enjoy the beach, downtown shops are hosting sales, evenings are cool and clear, and Black-Eyed Susan's is still open for us all to enjoy their unique cuisine of international flavor.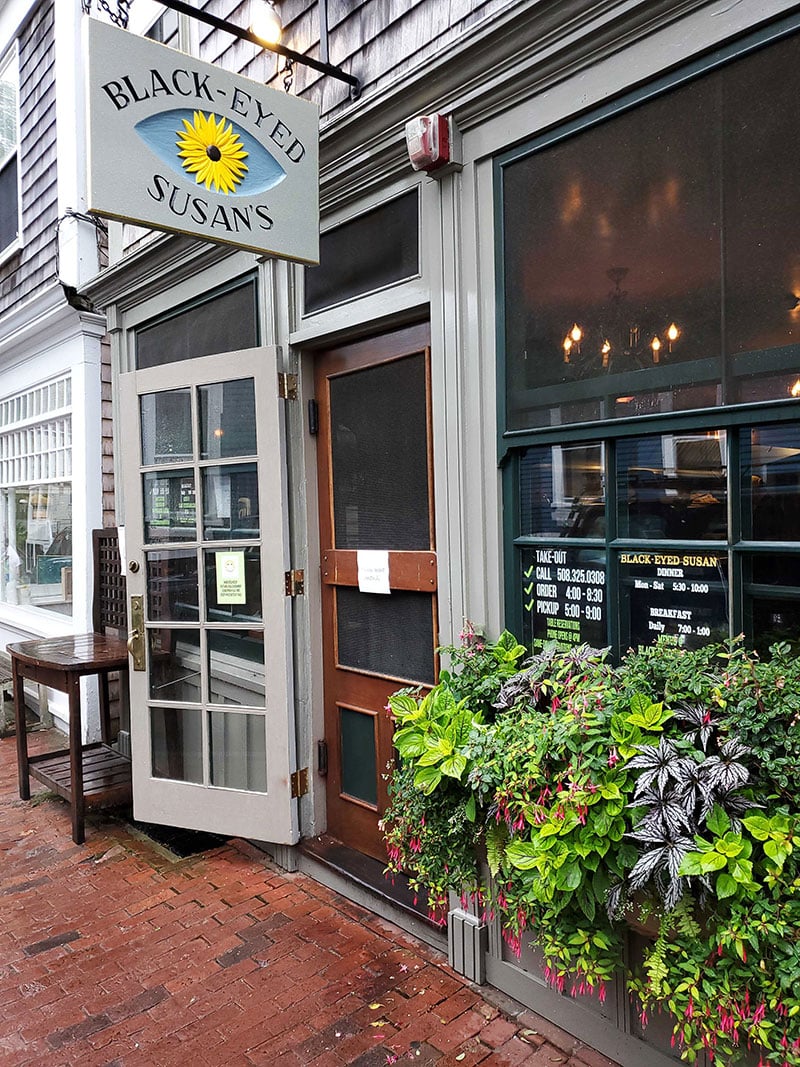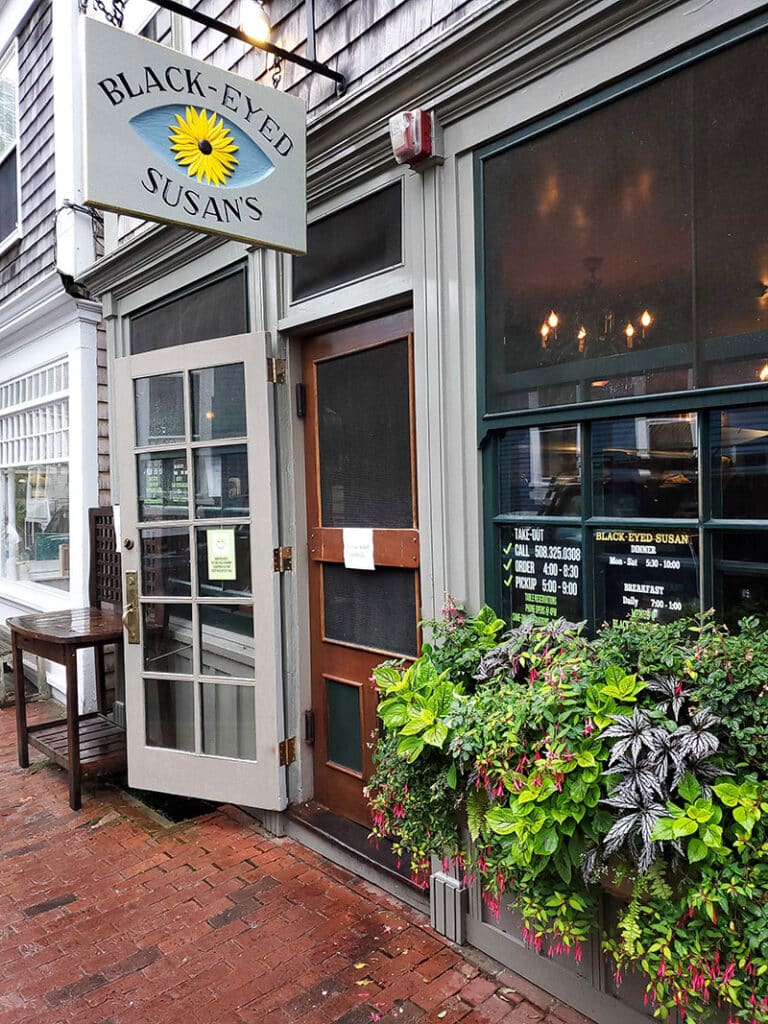 Still at the top of their game after more than 25 years, co-owners Susan Handy and Executive Chef Jeff Worster have, with Chef de Cuisine Todd Edwards, been serving their patrons bountiful breakfasts and delicious dinners in their cozy eatery in the heart of town at 10 India Street with a few changes this year. To follow current state and local guidelines, their indoor tables are spaced farther apart and they are unable to allow guests to fill the prized seats at the granite counter along their open kitchen. Patrons are also able to dine on the private patio alongside Black-eyed Susan's, and new for 2020, the restaurant is offering their entire dinner menu for takeout and curbside pickup. Takeout orders that are called in to 508-325-0308 between 4 pm and 8:30 pm are ready for pickup between 5:20 pm and 9 pm.
At Black-eyed Susan's you could close your eyes and pick any dish: whatever it is, it will be delicious. We started our recent meal with a Tuna Tartar that was delicate, firm, and sparkling fresh. The finely diced tuna was shaped with briney capers, topped with tiny cubes of pickled cucumber, and edged with a spicy-sweet gochujang aoili. It all combined for a delectable bite that is even better on the triangles of warm scallion pancake served alongside.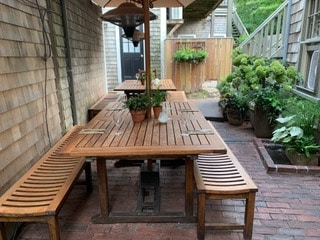 Part of the allure of Black-Eyed Susan's is knowing that you will be treated to surprising flavor combinations as well as seasonings and preparations you've never before tasted. Unusual and exciting, the Piri Piri Cauliflower appetizer is a great example and a real treat for vegetarians and vegans. The sautéed cauliflower florets are lightly browned and tossed in fiery chili sauce (the chef's description, not ours, but we agree), and served over cooling coconut yogurt. Cilantro and crunchy salt+vinegar potato crisps are sprinkled overtop. The heat doesn't destroy the flavor, but it does echo through your mouth and linger a bit until settling into a pleasant tingle.
Baba Ganoush is also served in a new presentation at Black-Eyed Susan's. The smooth house-made eggplant spread has just enough smoke and is superb with the fruity flavored cherry-sumac honey poured over it. Grilled flatbread perfect for dipping accompanies.
Our table favorite among the autumn appetizers is Esquites, an off-the-cob version of Mexican Street Corn. Spicy and sweet, tangy and smoky, this dish is full of flavor and served in generous portion. A light and zingy citrusy mayonesa coats the crisp kernels of grilled corn. Crumbles of queso are stirred in, and cilantro and a Mexican chili-lime-salt blend is sprinkled overtop.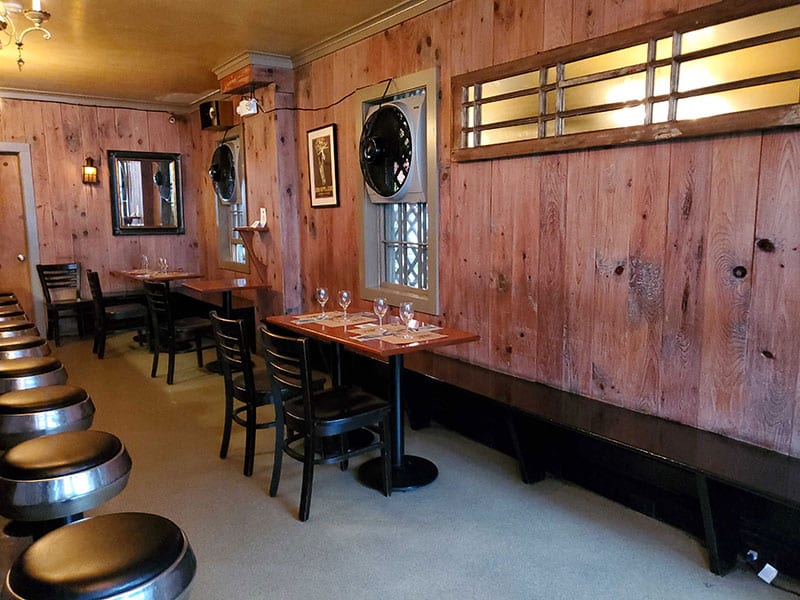 If you can't decide which appetizer is calling your name, order two and for your entree order the Whole Leaf Caesar Salad or the Black-Eyed Susan's Half Portion staples: Capellini with Tomatoes, Basil, & Garlic or the luscious Linguini con le Vongole.
If what you desire is a casual style entree, then the Pork'strami Taco Platter is the dish for you. Slices of pastrami-spiced smoked pork are fanned across the platter with wide tracings of a smooth and tangy pimento cheese crema. Slices of pickled cucumber and a pile of spicy red cabbage slaw are provided along with housemade pretzel tortillas so that you can make your own tacos.
Fried chicken is usually finger-food—the Tokyo Fried Chicken served at Black-Eyed Susan's is finger-licking good, but it's not a version you'll want to eat with your hands. The succulent boneless chicken thighs are moist and meaty with a delightfully crunchy panko coating. The chicken is served on a bed of fried rice with shredded sweet potato, ham, egg, and green onion. Crispy shallots and a smoky mayo finishes the dish.
We love the way Chef Worster designs seafood dishes that harvests from the sea with ingredients from the garden; and we love how well Chef Edwards cooks them. The Seared Wester Ross Salmon was sheer perfection! The fish is cooked through but rare in the center, seared golden top and bottom, and wonderfully crisped on the edges. Underneath is a ragout of summer: roasted radishes, king trumpet mushrooms, thyme, Tuscan kale, and parsley.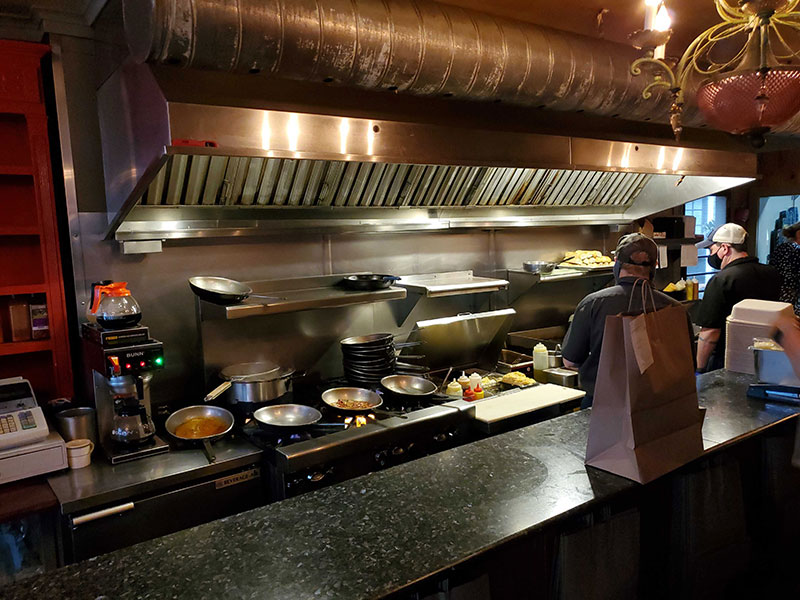 We could smell the enticing aroma of the Wild Gulf Shrimp Florentine as Roz brought it to our table. Bridging summer and fall, the chefs have combined plump, tender shrimp and pillowy parmesan gnocchi in a creamy mix of fresh tomato and spinach with spicy strips of cherry pepper. Toasty crumbs mixed with lemon zest and pecorino cheese add a final tasty crunch.
Chocolate lovers will be delighted that they can still enjoy the legendary Chocolate Pot de Creme that has been a favorite dessert at Black-Eyed Susan's for years. Dense but still creamy, this cup of deep, dark chocolate is served with a pair of freshly baked cookies: a coconut macaroon and macadamia nut cookie. This season Black-Eyed Susan's has replaced their Gelato with Cinnamon Tortillas with a light, moist Tres Leche Cake filled with flavor and topped with fresh strawberries and served in a pool of Mexican vanilla creme anglaise.
We're all looking for something to celebrate during 2020—celebrate September with a delicious dinner from the creative chefs at Black-Eyed Susan's!
Black-Eyed Susan's
black-eyedsusans.com
open through late-October at 10 India Street
Call 508-325-0308 for reservations • Menus online
Breakfast served daily from 7 am to 1 p.m.
Breakfast prices range from $8.50 to $15
Dinner served Mon.-Sat. from 6 to 10 pm
Entree prices range from $25 to $29
Indoor & Outdoor Dining • Takeout for Dinner
BYOB, corkage fee