~ by Rebecca Nimerfroh ~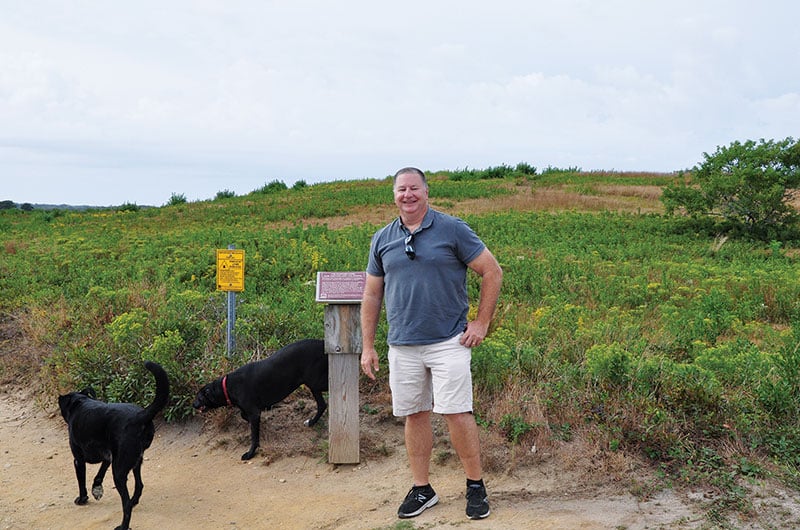 "Stop," Steve "Tuna" Tornovish says, looking at me with frustration. The silence weighs on us until he speaks again. "Look, we're passed that. I'm not asking you if you broke into the cars. I know you broke into the cars. What I wanna know is why." His face gets sensitive then. "Why did you do this? You were doing so well. You were making progress. You had a job. Did you need the money? Were you back on drugs? Just help me understand so we can work with this." Luckily, this is all a game, and Steve Tornovish has just let me in on a glimpse of the very exciting life he once led as a Nantucket Police Detective. But as it turns out, this was just one of the many lives that this island legend has lived to see and tell about, and over coffee at the Handlebar Café, I'm lucky to hear about them all.
"That was something that I put a lot of effort into," Steve says with a smile, discussing his interviewing skills. "I went to a lot of classes on that. I wanted to be the best. Because I knew there were some things I would never be the best at." Steve says this because, at almost 40 years old, he joined the Nantucket Police Department as a "summer special," a brand-new cop hired to patrol the "strip," the block from the Juice Bar to Easy Street. With comrades half his age and "smarter, faster and better looking," Steve jokes, something about the job just clicked. "I loved it," Steve says. "It just seemed like stupid things happened in front of me, and I just did a really good job."
So Steve went to Police Academy for six months, then returned to the island and worked as a police officer for 18 months until the detective job became available. "There was no change in pay, but it was daytime hours," Steve says. "I was very fortunate to be selected for that. I'm very victim driven." And it is clear that this statement continues to rings true, as thoughts of the people he's helped along the years still have the power to bring him to tears. Told by a police academy instructor, 'You are the best chance that victim has for justice,' Steve says, "I never forgot that. Another instructor said, 'You're going to spend the worst 15 minutes of a person's life with them.' I didn't get it at the time but I sure found out how sad and true that was."
Over the years, Steve's seen it all, from bank robberies to murders (yes, even here on Nantucket). But after a recent health scare, Steve was unable to continue his position with the force. Newly retired, this aspiring songwriter is focusing on music, both solo and with The Offshore Blues Band, playing as often for charity as they are for themselves. "My philosophy is we do one night for ourselves, and one night for someone else," Steve smiles.
Having grown up on Hooper Farm Road, Steve says of Nantucket, "it was a fun place to be as a kid. We worked a lot. As soon as you could possibly work, you wanted to have a job. I worked delivering prescriptions from Nantucket Pharmacy for Walter Knott, one of the coolest guys ever, an old-time Nantucket Pharmacist." As the son of Bill Tornovish Sr., and wife Sally, owners of Don Allen Ford, you would think Steve would have worked on cars. "I worked there when I was a kid but I was always a wise guy, so it was never easy for me to be around family," he laughs. "I love being around people. I was always a people person and my jobs reflected it." Another position included working at The Finast (the island's grocery store before it became Stop & Shop) when the produce section was kept outside in the summer months. Living next door to his aunt and uncle meant plenty of cousins to play with, and Saturday mornings were often spent playing baseball or fishing on the shore of Miacomet pond. But perhaps the biggest impact of all on Steve's childhood was belonging to The Nantucket Boys and Girls Club, run by a man at the time named Earl Girrior. He and his wife Ellie "raised most of the people you know on the island," Steve says. "They cared about you. You had to stop and shake Earl's hand. He taught you the value of everybody, and I don't know if there's a better lesson a kid can learn. I was very fortunate and had a good family, but some of the kids that didn't have as much going on at home had a home at The Boys and Girls Club and had someone that would help them learn right from wrong. Earl made a difference in so many lives." Sadly, Earl passed away in 2009, but throughout the years, and even after Earl and his wife moved off island to Cape Cod, Steve continued to visit them and stay in close contact.
After attending Bentley College and working in Boston, Steve returned to the island and became a CPA. "I did that for a while, but my heart was not in it. I knew it was not where I was supposed to be so I was always looking for the next fun thing." At the time, Steve was also getting a divorce. "We just became two different people," Steve says of his first wife. "I'm happy to say that she is off and married and has a lovely daughter, and that's cool because she's not a bad lady."
But this is not to say that the split was not hard on him. Friend Kathy Lepore said to him, "You've been sitting at home, feeling sorry for yourself long enough. We're going out tonight and you're coming with us." At dinner that night was Kathy's sister Beth, in town for a half marathon. "She made me literally run after her," Steve jokes. "While dating her I ran three marathons. After we got married? Zero!"
Having been married for twenty years now, and the proud parents of two daughters, Steve has a lot to be grateful for, not the least of which being able to call this beautiful island he loves home. Steve says, "If I had 24 hours left, I think I'd grab my two dogs and go to Sanford Farm and do the long walk out there and back. There's no place that's more serene to me. A lot of times I'm playing my harmonica and working on a song." Future plans for this selfdescribed "aspiring blues master" include learning how to play the guitar, and a visit to Nashville in the fall with his daughter. "I want to have some adventures still," Steve says with a smile. "I think I have plenty of miles left." And one can only wonder how colorful those miles will be.