On Saturday, October 1, Egan Maritime Institute will host their annual Maritime Festival. All sorts of maritime-related activities will take place from 10 am to 4 pm at Children's Beach and nearby Brant Point.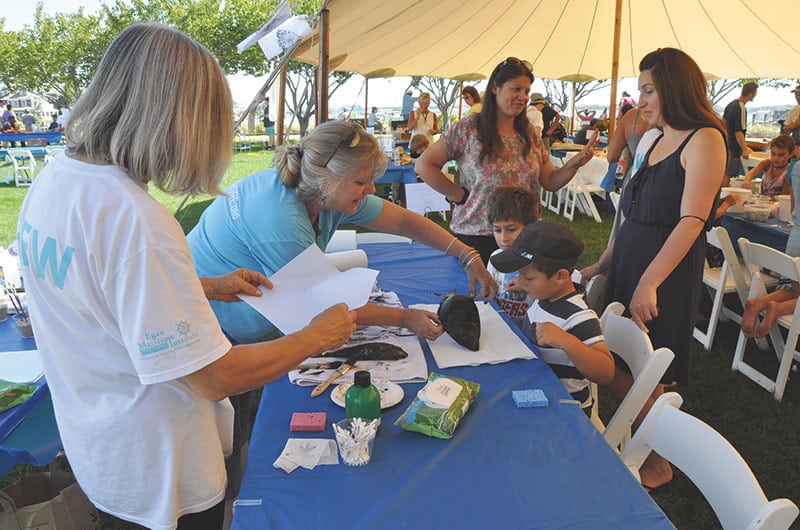 Watch quarterboards being carved, scrimshanders demonstrating their art, get your face painted, enjoy local music, and more, all for free at this seventh annual celebration of island-life and activities on and by the sea. The only time you may open your wallet all day is if you get hungry and visit the festival's food tent.
Cyrus Pierce Middle School 8th graders will again race the boats they have made from cardboard, wood glue, and duct tape. Here you can see the chaotic fun from last year's race:

Young festivalgoers can make sand art with Nantucket Community School/Early Children Education and crafts with the Nantucket Life-Saving & Shipwreck Museum. Artists from the Nantucket Artists Association will offer face-painting for the little ones.
The Maria Mitchell Association will fill a touch tank with salt water and small marine friends like flat-clawed and long-clawed hermit crabs, whelks, soft and hard shell clams, green crabs, shrimp, periwinkles (snails), pipefish, killifish, and a few more that perhaps you've never seen before. (Don't worry; after you meet them, Maria Mitchell's aquarium staff will release them right back into the harbor where they belong!)
Throughout the day, the Nantucket Lightship Basket Museum will demonstrate how to weave a lightship basket.
Shearwater Excursions will offer three brief tours of the harbor aboard Shearwater. Tours are available to the first 23 people who sign up, so arrive at the festival as early as you can.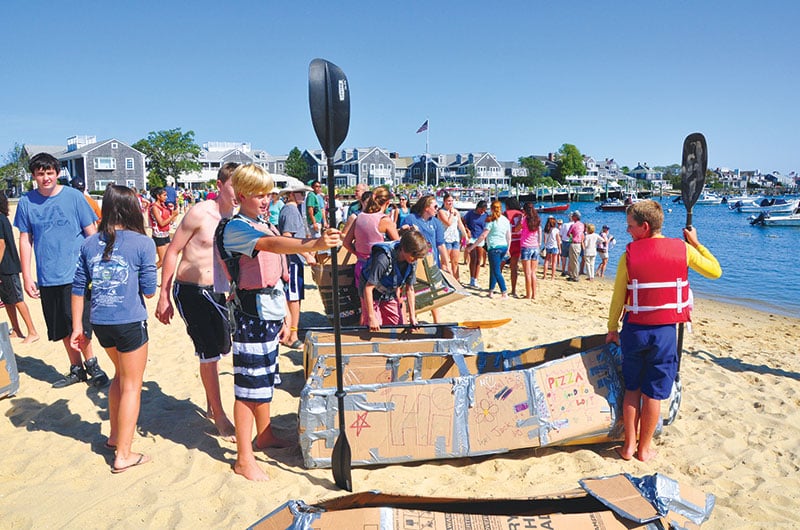 Town of Nantucket Shellfish Propagation Lab at Brant Point will be open for tours at 10:30 am, 12:30 pm, and 2:30 pm. Free transportation will be available from Children's Beach to Brant Point and back. At noon at the Children's Beach bandstand, NHA Senior Interpreter Susan Berman will perform sea chanteys that have been passed down through generations of maritime families. Following Berman's hour-long performance, NCMC's Women's Chorus will perform, and at 2 pm the NCMC Jazz Band will give a concert.
Maritime Festival contests for adults include a four-way tug of war contest, harpoon throwing contest, and, at the end of the day (around 3pm), the favorite: an oyster shucking contest. Rick "Rocco" Sorocco is the one to beat again this year: he's won the shucking contest for the past three years. Festivalgoers who stay for this contest get a special treat: they can help themselves to the freshly opened oysters.
The Maritime Festival is weather sensitive; in case of inclement weather, the rain date is Sunday, October 2.