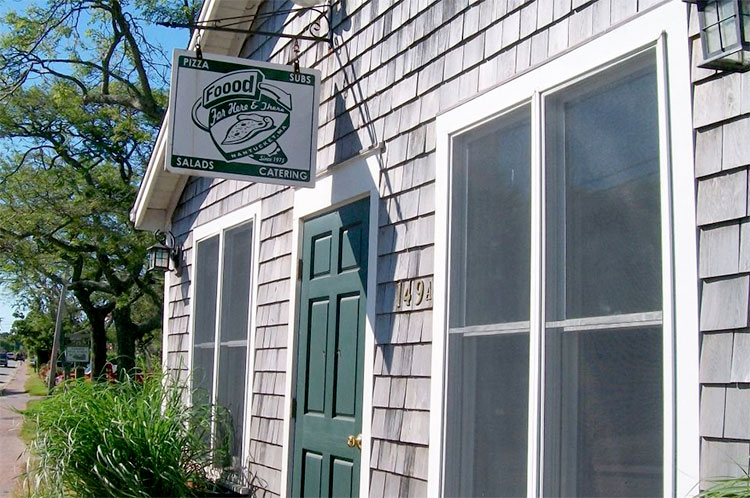 For nearly 40 years, fooods for here & there has been a fixture at 149 Orange Street—it's been the place where several generations of locals have been going for subs, pizza, calzones. Their great prices, friendly island vibe, and fast service has kept it a favorite. Whether you are seeking a place to bring the family for lunch or dinner, want to order pizza and sandwiches to go, or if you want food delivered to your home or boat, fooods can accommodate you.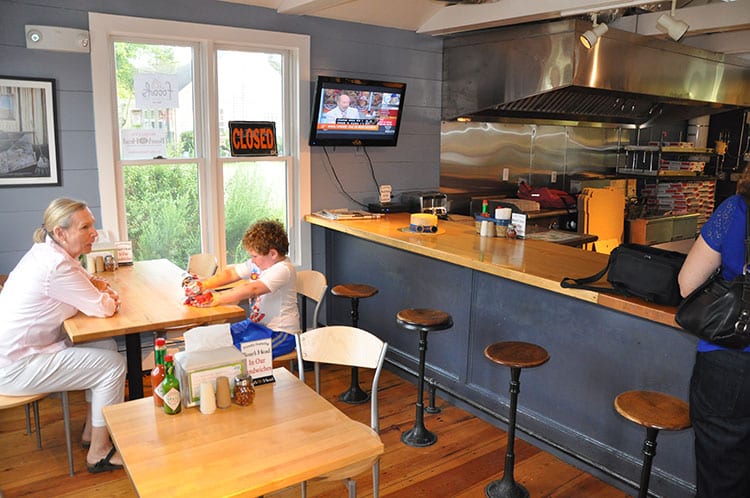 The folks at fooods have been doing some renovations this season to their dining room and to their kitchen. The new interior is clean and bright and more open. New tables, new chairs, and air-conditioning has made the indoor dining room cool and comfortable. A new Grab-n-Go counter has been added to serve customers who can't afford even a short wait with sandwiches made that day, salads, desserts, and big, juicy deli pickles. We sampled two of these salads—the chilled Rice Noodles & Veggies and the creamy Canadian Bacon & Veggies—both make great fast lunches. You can pick up potato salad, or a pesto & veggie salad to enjoy with your sandwich. A new grill is giving staff at fooods the ability to add even more great choices to their sandwich selection: look for a Monte Cristo and a California Reuben to be offered soon. Some time this September, fooods will start opening early for breakfast!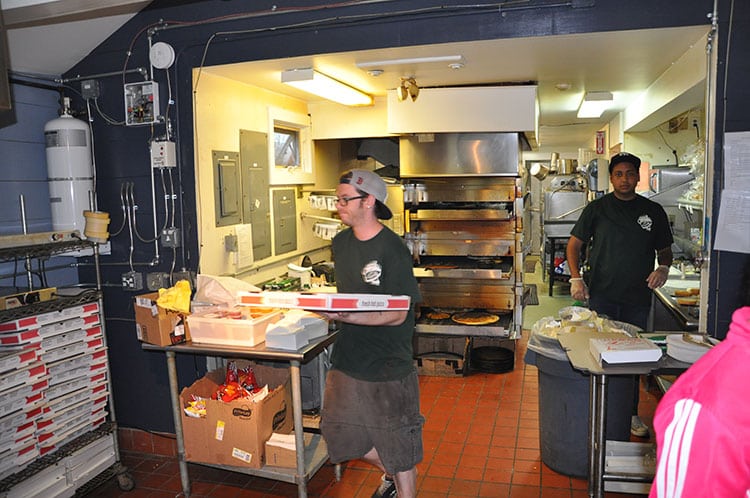 This local joint has a well-deserved reputation for really good pizza. They make their own dough in-house, and it cooks up with great texture and flavor— crispy with just the right amount of chew. You can choose between Sicilian and NY style crust—thick and thin—either way, the crust has a crisp edge and is flexible enough to fold, but can support several toppings. The kitchen at fooods makes their own red pizza sauce, with a nice balance between sweet and tangy, and they use a blend of fresh mozzarella and other cheeses.
After you choose crust style and size, then you get to select from 22 different toppings, including Canadian bacon, which is not offered at all island pizzerias. In addition to the custom pizzas, fooods also makes 9 specialty pizzas. Their Buffalo Chicken Pizza, with a blue cheese sauce and mozzarella topped with spicy strips of buffalo chicken breast has long been a favorite of our team.
Click on images to view enlargements.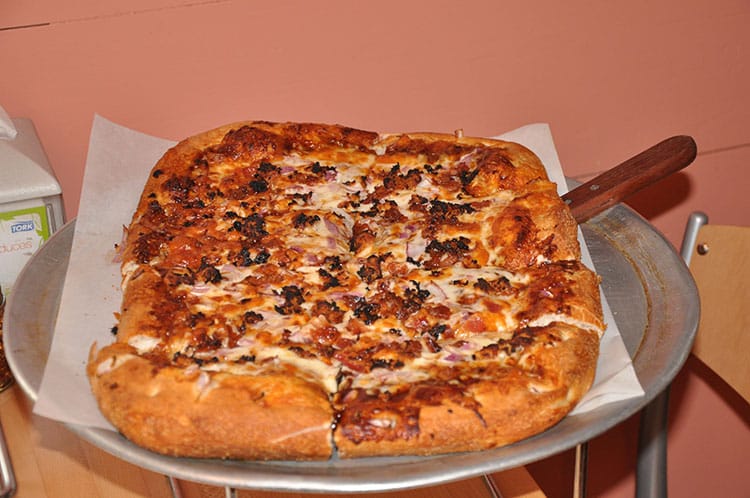 This week we sampled the new Texas Barbecue Pizza, which has taken over as top of our list. Sweet and salty with a lick of heat, the topping on this pie is shredded chicken, bacon, and red onion, drenched in Bulls Eye barbecue sauce.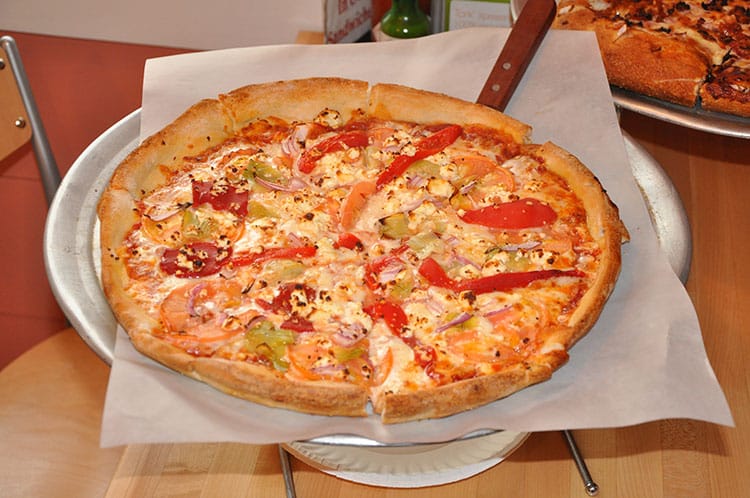 For a healthier choice, try a thin crust version of the Mediterranean Pizza at fooods. For this, a thin layer of housemade red sauce is topped with goat cheese and mozzarella, thick slices of fire roasted red pepper, red onion, artichoke hearts, and slices of fresh tomato.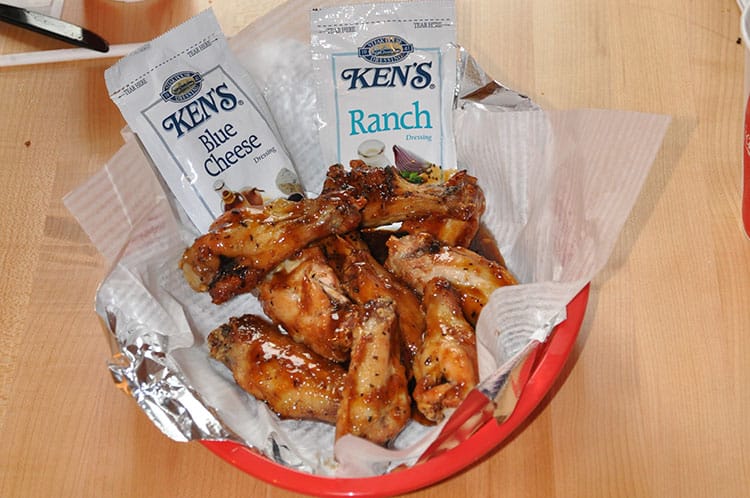 Finger food here can take the form of breaded onion rings, mozarella sticks, garlic bread. And, like any good pizza joint, they also have a selection of chicken wings—theirs are big and meaty, with a choice of three sauces: buffalo, bbq, and teriyaki. Nothing at fooods for here & there is deep fried, and that includes the wings. All are three are good, but we like the Teriyaki Wings best of all.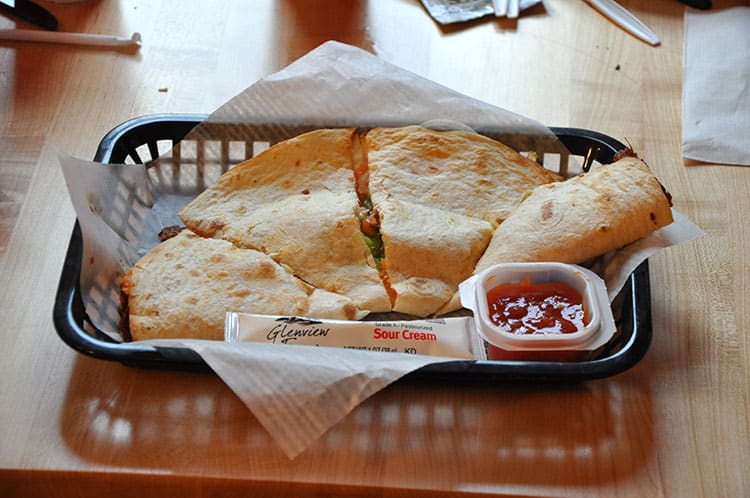 Also good for sharing are the Quesadillas at fooods. You can choose from steak, chicken, bbq chicken, and buffalo chicken to add to the tomato, garlic, green pepper, onions, and cheddar cheese that stuffs the flour tortillas for these hefty treats.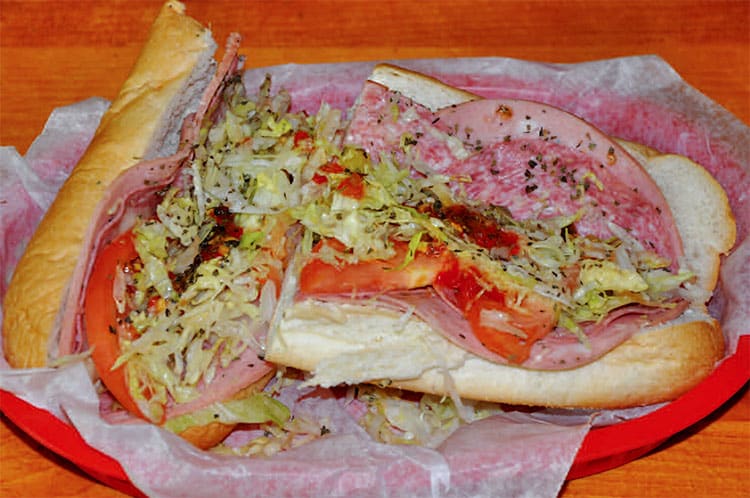 Another upgrade fooods has made this year is to switch to all Boars Head meats for their sandwiches and wraps. You can have your sandwich made on a sub roll or on Portugues, multi-grain, or rye bread, and each one comes with a juicy wedge of dill pickle. There are more than a dozen different hot and cold sandwiches. Specialty wraps include Chicken Caesar, Veggie Plus, and Greek Chicken.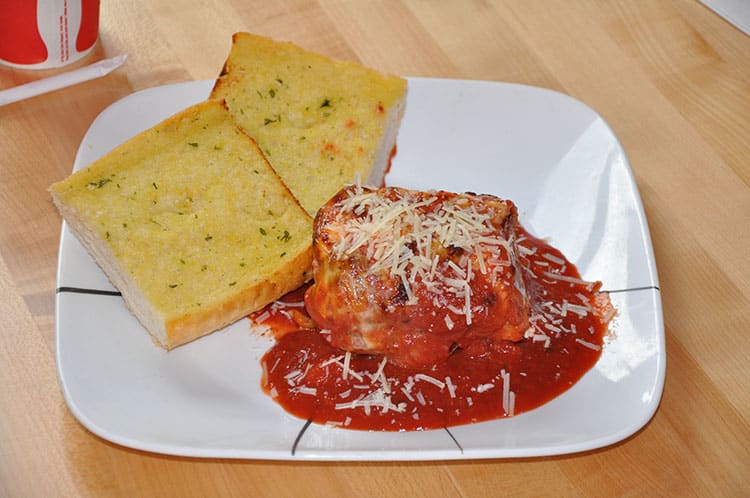 If you're not in the mood for pizza or a sandwich, foood for here & there makes a very tasty Lasagna. Prepared in-house with layers of ground beef, sausage, ricotta, mozzarella, and parmesan between noodles, this will satisfy the heartiest appetite. The Lasagna dinner comes with a generous portion of lasagna liberally dusted with freshly grated parmesan, a side salad with your choice of dressing, and a couple of thick slices of very good housemade garlic bread.
The food is good, the prices are great, and just like the name promises, this is the place for foood for here & there.
foood for here & there
149 Orange Street • 508-228-4291
www.fooods.com
Open daily from 11:30 am to 10 pm
Breakfast starting later in September
Eat In or Take Out • Indoor and Outdoor Dining
Visa and MasterCard accepted
delivery available for $3+up, depending on location
Plenty of parking, bike racks, near NRTA stop