August is coming to a close, but live theatre on Nantucket is still going strong through this month the rest of the year!
This Friday, August 23 at 7:30 pm, the curtain goes up on White Heron Theatre Company's production of Fireflies by Tony-nominated playwright Matthew Barber (Enchanted April). The production is directed by two-time Tony Award winner and island summer resident Judith Ivey.
Opening night festivities are open to the public and include a cocktail reception, hors d'oeuvres, a talkback with the playwright, director and the cast, plus a cast party after the show.
"Fireflies originated here on Nantucket in a play reading as part of our long-standing Long Wharf play collaboration," said Lynne Bolton, White Heron Artistic Director. "Judith Ivey starred in the play as an actor both here and at the Long Wharf Theatre, and she is now directing it. We are thrilled to have her as a part of our summer company."
"Matthew Barber, Fireflies playwright, will be with us for opening night and will talk about his process writing the play. He was in residence when the play was developed, and his perspective on his time on-island while writing will be very interesting," commented Producing Director Michael Kopko. "This show has a particularly strong creative team."
The stellar cast includes Caitlyn O'Connell, whose Broadway and off- Broadway credits include The Crucible, Mothers and Sons, The Heiress, All's Well That Ends Well; John Hutton, member of the acting company at The Denver Center Theatre Company; Charlotte Booker, whose Broadway and television roles include: Born Yesterday, Boardwalk Empire, and Law and Order; and Patrick Halley, whose theatre experience includes Cleveland Play House, Denver Center Theatre Company, four seasons with the Hudson Valley Shakespeare Festival, and roles in television's Law & Order: SVU and Difficult People.
Tickets to White Heron Theatre's Fireflies are at whiteherontheatre.org.
There are three more chances this week to see the upbeat, stellar production of Grease at Theatre Workshop of Nantucket's stage in Bennett Hall, August 22, 23, and 24. And at their Centre Stage in the Methodist Church, theatregoers have another two weeks to catch the raucous comedic musical about Nantucket history Nantucket! the MusACKal. Tickets to both TWN shows are available at theatrenantucket.org.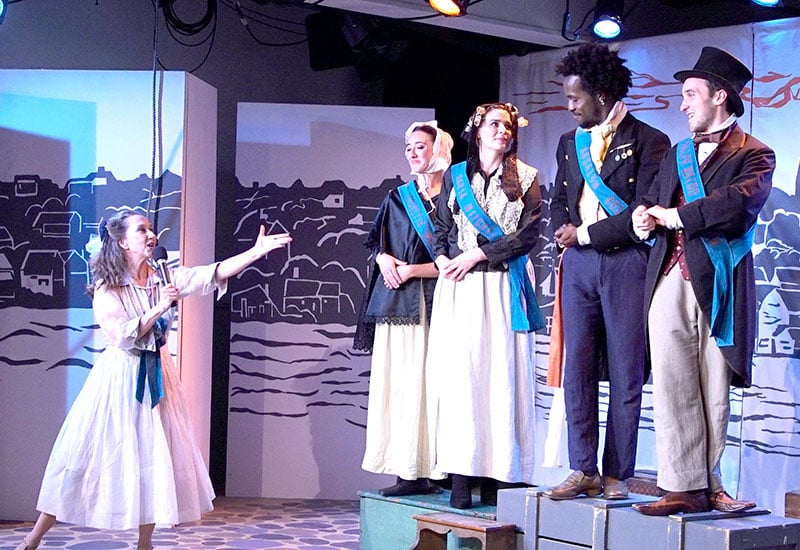 In collaboration with the Nantucket Historical Association, Theatre Workshop is presenting the dramatic Moby Dick Rehearsed, starring John Shea on Thursday and Friday, August 22 and 23 in the Whaling Museum, 13 Broad Street. Tickets are being sold at nha.org.
The Dreamland brings Broadway to Nantucket for one night when sixtime Tony Award winner Audra McDonald performs live on their Main Stage on September 3. Tickets are available now and selling fast (with some seats still left at press time) at nantucketdreamland.org.
Coming soon to island stages: Terms of Endearment by Theatre Workshop of Nantucket (September 12 to October 5); The Giver by the Dreamland Stage Company (October 9-20); Matilda by Theatre Workshop of Nantucket (November 22 to December 14);and A Nantucket Christmas Carol by White Heron Theatre (November 28 to December 14).