• by Sarah McNamara •
Take a stroll down the white shell-lined lane of Old South Wharf and you will find unique shops and quaint art galleries nestled together along the harbor, tucked away from the hustle and bustle of town.  If you're lucky you may just happen to catch local artist Karin Sheppard busy at her loom, weaving one of her gorgeous shawls, wraps, blankets, or rugs.  Her shop and studio, Island Weaves, showcases her handwoven items as well as beaded jewelry by Anne Terry, Sailor's Valentine kits by Susie Black and paintings by Stacy Fusaro.
Karin grew up on Nantucket and got her start weaving at a young age.  She would often join her mother, a talented seamstress, on trips to Nantucket Looms to drop off products she had sewn for the store.  It was during these visits that she became fascinated with the weavers churning out beautiful fabrics, and eventually began learning the craft at the store after school.  Karin left Nantucket for college, but soon after graduation she returned to the island and to Nantucket Looms where she worked for 20 years, up until 2000 when she went out on her own and opened Island Weaves from her home.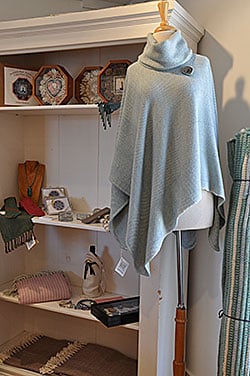 Now in its thirteenth year, Island Weaves has a location at 20 Old South Wharf, a bright and sunny seasonal spot with a water view.  One of Karin's large floor looms sits in the back corner of the store where you can find her working on any number of designs.  The day I popped in she was weaving a cashmere baby blanket, something new for the artist.  This is the time of year where she can experiment with different projects, and has a little more freedom with her textiles.  The winter months are very busy, filled with custom orders from clients and from designers in need of handwoven upholstery fabrics.
Karin is happy to come to work each day, and considers herself lucky to be making a living doing what she loves.  She is passionate about her work and about Nantucket, and it shows in the pieces she produces.  Her items are casually elegant, with classic, clean lines and whitewashed colors that reflect island living.  The handwoven items are made to last, with an heirloom quality to them.  Her wraps and shawls have become increasingly popular, along with her well-known Madaket Mall rugs.  The rugs are made from recycled materials often found at the Take It or Leave It, anything from terrycloth towels to khakis to jeans.  Nantucket Reds have become a favorite yet hard-to-find material for the rugs, as people usually wear them until they are threadbare.  She most  recently made a rug out of neckties for a woman whose father was a lawyer and had worn a tie to the office everyday.
Everything for sale at the shop can also be custom made, available in a wide variety of colors and natural fibers.  Her products make wonderful and meaningful gifts, or treat yourself to a Nantucket original handwoven accessory.  I, for one, would love to keep warm in one of her wraps or ponchos on these chilly May evenings. Island Weaves is located at 20 Old South Wharf.  You can also see examples of her work at www.islandweaves.com.