~ by Amy Jenness ~
Massachusetts lawmakers are debating a bill designed to allow tiny houses on Nantucket. Town meeting voters approved the idea this year and islanders hope allowing tiny homes – which are up to 500 square feet in size and often built on trailers– will ease the island's affordable housing crisis. If the law passes, Nantucket's tiny homes will need to meet building code and island design standards and probably won't be on trailers. Such portability did not sit well with voters, who said a house on a trailer would be a precedent for mobile homes, which are not currently permitted. For an island with a long history of moving and re-using structures, losing the trailer provision was not a deal breaker.
The first English families to arrive spent the winter in a hut in Madaket in 1659. In 1660 they hired mainland tradesmen to build homes on the north side of the island. Christopher Hussey killed his first whale from a boat in 1712, and ten years later Richard Macy built Straight Wharf to assist Nantucket's growing maritime trade. In no time, all of the island's commerce shifted from raising sheep on the moors to outfitting ships on Straight Wharf. In response, most residents dismantled their homes and moved them from the original north shore settlement to what is now Nantucket town.
When it comes to building on Nantucket, the modern mantra of reuse/recycle has been a way of life here for centuries. The island also has had to contend with erosion and many threatened structures that result from a constantly changing shoreline.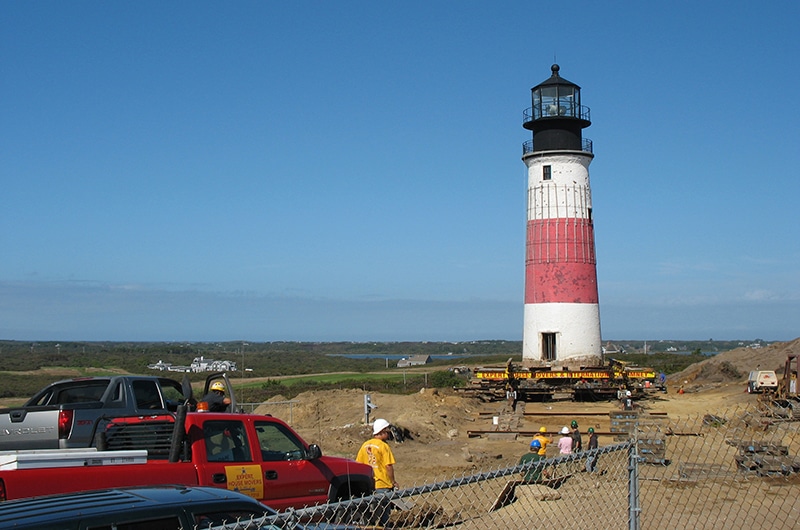 Today, the island tops all other Massachusetts towns in the number of buildings moved each year. Sankaty lighthouse may be the biggest structure ever relocated. In 2007, the iconic 60-foot lighthouse was brought 400 feet inland to protect it from an eroding shoreline. The Club Car restaurant may be the most unusual: it's bar is a former railcar from the now defunct Nantucket Railroad.
And, the Surfside Hotel may be the most ambitious. In 1883 speculators hoped to develop the south shore and paid to dismantle the five story Riverside Hotel in Providence, RI and reassemble it on the beach in Surfside. That hotel was abandoned in 1895 when the Nantucket Railroad dropped Surfside as a stop. It collapsed after being battered by storms and was gone by the turn of the century. But a more typical story is the Dreamland Theater. It was originally built as a Quaker meeting house in 1832, then turned into a straw hat factory, and by 1880 was a roller skating rink. In 1884, the building was moved to Brant Point to become the center section of the Nantucket Hotel. In 1906 the hotel was dismantled and its center piece floated across the harbor where it became the Dreamland Theater on South Water Street. It served the island as a gathering spot and movie house for almost 100 years. In 2013 it was rebuilt using mainly new materials and functions today as a movie theater and performance space.
Island settlers built structures like what they had known on the mainland. But, by 1762 more than 2,300 islanders practiced the Quaker faith and its dominance forever changed island architecture. Hundreds of simple, shingled Nantucket Quaker two story homes were built between the 1775 and 1825. But those years were also the most lucrative ones for the island and families made rich from the whaling trade departed from their neighbors' Quaker modesty and built large homes, most noticeably on upper Main Street.
In July of 1846, a devastating fire destroyed 300 buildings from lower Main Street west to Sea Street. The island rebuilt quickly, intent on going back to whaling. But Nantucket never regained its foothold as the capital of whaling and by 1860 it was in a deep economic depression. Although the island's economy suffered for decades, that decline helped establish its current popularity as a summer destination. When tourists started visiting in the late 18th and 19th centuries they found more than 800 examples of unadulterated pre-1850 buildings, the largest collection anywhere in the country.
"New York, Boston, Charleston, New Orleans all certainly have more than 800 pre-1850 structures, but they have been altered by changing tastes in architecture. Ours were just locked in time and people could see them the way they were originally, which provides a really unique experience. Our architecture didn't change because the island was so poor," Said Michael May, Executive Director of the Nantucket Preservation Trust, a nonprofit focused on preserving the island's historic architecture.
May has spent hours investigating building histories and architectural trends and says 19th century maps and deeds show that it was common practice to move and replace downtown buildings.
Island architecture changed with the times. Before the 1846 fire, rounded, gambrel roofs were common, including the Pacific Club located at the bottom of Main Street. When that fire-gutted brick building was restored, Pacific Club owners gained more space by replacing the gambrel with a peaked roof. Now only 10 island buildings with gambrel roofs remain, according to May. The Great Fire impacted the streetscape in other ways. Roads were made wider and burned wooden buildings were replaced with brick ones designed to halt or slow the spread of another fire.
Victorian architecture on Nantucket fell victim to changing tastes. May said by the early 20th century islanders were removing the ornate design features associated with that era. Today, there are just two examples of Victorian architecture left.
Concerned about losing the island's unique architectural heritage, the island created the Nantucket Historic District Commission (HDC) in 1955, with a mandate to regulate a building's exterior design. The HDC originally only covered Nantucket town and Siasconset and required property owners to observe six guidelines. In 1972, the HDC's jurisdiction was expanded to include the whole island, as well as Tuckernuck and Muskeget. Today the HDC's guidelines include state and federal preservation laws and National Trust for Historic Preservation standards.
Amy Jenness is author of On This Day in Nantucket History.