~ by Rebecca Nimerfroh ~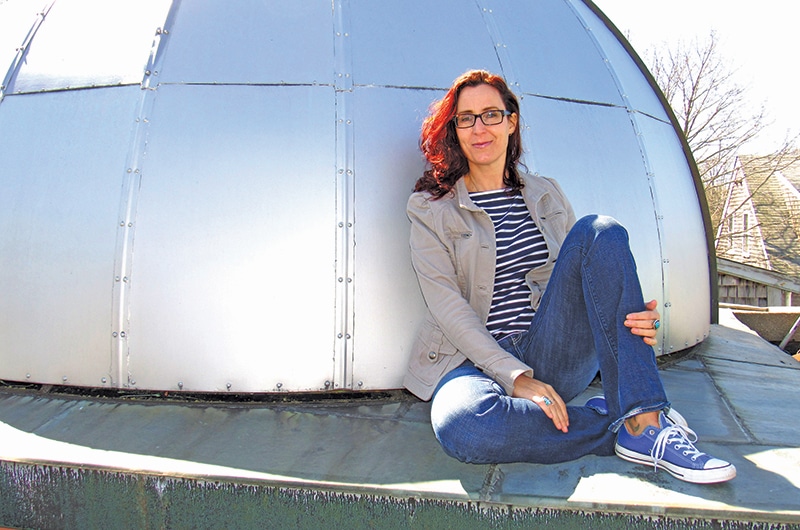 If you are ever lucky enough to look up at the Nantucket sky on a clear summer night, no doubt you will be taken aback by what you see; thousands upon thousands of stars, twinkling back at you from thousands of light years away, enveloping you in the tingling mystery that is our universe. You would think a moment like this is exactly what brought Maria Mitchell Association's new Director of Astronomy, Dr. Regina Jorgenson to Nantucket in the first place, but, in fact, it was an internship at the very association in which she now manages.
Sitting down in her heavily wood-paneled office laden with books and telescopes (like a scene out of Harry Potter), Regina meets with me to discuss her ties to the island and how this little community eventually became the perfect fit for her career.
Born and raised in Northern California, Regina Jorgensen inherited a passion for figuring out how things work, particularly from her father, an engineer by trade, and her mother, a musician with a very mathematical-kind of mind. Encouraging her interest in astronomy, her parents often took Regina to the nearby Science Museum. It wasn't until years later, while attending undergraduate school, that Regina was selected as a National Science Foundation Research Experience for Undergraduates Intern at the Maria Mitchell Association on Nantucket.
"I think I didn't even know that Nantucket was an island at first," Regina laughs. The year was 1997, and Regina arrived on-island for the summer, finding herself on a cold, misty, foggy spring day, standing alone among the gray-shingled houses on Vestal Street, directly across from where her historic office sits today. "There was nobody around, and it was completely quiet," Regina recalls. Lodging was to be shared in a single room with three other girls. "It was dank and musty, and there was sand on the floor continuously, but we didn't care – it was fantastic because we were on Nantucket!" The dorm in which Regina spent her first summer has since been replaced with nicer facilities, including new administration offices, but Regina still recalls those days with a smile, saying, "It was awesome."
Could she ever have guessed then that she would end up on Nantucket so many years later? Regina laughs and says, "Vladimir would sometimes say nice things to me like, 'Maybe one day you'll be Director.' He was always very supportive of me and that was really great. So maybe I considered moving here in a dream way, but never in any reality way." The Vladimir she refers to is Dr. Vladimir Strelnitski, the Director of Astronomy at Maria Mitchell Association at the time, who clearly left a profound mark on Regina's career in those formative twelve weeks of summer.
Years later, with her undergraduate degree and a prestigious Thomas J. Watson Fellowship under her belt, she returned to Nantucket, to again work under Vladimir, but this time as Assistant Director. "The association used to have a house on Hussey Street in town, which unfortunately has since been sold, but because a lot of staff lived there, the house was divided into small apartments," Regina recalls. "I would literally leave the house and see three people I knew right away, so that was nice, to have that close-knit community and know everybody."
For the next three years, Regina would live year-round on Nantucket, and it was during this time, on a random Open Night at Loines Observatory in 2001 that she and a fellow intern thought they saw something on the horizon. "We decided to ride our bikes out to Steps Beach and went down to the beach, and sure enough it was the Northern Lights!" Regina says. Regina explains that the Northern Lights are essentially charged solar particles interacting with the magnetic fields of the earth, and when you experience this glorious show of color, your brain can't quite grasp it. "It's just this crazy shifting of greens and reds. It was very slowly changing, so there were some streaks and it would go in and out and change in intensity. It was so trippy." This would be the first and only time to date Regina would see the Northern Lights, a once-in-a-lifetime opportunity for sure.
Eventually, Regina Jorgensen left Nantucket again to attend graduate school, where she received a PH.D. in Physics with a concentration in Astrophysics from UC San Diego. Future travels led her across the globe, from working as a postdoctoral fellow at the University of Cambridge ("That was very much like living in the world of Harry Potter," she laughs) to the Institute for Astronomy at the University of Hawaii where she studied the sky through one of the world's largest telescopes on the summit of Mauna Kea. Finally finding herself as a professor at Willamette University in Oregon, she got news that the position of Director of Astronomy at Maria Mitchell was available. "I just kind of jumped on it because it combines the three things I love – research, working with students, and public outreach. It was a really perfect opportunity so I feel really lucky."
With her career now come full circle, Regina laughs, "One of the strangest things was sitting here," and she grasps her chair. "I was like, oh my gosh, this was Vladimir's desk and chair and now I'm sitting here! It was very weird." And even more strange, she has just received six undergraduate interns for the summer, the position she held 19 years ago.
When I ask Regina what has changed in that time, she says, "The association itself has grown a lot. I think one of my missions is to promote the legacy of Maria Mitchell and make her more well known in the broader world. When I first came here, I didn't really know who she was. I had never learned about her in school. We should be teaching children who Maria Mitchell was, and have more of an awareness of women in science in general."
With several future goals in mind, including a year-round program for astronomy students, as well as the implementation of remote observing from the Loines Observatory from the comfort of your home or classroom, to the eventual hope of a science center downtown, Regina brings to Nantucket great ideas that will no doubt broaden the lives of all on island.
When I ask Regina for the best place on Nantucket to view the night sky, she says without missing a beat, "At the Loines Observatory! But the darker you can get, the better. Far from town is best." Right now, the Maria Mitchell Association is hosting Open Nights on Mondays, Wednesdays and Fridays from 9 to 10:30 pm, and three planets are visible, Jupiter, Saturn and Mars, and on especially clear nights, with the help of Regina or other Maria Mitchell staff, you will be able to see the Andromeda Galaxy, our next closest galaxy, located 2.5 million light years away.
When I ask Regina what she thinks Maria Mitchell would think if she could see the organization now, she says, "For that game of 'who would you bring back from the past?' it would totally be Maria Mitchell because I am so curious about what she would think, not only about here and Nantucket but the bigger world. I hope she'd be happy about the association," Regina smiles. "I think she would."