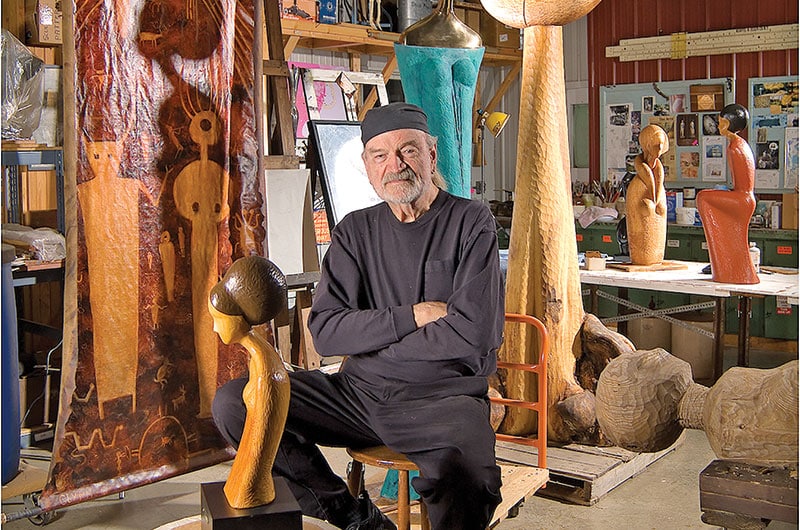 When passing by Centre Street, it is hard not to notice the array of eclectic sculptures on view inside the Hostetler Gallery. David Hostetler's sculpting and carving career spans over an evolving and successful sixty-one year period. One can easily see his development of his approach to sculpting the female form. The earliest sculptures are abstract, and then flow into folk inspired carvings to the newly developed stylish model-like forms. This Friday, July 29, from 6 to 8 pm, Susan Hostetler will host an opening reception for the first in a series of retrospectives to honor her late husband. This first show, "Hostetler Retrospective Early Stage," revolves around his sculptures from 1948 up to late 1970s.
Born in Ohio in 1926, Hostetler had a close relationship with his Amish grandfather, an influence which has stayed with him throughout his career. David Hosteler was raised in a small Ohio town and went on to receive his Bachelor of Arts in Education from Indiana University. He obtained a Master's of Fine Arts from Ohio University. He taught for thirty-eight years as a much appreciated professor and mentor, where he was named Professor Emeritus.
David Hostetler's works appear in more than 25 museums and galleries, including the Museum of Fine Arts in Boston, Grounds for Sculpture in Hamilton, NJ and the Butler Institute of American Art in Youngstown, Ohio. His pieces grace numerous public collections from Nantucket to New Mexico to the Netherlands.
His American Woman Series gained him national prominence for his graceful, flowing wood sculptures with their simplified forms and hairstyles from the current time period, like in Yellow Dress (1965). This series is from the early 60s, and he initiated the series using indigenous hardwoods (elm, white oak, walnut, maple), then progressed from folk images to stylized symbols in exotic woods (purpleheart, ziricote, and pink ivory). These pieces from this specific time in David's ouvre are very distinct in comparison to his more recent pieces, which exude modernity in all their sleek, slender forms, like Sensuous Woman.
Three very early sculptures from the 1940s are back for re-sale, including the first bronze casting David Hostetler did while he was teaching in San Miguel de Allende, Mexico. Also included in the exhibition is The Bather brought from our personal collections one of the first painted wood carvings by David. Clearly, this will be a night to remember as the viewer will be able to travel through time observing the most developmental decades of David Hostetler's career and appreciate his achievements he has made to the art world.