by Suzanne Daub
In 2017 a trio of dynamic women on Nantucket—Meryl Bralower, Melanie Sablehaus, and Jeanine Borthwick—engaged with Nantucket Cottage Hospital to spearhead an effort to empower women on the island, visitors and residents, to take charge of their healthcare.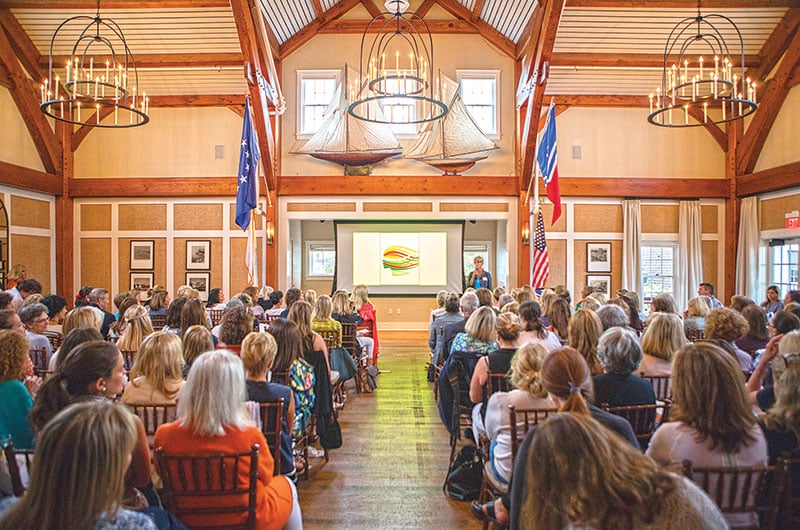 "Did you know that 80% of all healthcare decisions are made by women?" Bralower asked when we met at Corner Table recently to discuss their Women + Wellness program. "Our goal is to empower women to make the right decisions…[we want them] to know what to ask for from doctors."
"You need to know what you don't know…We want to educate women so they can become more aware of their health and of the resources at Nantucket Cottage Hospital," added Sablehaus.
Every seat was filled for the inaugural event last summer, and it was followed by more casual and locally-based off-season lectures about women's health issues.
This year, on Monday afternoon, July 23, the second summer Women + Wellness gathering will be held in Great Harbor Yacht Club. Next week's Women + Wellness event theme is "Skin, Bones, and the Microbiome," and it will feature three renowned clinicians from Nantucket Cottage Hospital's affiliate Massachusetts General Hospital.
Dermatologist Sandy Tsao, MD, will speak on "What You Need to Know as Your Skin Ages." Assistant Director of the Stanbury Physician-Scientist Pathway, Marc N. Wein, MD, PhD, will talk about "Building Better Bones." And "Our Microbiome, Ourselves" is the topic that Caroline Mitchell, MD, Assistant Professor, Obstetrics, Gynecology & Reproductive Biology, Mass General Hospital, will address.
These speakers were chosen based on their levels of knowledge and expertise as well as for their abilities to keep an audience engaged: these will not be dry, academic lectures. Topics are designed to appeal to a range of ages, and the talks will address actions women can take to help themselves . Each talk will be followed by a Q&A open to inquiries by audience members. Last summer's event was attended by an enthusiast ic crowd: "Even the doctors thought it was extraordinary," said Sablehaus, commenting on the engagement of the audience.
"We want women to know they can take control of their health," said Bralower, "we want women to be their own advocates as well as advocates for their family members."
In addition to the public event, the presenting physicians will also meet with Nantucket Cottage Hospital physicians.
This year's event will be held from 4:15 to 7 pm on July 23, and tickets are $75 at nantuckethospital.org/womenwellness and include cocktails and light bites. Hospital administrators and event coordinators have secured scholarships for women unable to afford the $75 ticket. Courtney O'Neill, executive director of the NCH Foundation, said that anyone with an interest in attending is encouraged to get in contact with Nantucket Cottage Hospital. Anyone wishing to sponsor an attendee can click the "Pay It Forward" link on the website and pay for a ticket for someone else.
Nantucket Community Television will film and broadcast the event, making it available to all who wish to view the Women + Wellness speakers on Nantucket channel 18 and on the web.
Both Bralower and Sablehaus expressed the hope that Women + Wellness will help women not only make connections and learn about their own health, but will also "build community' and be the start of an association of island women who will continue the pursuit of knowledge and advocacy.