by Jenny Benzie, Advanced Sommelier + Certified Wine Educator, Proprietress of Épernay Wine & Spirits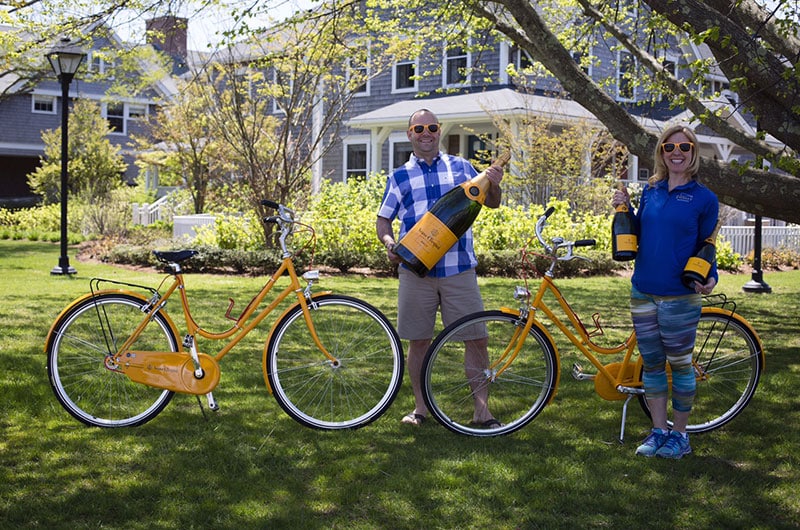 Whether you are trekking to 'Sconset for the Ultimate Daffy Lounge or heading for some family entertainment in the Brant Point neighborhood, the Nantucket Island Chamber of Commerce's annual Daffodil Festival Weekend is host to an array of activities for enjoyment by all ages. Advanced Sommelier Jenny Benzie offers a peek into what you should have packed in your picnic basket, no matter where the party might lead you.
A Bottle of Bubbly: The entire island is covered with picturesque, brilliant daffodil blooms. What better way to celebrate this sign that spring has arrived (and winter is over!) than with a bottle of bubbly? Champagne Veuve Clicquot easily flows like water through the cobblestones of downtown Nantucket this time of year. Consumers can identify this bottle by its brightly colored, trademarked "Yellow Label." Keep yours chilled and fashionable at the same time by receiving a free matching Champagne Bottle Cover with the purchase of any bottle of Veuve Clicquot this Daffy weekend (and while supplies last) at select wine retailers!
When hosting an extra thirsty crowd (or have some graciously welcomed but uninvited party crashers), you might prefer to serve a quality sparkling wine worthy enough to arise to the special occasion instead of traditional Champagne. CHAMPY is a lovely selection for just that. Founded by Bostonbased entrepreneur and two-time Emmy Award winner, Jenny Johnson, Champy hails from California and brings pizazz to any picnic scenario. BONUS: It also makes a distinctive and delicious base ingredient for sparkling wine cocktails.
Beer in a Can: A fun, festive holiday weekend such as this calls for brightly colored outfits, crazy hats and wildly themed tailgate parties on the streets of 'Sconset. Why not have your beverage (and its packaging) be part of the celebration as well? Sip local by enjoying Cisco Brewers' "Summer of Lager," available in bright green cans that might get lost if left in the grassy lawn. This refreshing, satisfying Bohemian style pilsner also has a yellow sunflower image that screams "Drink Me Daffy Weekend!"
Not all beers happened to be made from hops and barley. Welcome to Farmer Willie's Alcoholic Ginger Beer. This "Ginger with Soul" is a creation started by the eponymous owner in his Cape Cod kitchen several years ago. It is made from glorious ginger, complimented with lemon juice and nutmeg. This naturally gluten-free product (if you happen to care about that) only comes in a lightweight can and is delightfully refreshing on its own or mixed with your favorite cocktail recipe that typically calls for non-alcoholic ginger beer. Don't forget to protect your willie with a beer koozie.
Quality Wine Opener: Have you ever seen the video-gone-viral of some drunk British bloke who opens a bottle of wine with his shoe? Avoid being that guy this weekend and practice the Scout motto of Be Prepared instead. Pulltap's manufactures the most widely used corkscrews of wine professionals and wine lovers in the world. This easy-to-use double-lever opener will have your mother-in-law's Chardonnay open in no time without you suffering from doing the usual cork extraction dance. Beware of cheap, flimsy, not-sowell made knock-offs of this product that come nowhere close to the standards of the original genuine corkscrew.
Proper Drinking Vessel: Go-GOVINO-Go! Go anywhere on Nantucket in style with a pair of these perfect wine glasses. The beach, the boat, the backyard, your best friend's basement – you name it. These not-your-average "glasses" are super sustainable: no toxins from the BPA/BPS-free plastic they are made from, totally reusable time after time, and recyclable when you do decide to part ways. They are also shatterproof if accidentally dropped, which doesn't happen often because they have a handy indent for your thumb and better grasping. This is the first and only unbreakable wine glass of its kind to be so widely accepted by the wine industry. The flexibility of a GOVINO allows you to showcase all sorts of beverages, including beer, bubbles, cocktails, sparkling water and beyond.
Hangover Cure: You are proactive in your party planning skills to ensure a good time had by all at the main event. Shouldn't you care enough about your guests (and yourself) to take it a step further and ensure everyone is able and willing to do it all over again at Sunday Brunch the next day? Enter RESQ Water. The all-natural ingredients in this beverage help your body to get back on track when consumed while drinking or as your last drink of the night.
Celebration should never have to be followed by a day of pain or misery. Whatever plans you devise for the weekend as you gather with your favorite island companions to celebrate this annual tradition, most of all don't forget to stop and smell the rosé… er, I mean flowers! More on the rosé front at a later date.