• by Sarah Teach •
Digging up and casting away the root of all evil, Theatre Workshop of Nantucket (TWN) presents a jolly holiday musical production of "A Christmas Carol." Charles Dickens's familiar story is approached by adaptation writers Mike Ockrent and Lynn Ahrens with a lighter foot than the heavyhearted 19th century British writer. For nine years after its 1994 debut, this version of the tale was produced annually at Madison Square Garden's Paramount Theatre.
Musical scoring is by Alan Menken, whose penchant for melodies that stick to your brain has resulted in such award-winning classics as The Little Mermaid's "Under The Sea," Beauty and the Beast's "Be Our Guest," Aladdin's "A Whole New World," Pocahontas's "Colors Of The Wind" and dozens of others. Two summers ago at TWN, we heard his "Mean Green Mother From Outer Space" in Little Shop of Horrors. The heartwarming "You Mean More to Me," a duet between Bob Crachit (Vince Veilleux) and his son Tiny Tim (island fifth-grader Samuel Hofford), has all the jaunty trappings of Menken. The musician waxes creepy in men's ensemble "Link By Link," an effort aided in this production by collaboration between costuming and lighting.
Set designers Eric Schultz and David Lazarus invite us on a winter's night stroll through fog worthy of Nantucket herself. Bustling about the multilevel stage are 40 actors, all elaborately costumed by Anne Breeding. (The Ghost of Jacob Marley, played by David McCandless, is Breeding's crown jewel.) Director Justin Cerne has reigned in this oversized company, casting almost all of them in at least two roles. Cerne's creativity and teamwork abilities are apparent in the show's flow and several scenic surprises.Musical Director Robert Behrman was gifted a neat bundle of musical talent with this cast. His ensemble of gravediggers nails the spooky number featuring the Ghost of Christmas Future, a silent, graceful phantom played by dancer Casey Sayre Boukus.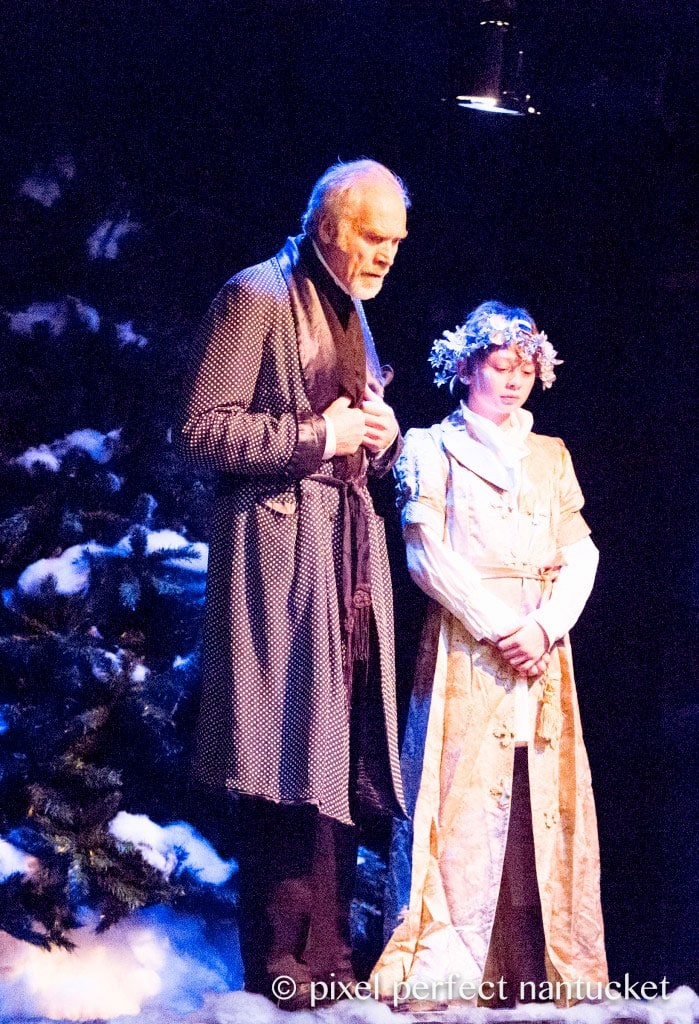 TWN newcomer Sean McGuirk has the right look to play Scrooge, but also an elegant stage presence that is altogether too charming to portray a believable grouch. McGuirk has the right look, and part of the casting decision was surely his vocal talent, which makes him an enjoyable watch. Reviews spanning the musical's 19 years of onstage tenure reflect that this softening of Scrooge is not uncommon in this show, suggesting a unique textual directive to that effect. Having added blitheness to Scrooge's bahs, Ockrent and Ahrens don't seem interested in giving the audience a veritable character arc. Even if Cerne wanted to chill the show down a few degrees, we must remember that the scorer is the same man who made a catchy tune of Jafar's poison-lipped reprise of "Prince Ali" in Aladdin. Surely it's not easy for an actor to summon an evil countenance when musically prompted otherwise.
A Christmas Carol is playing at Bennett Hall at 62 Centre Street until December 15. Parts of this show may be frightening for children under age five. Tickets are $30 at theatreworkshop.com, 508-228-4305, or at the door if seats are still open. In the spirit of the season, you might consider giving to Theatre Workshop. The organization brings enjoyment to island residents and visitors alike. Evade a chain link in the afterlife by including your gift of any amount in the envelope within your show program. Happy holidays to all, and to all a good show!