As we opened the door into Sophie T's the aromas of garlic, freshly baked crust, and sausage, wafted over us into the night air.  Italian comfort food is the perfect choice for a chilly evening, and Sophie Ts makes some of the best on the island.
We had a large party with us this visit — eight of us descended upon the place at peak dinner hour, and the staff didn't miss a beat.  They pushed together the two back tables, passed around menus, and started taking drink orders.  Sophie T's offers beer and wine by the bottle and by the glass in addition to a range of soft drinks.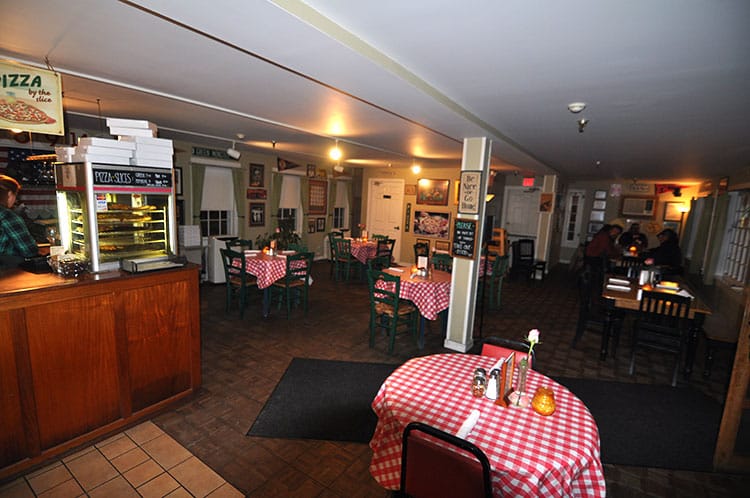 A party our size is bound to be noisy, but Sophie T's welcomes fun of all kinds, from gatherings after work to birthday parties for kids.  Large parties don't faze them, with their easygoing and unpretentious style.  Everyone at Sophie T's, owners Rob and Kelli Noll and their entire staff, are friendly and accommodating, and they greet their regulars by name.  When Sophie T's opens it doors at 11:30 am, it's often instantly busy.  Locals know they can get a delicious, hearty, and fast meal without breaking the bank — call ahead and there's no wait.  The menu is served continuously, so if you don't stop for lunch till 3pm, you can still get any item on the menu.
The menu is large enough to give plenty of choices—finger food, subs, wraps, salads, soup, pizza, hot entrees, and desserts— but not so large that it gets confusing.  Even though several of us knew what we wanted the moment we arrived, we were determined to add some new items to the mix.  So we started with some familiar favorites and some new tastes.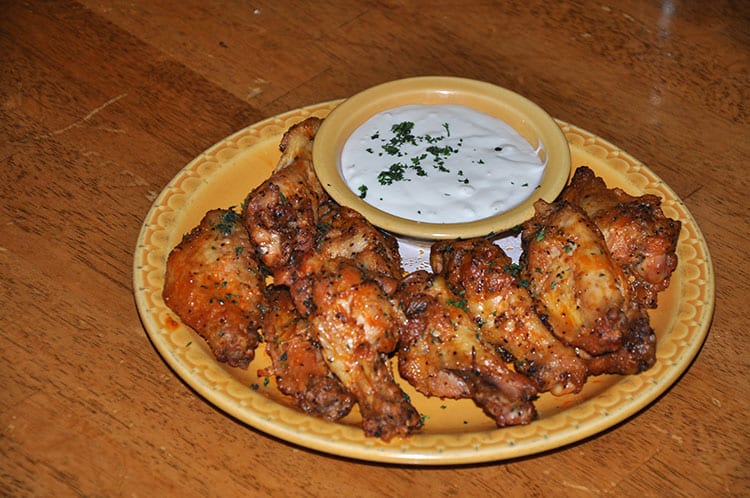 One great starter perfect for sharing is the hearty helping of Buffalo Wings with Blue Cheese.  The wings are big and meaty, moist and flavorful, and spicy but not fiery hot (for that you just add a few dashes of hot sauce).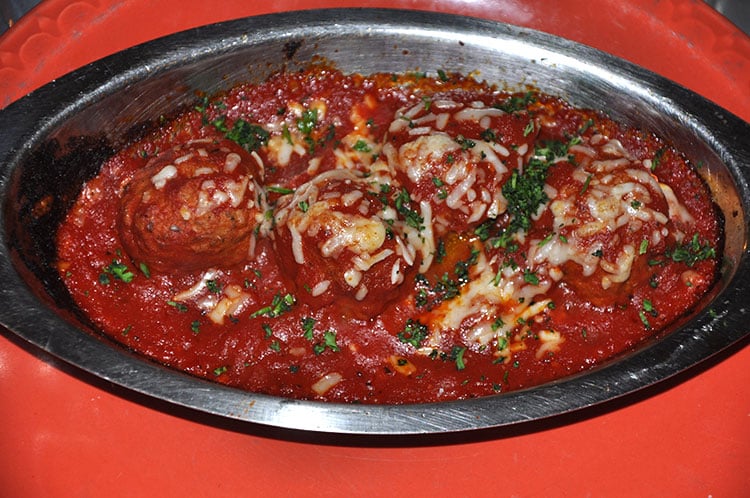 We used a triangle of Sophie T's Cheesy Bread to mop up the vibrant tomato sauce in the side dish of Meatballs and Marinara we ordered as an appetizer.  Paired with salad, there are enough juicy all-beef meatballs surrounded by sauce and topped with cheese to make a light meal!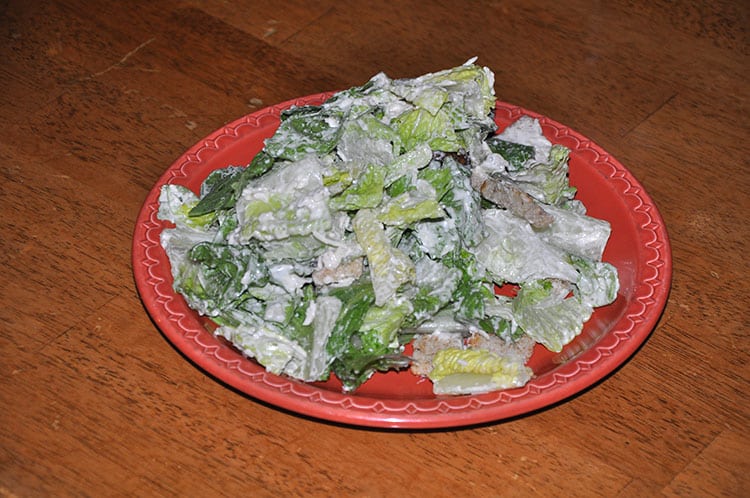 Salads at Sophie T's are prepared fresh to order and big enough for two or three people — and we're not even talking about their Entree Salads.  Seven very different salads are listed as starters or sides, and this visit we shared three of them.  The Caesar Salad is classic, with crisp chopped romaine nicely coated with garlicky dressing.  Shredded parmesan clings to the leaves, and house-made croutons finish the salad with a tasty crunch.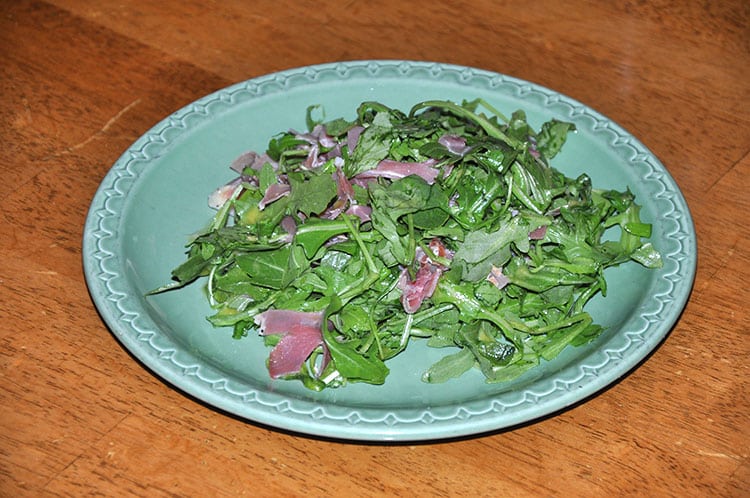 The Prosciutto and Arugula Salad is also perfectly dressed, with just enough herb and roasted garlic vinaigrette to flavor the fresh baby arugula without making it soggy.  Thin slices of prociutto are tossed with the peppery greens, along with shredded asiago.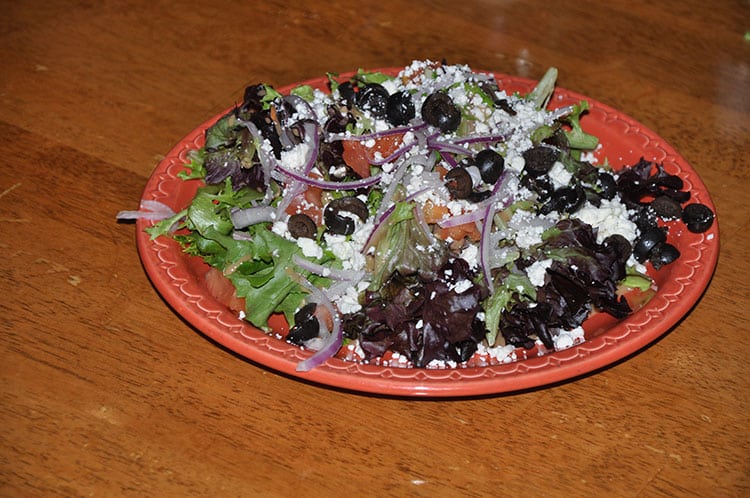 Greek Salad is full of bright, bold flavor.  The mixed greens are tossed with chunks of juicy tomato, lots of sliced kalamata olives, red onion, and a vibrant balsamic vinaigrette.  Feta cheese is crumbled over the top.
Sophie T's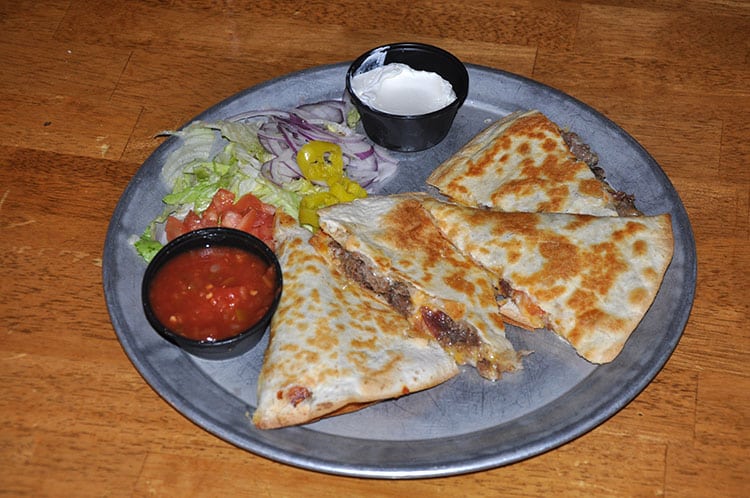 don't work as an appetizer unless you share them—they are just too big!  One of the four wedges will satisfy, stuffed as this tortilla is with cheddar and mozarella, meat, and tomato.  Peel back the tortilla and you can customize your quesadilla with some of the lettuce, banana peppers, red onion, sour cream, and salsa served alongside.  The quesadillas can be ordered with chunks of chicken or with shaved beef.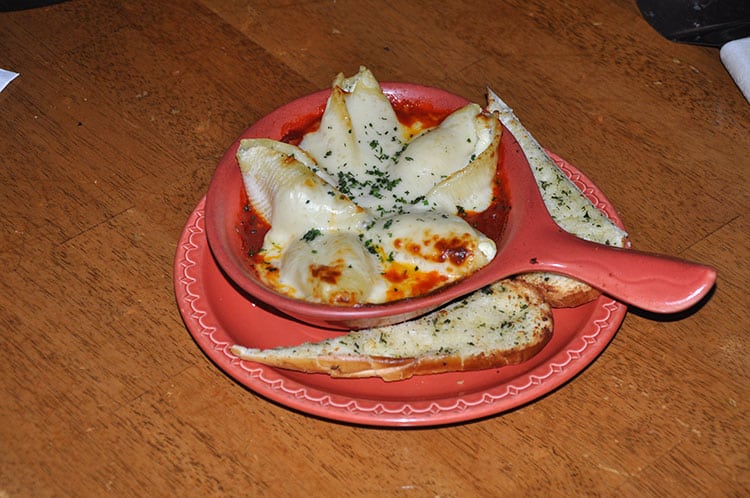 The trio of hot entrees offered at Sophie T's are classic Italian comfort food.  Jumbo Stuffed Shells, tender and toothsome and chock full of blended  cheese.  They're served swimming in a delicious old-style Italian-American sauce, deep red and naturally sweet.  The arrive at table piping hot in the dish they're baked in with a liberal dusting of parmesan and toasty garlic bread for mopping up the remaining sauce.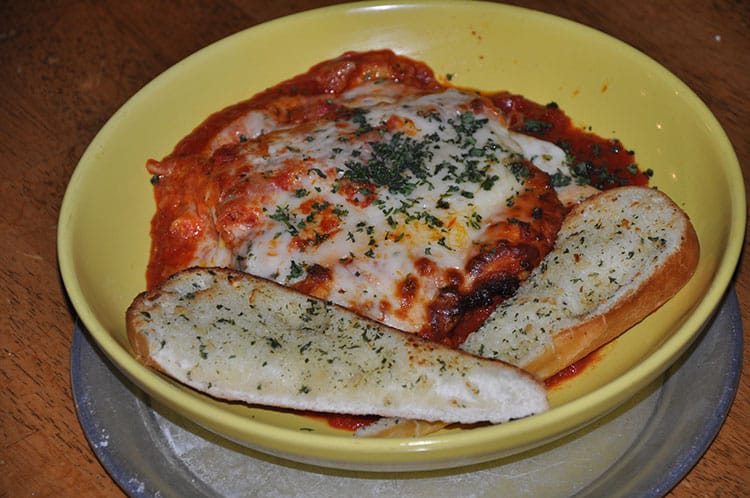 We were also impressed with the Housemade Lasagne.  Layers of cheese, pasta, cheese, ground beef, sausage, and cheese are nicely seasoned and served in generous portion.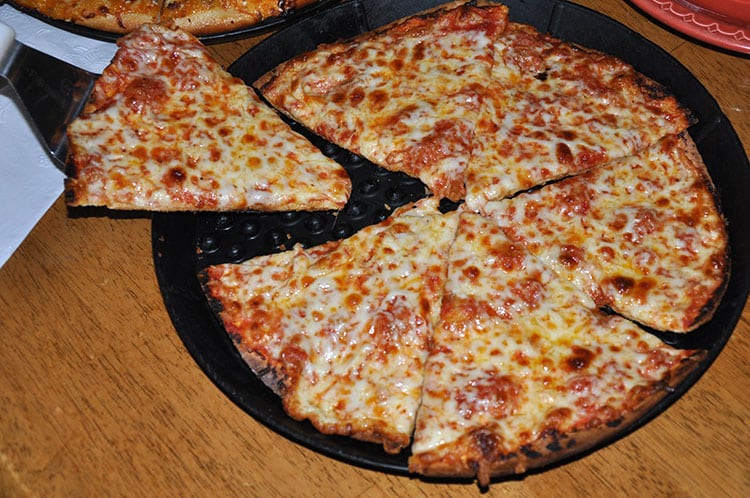 We can't order from Sophie T's without including pizza, even if it's just one slice—it's that good!  The classic crust is twirled to the perfect thickness and cooked till bubbly and crisp around the edge yet pliable enough to fold the corner to tuck in the house-made sauce and fresh toppings.  They'll also build your pizza on a crispy flatbread crust or on gluten-free.  There are 32 toppings to customize your pizza, but we usually choose one of the 11 "Sophie's Choice" pies.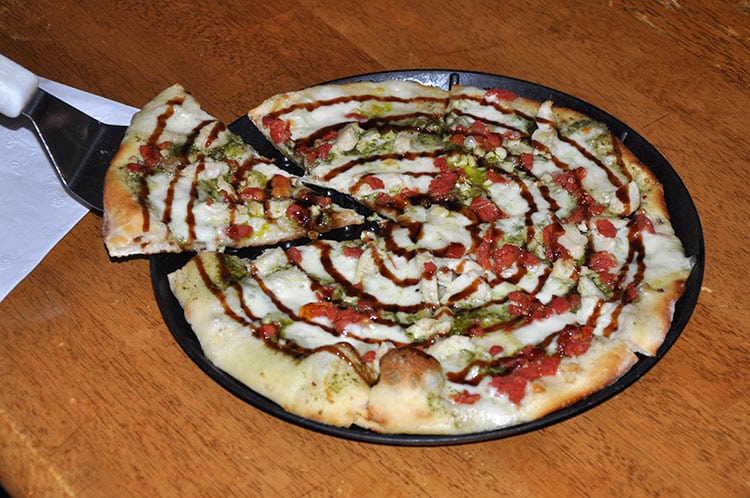 Rob's traditional Margherita Pizza has the perfect proportion of vibrant tomato sauce combining deliciously melting rounds of fresh mozzarella and tracings of basil pesto.  It's simple and simply delicious.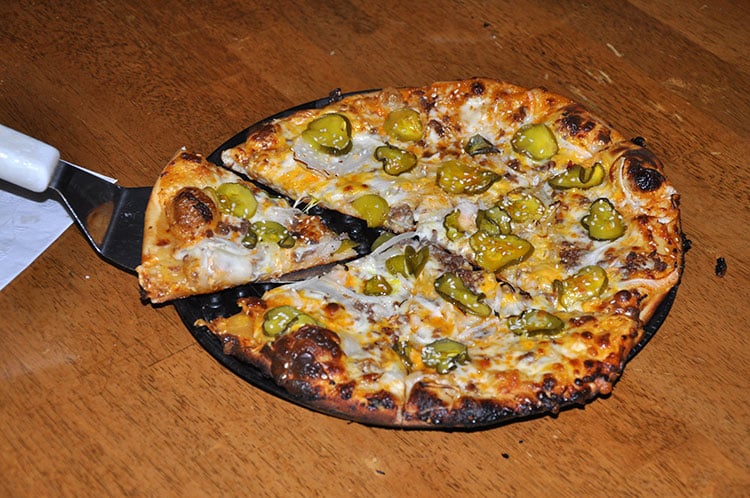 His ACK Mack Pizza has all the flavors of that all-American treat Nantucket residents have to fly Off to buy, but in the form of a pizza:  hamburger meat, special sauce, lots of cheese, pickles, onion, on a sesame seed crust.  No lettuce, though.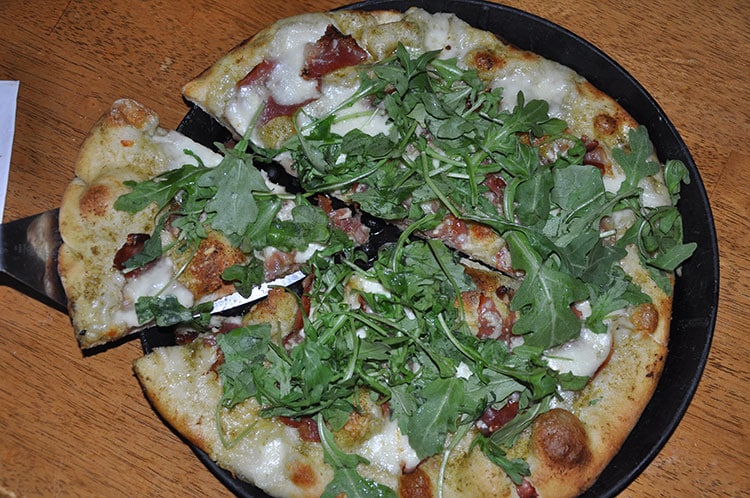 If you want greens on your pizza, order the delicious Proscuitto and Arugula Pizza.  For this, Rob tops his crust with roasted garlic, fresh mozzarella, EVOO, strips of fresh sage, asiago, and generous slices of prosciutto.  A few handfuls of fresh arugula add a cool finish and a peppery tang.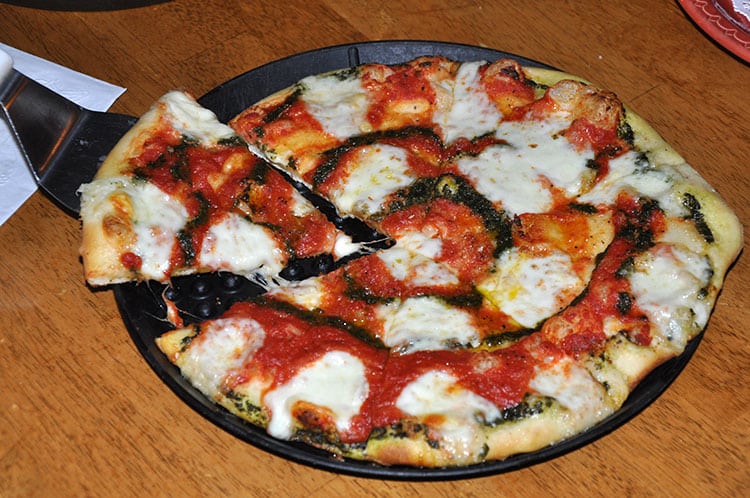 Balsamic Roast Chicken Pizza is another showstopper.  One of Sophie Ts white pizzas with house-made pesto, diced tomato, and blended cheese, this is made even more delicious topped with tender, moist chunks of chicken breast, lots of fresh mozzarella, and spirals of rich balsamic glaze.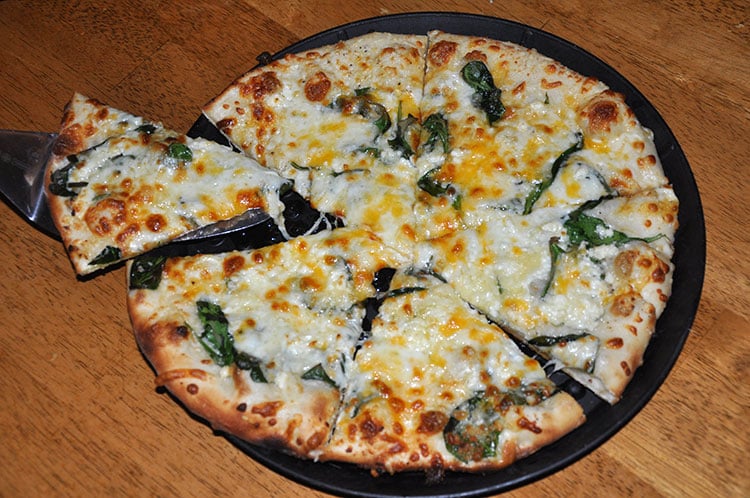 Our new favorite, though, is Rob's Five Cheese Pizza, which, after chatting with Rob, we realized is actually made with seven cheeses: mozzarella, provolone, cheddar, monterey jack, asiago, parmesan, and feta.  We love the way the sweet, mellow flavor of the roasted garlic permeates the crust and the mix of cheeses. A layer of fresh spinach tucked under the cheese, helps to cut the richess and add substance.
Sophie T's Pizza is also available by the slice—choices always include a Cheese Pizza, a Pepperoni, and three others with a variety of toppings, displayed for your inspection on the countertop behind glass.  Point out the slice you want, and they'll pop it back in the pizza oven til its hot and lusciously melty.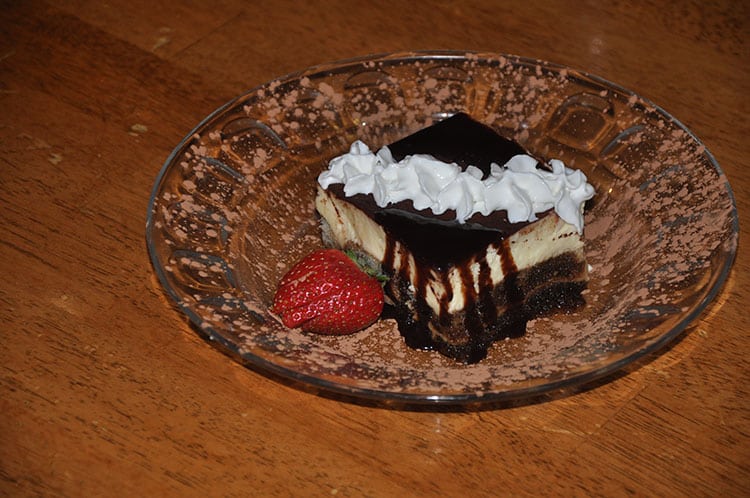 Tiramisu is practically a requirement at an Italian restaurant, but all too often it's disappointingly bland.  So we were very pleased when we dipped our spoons into the tender layers of cake and cream fragrant with rum and with strong hints of coffee.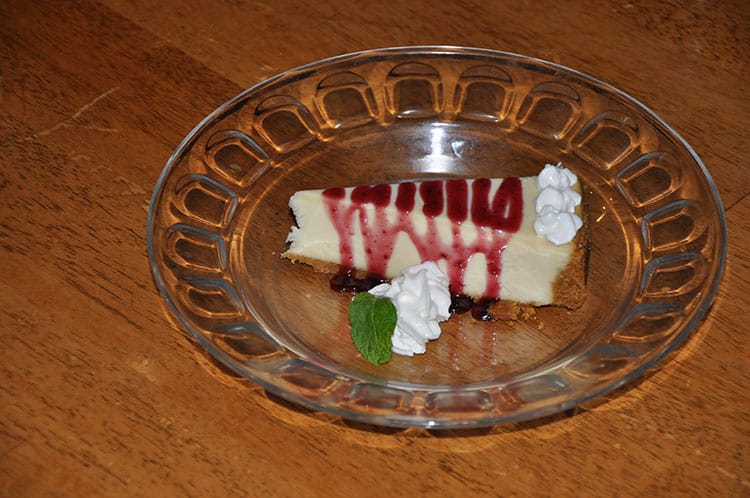 Sophie T's has several other desserts that are worth making room for.  Freshly baked White Macadamia Cookies, a creamy Ricotta Cheesecake with berry sauce…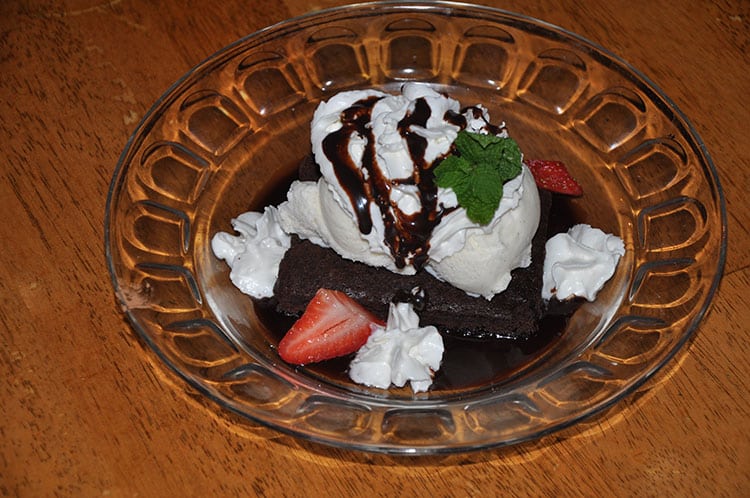 … and, the evening we were there, a warm and chocolatey Brownie Supreme that we hope ends up on the menu.
The final smile of the evening came with the check.  We've spent more taking two people out to dinner than it cost for a feast for eight, and we went home with lunch for the next day.
Sophie T's Pizza
508-325-6265 • 7 Daves Street in Bayberry Court, Nantucket Commons
Full menu served continuously • closed Christmas Eve & Christmas Day
Open 7 days: Tues.-Sat. from 11:30 am – 9 pm; Sun. & Mon. 11:30 am-8 pm
restaurant seating and full menu offered for takeout
Hot Italian Entrees from $12.95  •  Hot & Cold Subs from $8.00
Large pizza (18") from $17.75; Small pizza (12") from $11.75
beer & wine  •  MC, Visa, Discover accepted • families welcome • parking