by Catherine Macallister
September on Nantucket is the island's hidden secret: weather is still beautiful, ocean water is still swimmable, and the days are still warm with only the slightest breeze. The busy summer season is winding down but there is still plenty to take part in on-island. One exciting event that is returning this year, is the Island Fair Saturday, September 14 and Sunday, September 15. Games, livestock, classic fair foods will all be featured, and local artists, artisans, musicians, and groups will also be at the fair. The Island Fair has been a Nantucket tradition for more than a century with just a pause or two, so keep a day or the whole weekend clear to head over to the fairgrounds and see what's happening.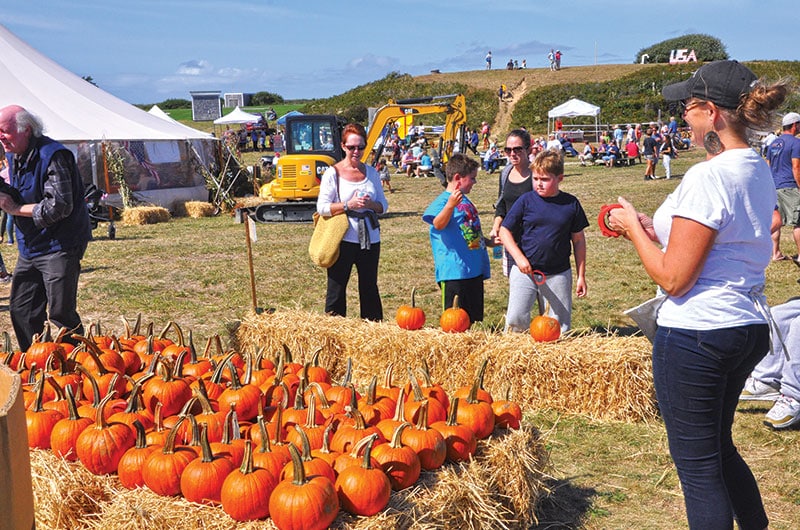 "By the town, for the town, about the town," that's how Abby Slosek, an organizer of the Nantucket Island Fair, describes the event. The fair takes place on the sprawling fairgrounds in Tom Nevers, a wide-open space that come fair weekend, will be filled with picnic tables, tents, giant pumpkins, and a field of scarecrows. It's "traditional fair fun" Slosek says, with watermelon eating contests, fried dough, cotton candy, face painting, hayrides, and kids games. There will be a community tent where local nonprofits can talk about what they do for the Town and how you can get involved. The fair took a brief hiatus but organizers are "psyched to be having the fair back on," says Slosek. Slosek credits a wide-array of team members including Judy Zurheide, Melissa Dudley, Patty Myers, Elin Anderwald, Ron Dunbar, Mary Longacre, Sarah Trainor Bois, Susan Richards, and Lucy Lundeen who have each stepped up to manage one or more aspects of the fair. Undoubtedly, the fair will be one for the books, with a mix of old and new and a strong sense of community.
The Fair has a wide array of activities, games, and concerts throughout the day. Try your hand at the skillet-throwing contest and see if you can hurl a skillet farthest down the field. Or head over and build a scarecrow and try to win one of the prizes for best decorated. If you've been cultivating the perfect vegetable or recipe, stop by Gertrude's Farm Stand where you can enter your items to win titles like "The Largest Pumpkin," "The Ugliest Vegetable," "Best Jam or Jelly, "or the "Best Tar Roof Cake." Tar Roof cake is a traditional island cake and is this year's featured baking contest item. Additionally, the popular "Best Home Brew" returns, offering you a chance to enter your best brewed beer for a shot at winning. The Dahlia Show is another new addition this year: enter your Dahlias and try to win a prize based on visual appeal, uniformity of bloom, color, and condition. Rules and judging components of each category are at nantucketislandfair. com. There is still plenty of time to get something together to win one of the coveted blue ribbons.
Ray's Barnyard returns this year, too, with animals of all kinds. First started by Ray Owen, this barnyard tradition carrying his name speaks to the 28 years he dedicated to ensuring that the Livestock Show ran smoothly and the animals were well organized and cared for. Slosek has been a major organizer in getting the animals for this year's livestock show which start Saturday at 2:30 pm. NISHA will also be a part of the fair and the hope is that some of their adoptable four-legged friends will make it to the fair grounds in hopes of finding their forever home.
Worried about leaving your livestock behind at the Fairgrounds or your spot set up in one of the artisan or community tents? Worry no more! Another unique part of this island tradition is the Boy Scouts commitment to making sure that the Fairgrounds stay safe over the weekend. They camp out on Saturday night, keeping a watchful eye over the fairgrounds.
Scouts aren't the only ones you will see volunteering their time. The entire event is run by volunteers. "It's unbelievable how many people pitch in," says Slosek. Between the core group of organizers and the dozens of volunteers, it is a big job to take on, "It's like throwing a wedding for the entire island… it's all encompassing," says Slosek, noting the permits required, tent rentals, artisan set-up, and more that goes into making sure the event is the best it can be. The core organizers take "a month to decompress," before they're back at it, making the next fair even bigger and better. In addition to the core organizers and regular volunteers, the event "always needs [more] volunteers, " says Slosek. Whether you're in high school and looking for a few extra hours of community service, or a community member looking to help out on a beautiful September day, you can sign up at nantucketislandfair. com for any events that work in your schedule. The volunteer shift is only 3 hours and volunteers get free admission and free parking at the fair.
Some exciting new developments are in play for the Island Fair as well. While they may not be implemented this year, there are plans to update the Fairgrounds and as the surrounding space, such as the playground, to improve the property. Slosek is hoping that a grant project will help to build a more permanent structure to house some aspects of the fair, like a barn for the animals.
Nantucket's Island Fair will be held in Tom Nevers, rain or shine on Saturday, September 14 and on Sunday September 15 from 10am to 4pm. This community event has been part of the Nantucket tradition since the 1800s and is part of unforgettable island memories. Whether you hope to win a blue ribbon, eat some fried dough, or see some of the livestock on Nantucket, the fair is bound to have something that will spark your interest. Admission to the fair is $15 per car or $5 per walker or biker.