by Carl Oscar Olson
We are taught from an early age to never judge a book by its cover. Before you make up your mind, take a look inside: there's almost always something surprising beneath the surface. Something unexpected and new behind every door. All you have to do it open them.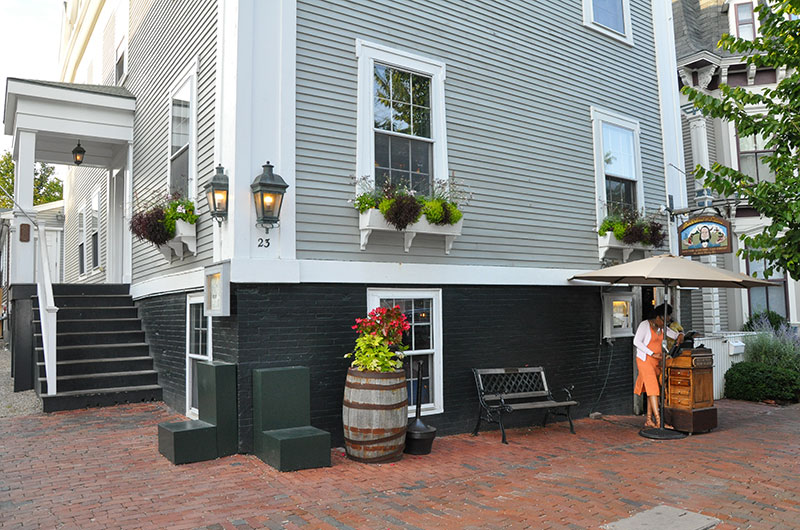 One of these doors exists on Broad Street. From outside, the historic and unassuming entry blends in to the brick facade. Open it, and you're transported through time to an 1800s tavern: a watering hole fit for a weary sailor. You've arrived at Brotherhood of Thieves. Take a seat at the bar, because the fun is about to begin.
The Whaling Bar was brought to life in 1972 by actor Arthur Krause. In May of 1999, a major downtown fire destroyed most of 23 Broad Street, but in July 2004 a group of investors worked together to bring the Brotherhood back to life. In 2005, the 2nd floor offices were converted into dining rooms, and the outdoor patio began to take shape. More recently, in 2016, the outdoor area transformed into the oasis it is today, and the rest is Broho history.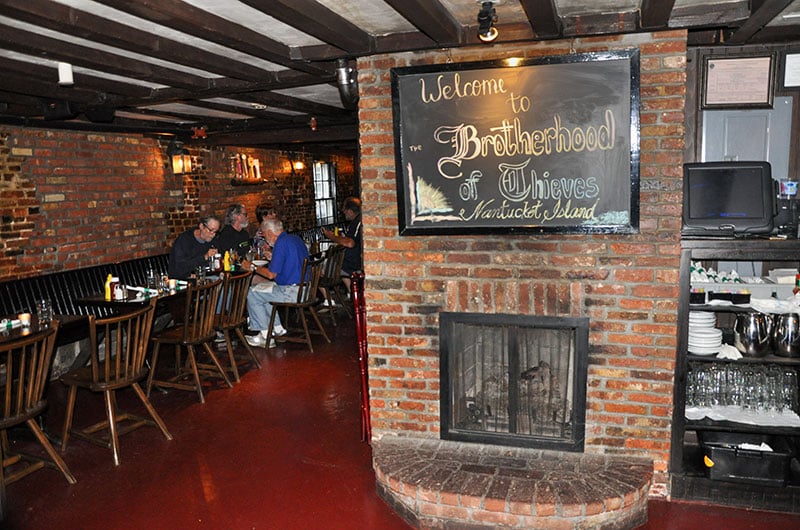 We are always ready to take a seat in their outdoor dining area—it's alive with the sights and smells of fantastic food and the hum of happy conversation. But there really isn't a bad seat in the house. The basement bar is cozy and comfortable, dimly lit and romantic—it's the perfect place to cozy up to dinner and drinks during the colder months. The second floor brings a finer, more formal setting, with lots of natural light and a well stocked bar fashioned from solid cherry.
We sat under the covered patio, but there's open air seating as well, not to mention the Rhum Bar where you can sip some of the finest spirits on Earth and imbibe some local draft brews, too.
The menu at Brotherhood is as diverse as it is delicious, with crafted burgers and specialty sandwiches, salads, seafood, soups, and more. The hostess recommended the BroHo Nachos, so we ordered a plate for the table and dove right in. There's enough for all your friends, and they're loaded with fresh toppings like chopped tomato, jalapenos, guacamole, and plenty of sour cream. They're lively with just enough heat, the perfect beginning to our stay at the Brotherhood.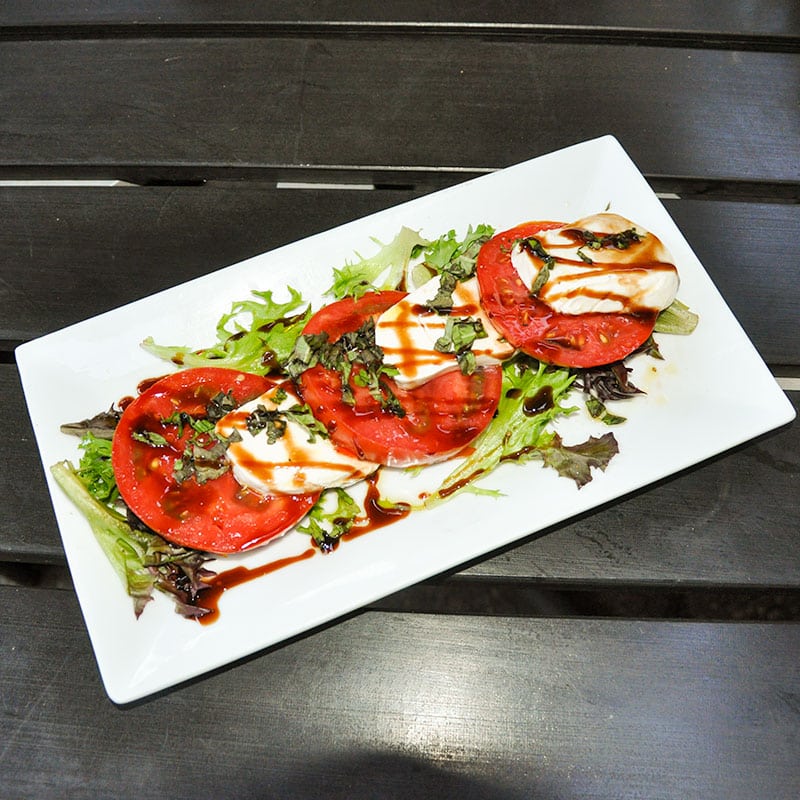 We love our local tomatoes in August, so from the big delicious jumble of nachos, we turned to the beautifully arranged Nantucket Grown Tomato Salad. Thick cut, sweet, and meaty tomatoes are layered with slices of mozzarella and basil chiffonade over a bed of peppery arugula. This plate is sized to share or it could make a meal; the choice is yours.
There's nothing like chill of rare tuna on a warm night, so the Ahi Tuna Sliders were a no-brainer. Two petite yet thick patties are formed with rough-chopped tuna, flash seared on each side and served on a sesame brioche bun. There's a marvelous marriage of warm and cool, and the flavor is enhanced with a mild wasabi aioli and hoisin sauce with pickled ginger on the side. These three-bite beauties are simply delicious.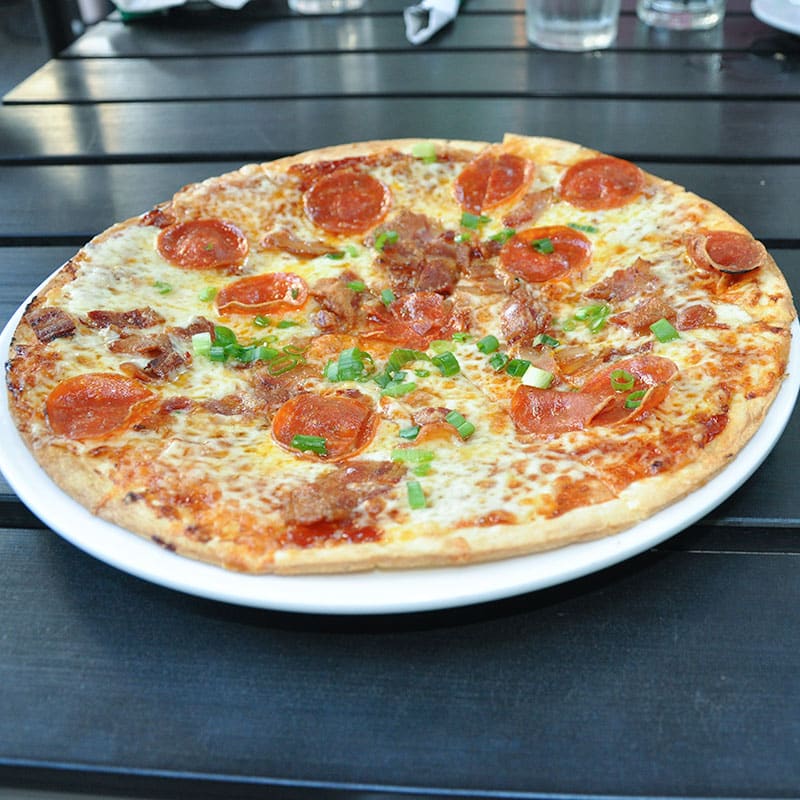 The Daily Flatbread was a smoke show with pepperoni, crispy bacon, and barbecue sauce sitting in for red sauce. Fresh chopped chives add pops of green color and flavor on this mouthwatering masterpiece.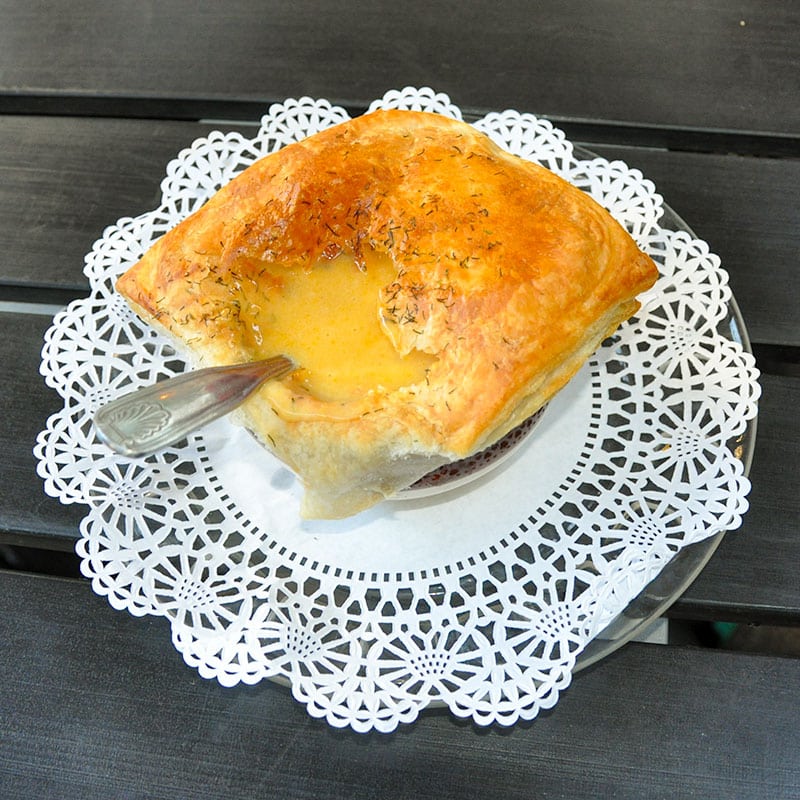 Our favorite first came as a pleasant surprise. A creamy sweet Lobster Bisque brimming with big chunks of tender lobster was served piping hot and blanketed by a flaky puff pastry. The consistency of this seaside staple is perfect: not too thick but bursting with bold, buttery flavor. Most of the starters and salads are portioned so perfectly they can serve as an appetizer for the table or as an individual entree, just another example of the wonderful versatility of the Brotherhood of Thieves.
The restaurant gets its name from the title of an 1844 pamphlet written on Nantucket by Stephen S. Foster, a radical abolitionist known for his fiery speeches. His words went after those who continued to support slavery, even as the movement was gaining traction throughout the United States. Foster was one of many groundbreaking individuals who called Nantucket home, and the Brotherhood honors those individuals and their ideals.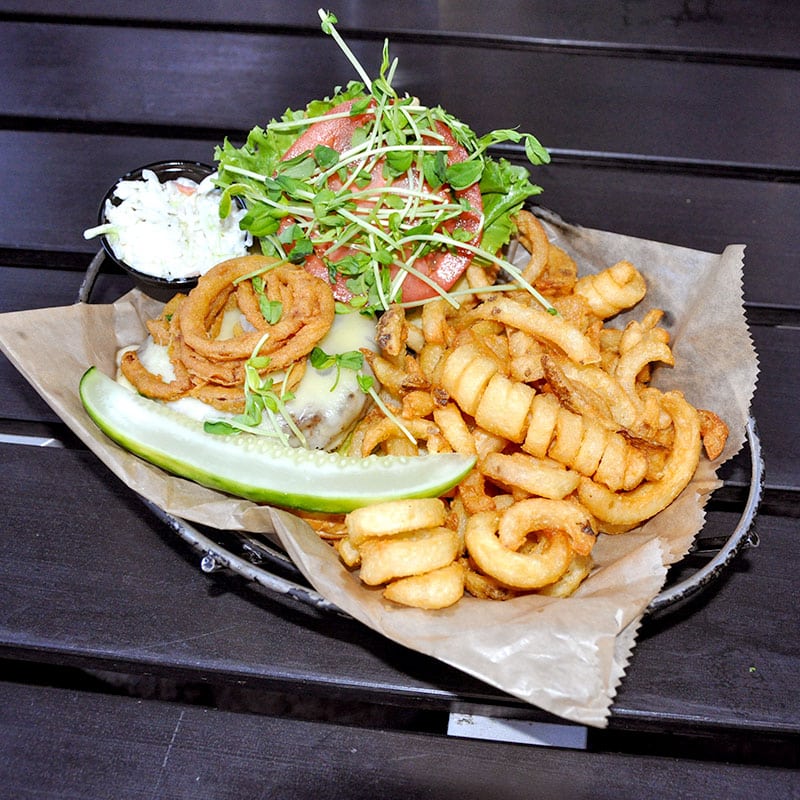 The Brotherhood is well known for their Burgers. They're handmade with hormone-free, all natural, always fresh beef and served on a brioche roll. They'll happily substitute hormone-free chicken and even gluten-free buns upon request. This week we opted for the California Burger. It's smothered in melted jack cheese, crispy fried onions, avocado puree, and fresh green pea shoots. However you like it cooked, it's bold and juicy and always delicious.
There's almost always a special entree at the Brotherhood, and this one sounded too good to pass up. The Fresh Catch was Swordfish, and it was blackened with balanced Cajun spices and topped with salsa fresca and sliced avocado, served alongside a toothsome medley of vegetables and whipped potatoes. Every bite is fork tender and so juicy, it was the perfect plate for a summer by the beach.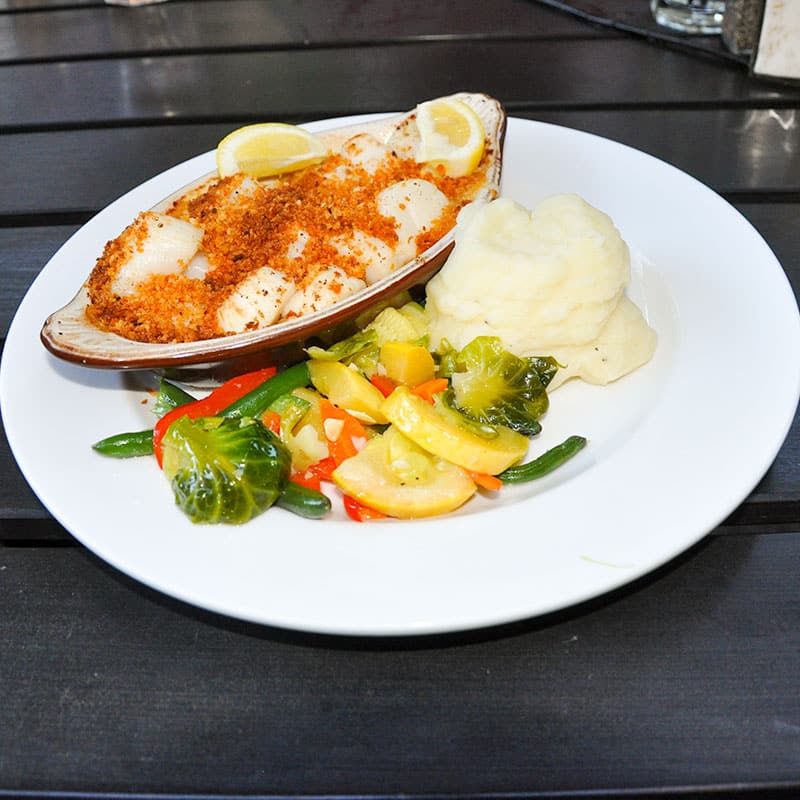 Our server raved about the Broiled Scallops, so we took his word for it. This New England classic features more than a dozen plump, sweet, and succulent sea scallops, perfectly tender and ocean-kissed. The cracker crumb crust adds some satisfying crunch to the mix, and a squeeze of lemon brings every bite to life.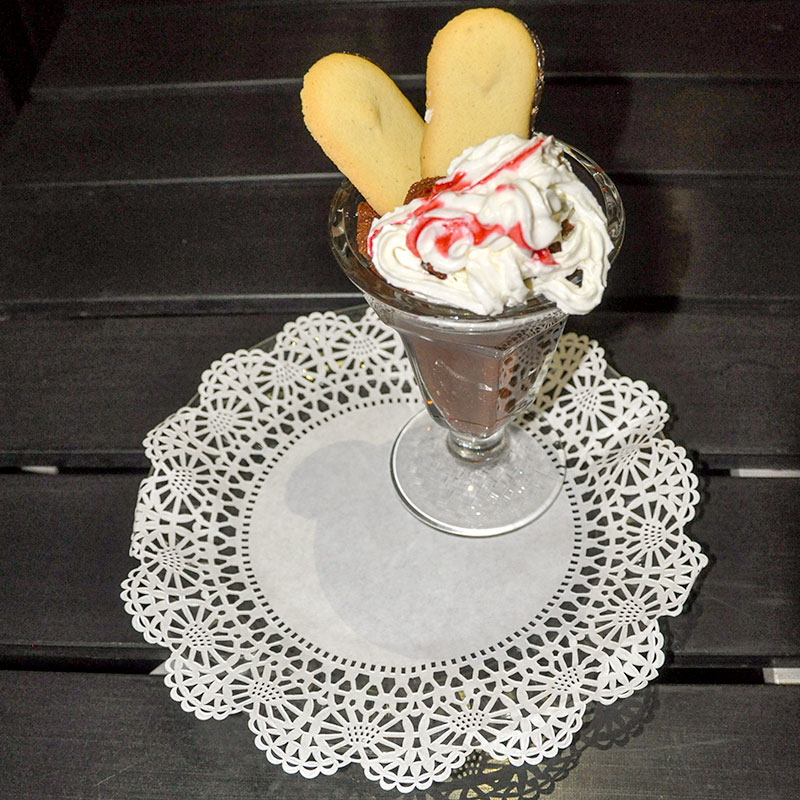 We were seriously satisfied with our meal at the island institution Brotherhood of Thieves. But what would dining out be without dessert? This restaurant has several of note. A sundae glass is piped full of Creamy Chocolate Mousse, sinfully rich with velvety smooth flavors of intense dark chocolate.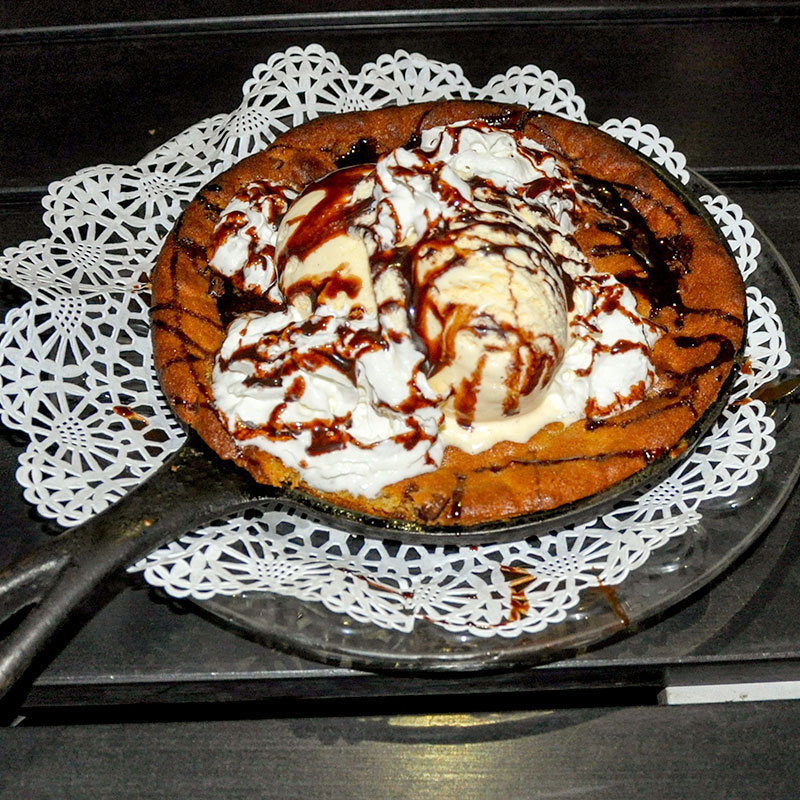 Our favorite is their Blondie of Thieves: a giant chocolate chip cooked baked to order in its own cast-iron skillet. It's decked out with vanilla ice cream and whipped cream. Don't hold back because it melts fast, but we have a feeling that won't be a problem.
Summer is coming to a close, but Brotherhood of Thieves stays open all year 'round. So no matter the season or the reason, get to Broad Street and join the Brotherhood.
The Brotherhood of Thieves
23 Broad Street • 508-228-2551
brotherhoodofthieves.com
serving continuously from 11:30 am; bar open till 1 am
Dinner entrees range in price from $25 to $36
Crafted Burgers, Sandwiches, & Lighter Fare from $12 to $36
take-out • kids menu • indoor & outdoor dining
handicap accessible • 3 full bars