by Catherine Macallister
Despite the chill of the AC running in the theatre, you will feel as though you have been transported to Groverdell, Texas during the heat of July. Lush, green thickets surround a small porch, piled with various items like chairs and suitcases. Through a large screen door is the kitchen, lived in and homey. Books are tilted onto one and other and line the shelves where every kitchen appliance imaginable can be found. Yet, there is a sense of things being the way they have always been, a fine layer of dust across pictures hanging in the hallway, a netted bag hung by the front door. The kitchen and porch scene is the only set throughout the entire show, but the script and abilities of the actors allow you to travel beyond the walls of the house and get a sense of the lives of four people in Groverdell.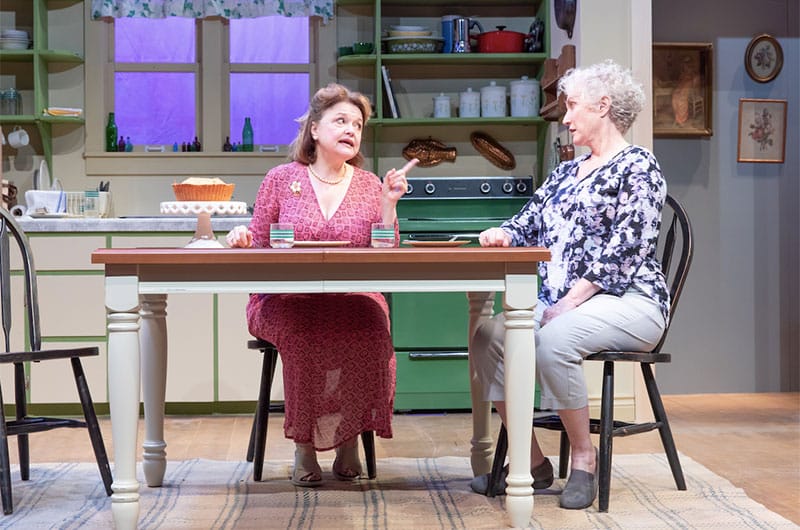 Fireflies is instantly likeable. The audience chuckled first during the preshow announcement when we were greeted with a distinct Texan drawl reminding us, "do be a good do be," and turn off your cell-phone. This good-natured humor finds it way into the script throughout, and the audience will appreciate the sense of ease that comes from watching the show. It is a compelling story about seemingly ordinary lives, with a universal message about finding love at any age.
The play begins in the kitchen belonging to Eleanor Bannister (Caitlin O'- Connell), with nosy neighbor Grace Bodell (Charlotte Booker) clamoring around, looking for a can of pineapple. Grace is the kind of person who has an ulterior motive—she's not just looking for a can of pineapple, she's checking up on Eleanor. Yet, this adds to Grace's charm because it comes purely from a place of concern and friendship. Eleanor appears slightly exhausted from her chatty neighbor's constant prying into her life until they change topics to the "drifter" Abel Brown who has just come into town. Grace is skeptical of Abel, his ability to keep finding work in the homes of single women, and how Groverdell is not a place for a man like that. Eleanor admits, embarrassedly, that she has already met Abel Brown, in the thickets around her house when he pointed out a large hole in the roof of her guest honeymoon cottage. She begrudgingly allows him to fix it, opening the door for him to try and fix other things around her house. While she attempts to keep things professional, calling him "Mr. Brown," and him returning with "Ms. El," they eventually find themselves drawn to one and other. As they share more intimate details of their lives, you find out how they got to where they are today and how inevitable their timing is to have finally met one and other.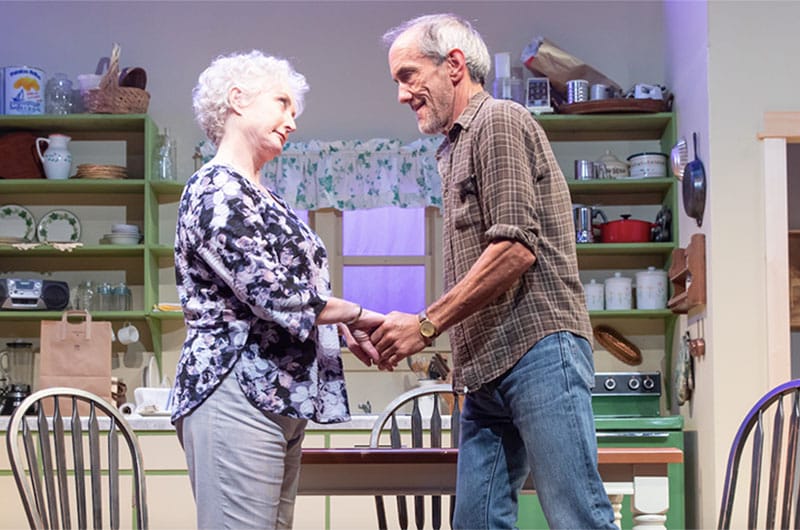 Eleanor's teaching career follows her into retirement but as opposed to being considered an "old maid," she is instead still widely respected in her community. O'Donnell plays Eleanor with dry humor, small smiles and the ever grammatical corrections that you would expect of a former teacher. She humorously reminds Grace that had her house been broken into she would have been "lying, not laying in a pool of blood," as Grace had suggested. O'Donnell finds balance, drawing empathy from the audience, especially during moments where she realizes she has made mistakes. Abel, "the drifter," is a friend to everyone in town, even only after being there a few weeks. You will appreciate his appetite for life—to try anything—especially as he attempts "Beautiful Dreamer," on Eleanor's father's violin. Booker's portrayal of Grace is spot on— everything from facial expressions to physicality and the sweet Texan drawl is endearing. She is over the top, quick to assume that Abel's "drifter" background means that he is a stalker or murderer—the audience loved her moments on stage. Officer Claymire (Patrick Halley) makes a very brief but memorable appearance on stage. While Eleanor has spent the show reminding Abel that she considers Claymire to be a "fat head," due to his abnormally large head as a child, we meet him and realize that he is more than what Eleanor has measured him up as. Ever the dutiful and albeit scared former student, he promptly recites a rhyme from grade school, taught to him by Eleanor. Their exchange stirs up a mix of emotions that play out before the audience and it seems to resonate with Eleanor. The accomplished actors eloquently portray the oncequiet lives of their characters, unveiling new truths that are relevant to audience members as well.
Grace shares a notion with Eleanor, this idea that we're meant to "travel down the road that we've been given." Grace seems content in her path: dominoes twice monthly, church every Sunday-complete with "Sunday Church hair," a sense of pattern and contentment. Life for Eleanor is different: her path seems to have ended and she questions what to do when your "road" ends? For Abel, it is being a traveling man—life taking him from one place to the next. He, like Eleanor, yearns to find someone, and when he finds Eleanor, there is an instant spark. This is where you see what makes this show so special: in ordinary life, there are exquisite moments of realization that life can be lived and the path does not have to end if you don't want it to. The audience watches as Eleanor and Abel, despite their opposite natures, fall in love.
Fireflies was written by Matthew Barber, a Tony-nominated playwright best known for his work on the play Enchanted April. The play was adapted from author Annette Sanford's story "Eleanor and Abel." Tony and Drama Desk Award winning actress Judith Ivey played Grace Bodell at the Long Wharf Theatre— her affiliation and connection to the show made her the perfect candidate to direct this White Heron production.
The creative team helps to tell the story of Eleanor and Abel, providing the perfect backdrop to the moving performance. Samuel Vawter's scenic design fits the small Texan town perfectly. Costume Designer Amanda Downing Carney has outfitted each actor—keeping outfits simple for Eleanor and Abel and taking the opportunity to dress Grace. Christina Watanabe's lighting design creates the appearance of gorgeous summer nights and sunsets through the window of Eleanor's house. The final appearance of the fireflies will leave you breathless, a collaboration of both the scenic and lighting team.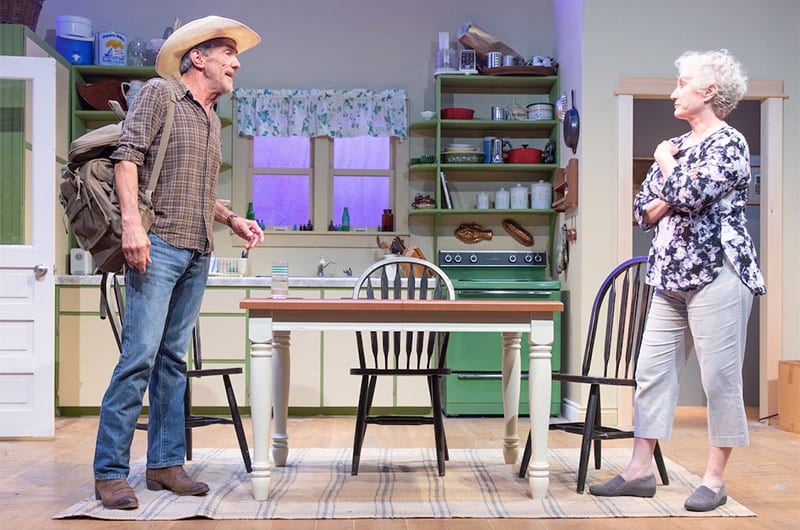 There is a familiarity in Fireflies that will strike a chord for every audience member: the clear moment of finding oneself despite all odds, age, lot in life, or gender. This play is illuminating in more ways than one. It shines a bright light on the love that one can find at any age. It illuminates the importance of friendship and is a journey of self-discovery that allows audiences to see a love story beginning at the end of an old path. When Eleanor and Abel find love in each other's embrace, it is clear that the audience has embraced their story.
Fireflies is a love story for those who may not have thought that love was possible "at a certain age," and it will leave you to reflect on the greater meaning behind its namesake fireflies: simple, beautiful, and elegant creatures that illuminate the darkest times.
Fireflies runs through September 14 at the White Heron Theatre. Tickets are available at whiteherontheatre.org and at the box office: 508-825-5268.