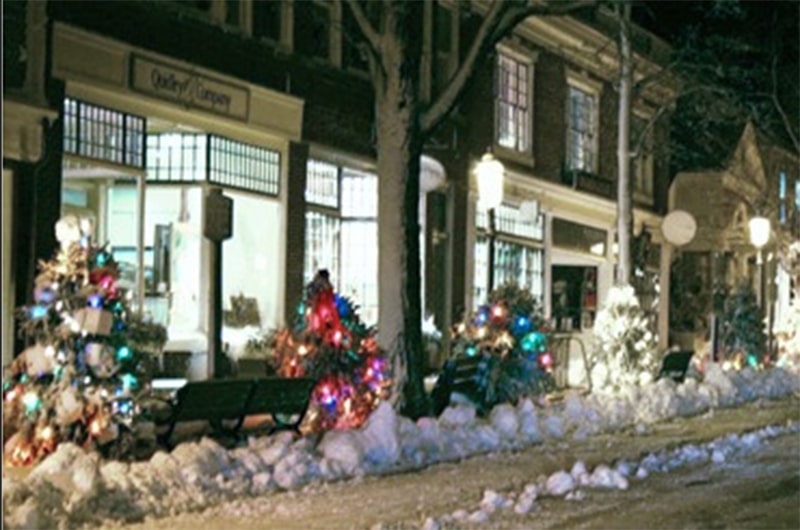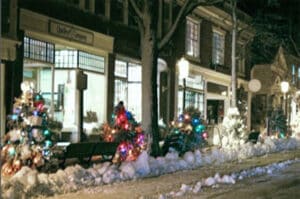 This year on Thursday, Friday, and Saturday, November 30, December 1 & 2, will mark the eighth year that Palliative and Supportive Care of Nantucket (PASCON), The Quidley Gallery, island businesses, and island artists come together for a special Nantucket art show that benefits vital island causes, PASCON and The Marla Ceely Lamb Fund. It's an effort that can be summed up in 6 words: great cause, great art, great value. One of the premier island galleries presents work by over 50 island artists in a format that surprises all with wonderful paintings at potentially great prices.
Island living has both its joys and challenges. Never does the challenge become more apparent than when individuals and their families are struggling with cancer and terminal illnesses. First rate medical care is here on the island, but the more specialized treatments necessary for cancer and related illnesses often require trips off the island. Time away from home and work and travel expenses can quickly add up.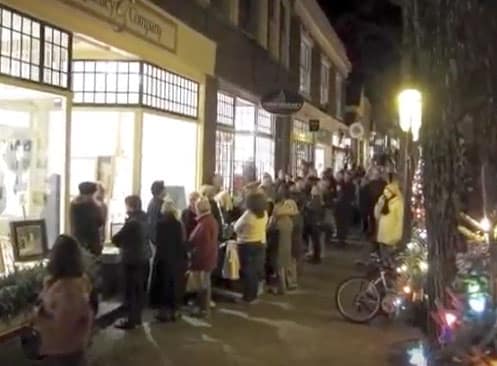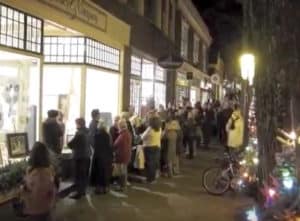 PASCON is devoted to providing a range of services supporting individuals and families grappling with the immense toll of cancer and other terminal illness. The Marla Ceely Lamb Fund is a designated fund aimed specifically at easing the burden of travel costs to and from Nantucket for cancer treatment and care. PASCON started in 1982 and the Marla Ceely Lamb Fund was instituted 10 years later by the family and friends of Marla Ceely Lamb, a native Nantucketer who died of breast cancer in 1992.
Most of us have some connection to a loved one or friend facing cancer. Chris Quidley, the owner of Quidley & Company at 26 Main Street, one of the finest galleries on the island, knew that in addition to offering fine art, part of the gallery's mission would be to give back to the community. Chris and Rob Giacchetti, his former business partner, both lost a parent to cancer. And one of their employees had been diagnosed with cancer, so they saw firsthand the challenges of the disease and the extra burden travelling for treatment presented. During their world travels they found the inspiration for how their gallery could be an agent for help. It was sparked by ART Basel. They were struck that a successful effort from one of the top galleries in the world could be used to such benefit, and they returned with the gem of an idea that led to the first Stroll Art Show.
During those first years, the initial concept had been a mystery art show of inexpensive works. The range of artists who contributed works represented many media, styles, and levels of accomplishment. And all were displayed with equal attention. Nantucket Frame Center was on hand to custom frame each piece. Word got out that you could snag some terrific paintings at bargain prices, and each year the lines to get into the show became longer. It was becoming apparent that, although successful, the show had emerging problems with assuring wide-ranging artist participation, collecting the art, and managing the sale. But it was such a much-needed boost to the nonprofits' budgets and such a visible show of community support, it was decided to tweak the format but keep the show going. The most recent shows have kept the element of suspense through a secret bid process. Don Van Dyke, a past president of the Artist Association of Nantucket and Chris hit upon a new presentation that benefitted both the nonprofits as well as the artists submitting works. Don also had firsthand experience with loved ones battling cancer, and, as a year-round island resident, he was well familiar with Nantucket travel. Plus, as a passionate island artist, he knew there was a whole legion of artists ready to continue their support.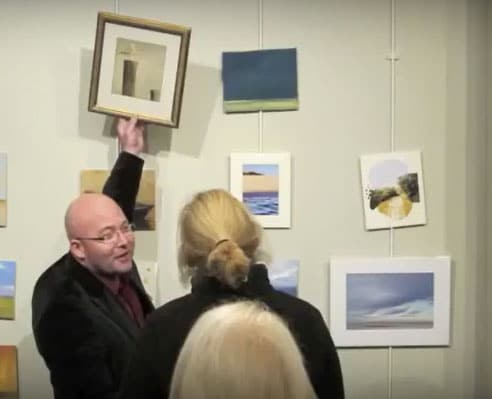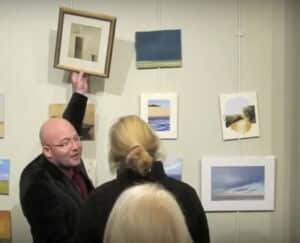 Island artists are often asked to donate works for fundraising efforts. The new format allows for a modest recompense to the artists. A minimum bid, usually quite low, is set by the artists. Half of that bid goes to the artist and half to the charities. Anything over and above that minimum goes totally to the charities. Bidders may try for that bargain and bid only the minimum. But if they have spied that perfect painting to add to their collection, they may bid as high as they'd like. All bids are sealed, and the winning bid is the highest when all the sealed bids are open at 4 pm Saturday, December 2. In an additional spirit of support from the artist, many forego any commission and donate their work in full.
This show is collaboration and generosity in action. Chris turns over half of his gallery to this special stroll exhibit. Cape Cod Five Cents Savings Bank has sponsored the event since its inception, and Stop and Shop, Stacey Perry, and Cumberland Farms have helped with the reception. Nantucket Frame Center has also helped tremendously over the years. Artists have a unique opportunity to showcase their work, PASCON and the Marla Ceely Lamb Fund keep their funds healthy and the public has one more fun thing to add to their list of Stroll activities. Whether you're searching for a special gift, a new addition to your collection or even if you don't think you have one more square inch to spare, stop by the Quidley Gallery on Main Street Thursday, Friday, or Saturday of Stroll Weekend by 4pm. Enjoy the festivities; check out the paintings. You may find that great piece of art at a great value and support a great cause.