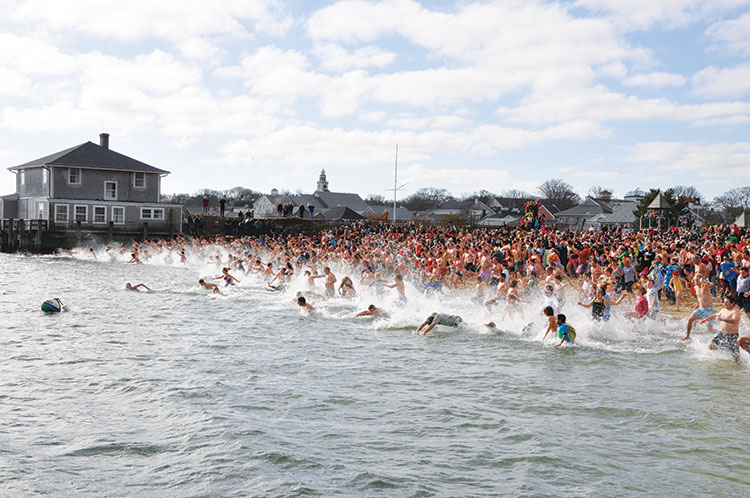 For more than a decade Nantucketers have started Thanksgiving Day early in the morning at Children's Beach. Some come dressed for the weather, some in costume, but most are dressed for swimming in the Atlantic in November. The annual Cold Turkey Plunge is fun for spectators and participants, and it raises tens of thousands of dollars for the Nantucket Atheneum's Weezie Library for Children.
This event is just one way to give back to fellow island residents. Here are some of our favorite gifts to buy that you can wrap and give while also giving back.
Visit the Festival of Wreaths during Thanksgiving Weekend and bid on a one-of-a-kind wreath to give as a gift—you won't even have to wrap it! The monies raised benefit the Nantucket Historical Association and their mission to tell the inspiring stories of Nantucket through its collections, programs, and properties. nha.org
Another event where you can buy a gift that gives back happens on November 30 and December 1 & 2, when art lovers will flock to The Quidley Gallery at 26 Main Street for the 8th annual Art Show. Here you can bid on original paintings by more than 50 artists, and a portion of the sale price of each piece of art benefits both the Marla Ceely Lamb Fund and Palliative & Supportive Care of Nantucket. pascon.org
A great holiday gift for budding artists is a gift certificate from the Artists Association of Nantucket. They are available in any amount and can be used to buy art in their Cecelia Joyce & Seward Johnson Gallery at 19 Washington Street or toward art classes and workshops offered in their Visual Arts Center at 24 Amelia Drive. Certificates are available in their downtown gallery or at the VAC on Amelia Drive, where you can also buy an AAN apron, cap, water bottle, flash drive, or notecards add to your gift that gives back. Nantucketarts.org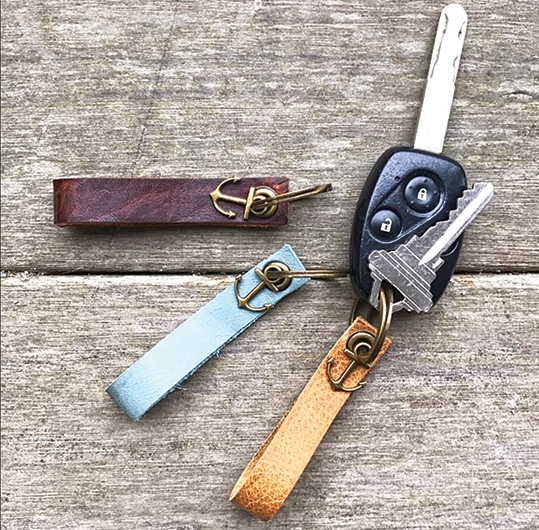 Sarah of s•mac designs has been designing and selling her exquisite leather handbags and accessories on Nantucket since 2008. This season she is also offering handcrafted leather and anchor keychains with 100% of the $16 purchase price going to the Sailing Stork Fund, which provides financial assistance to island families who need to travel extensively off-island due to high risk pregnancies and labor and delivery of multiples. You'll find Sarah at the Sailing Stork event at Ventuno on November 16th from 6- 8pm, the Handmade Nantucket show on November 24 & 25 at 11 Centre Street; at the Christmas Stroll Craft Show also at 11 Centre Street on December 1 & 2, and at December Delight in the Nantucket High School on December 9. smacdesigns.com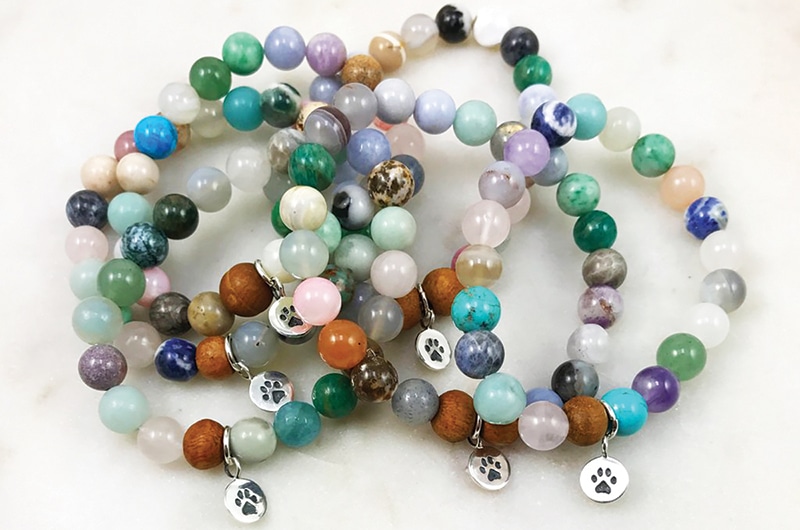 Animal lovers will love giving "Orphan Bracelets" handcrafted by Clay Twombly, who designs and creates malas and intentional jewelry in his studio upstairs at 2 Union Street. He teamed up with NiSHA, Nantucket Island Safe Harbor for Animals, for these beautiful bracelets created with orphan beads and an adorable pawprint silver charm. "NiSHA cares for 'orphan' animals, so what better way to honor your adopted pet than with this one-of-a-kind bracelet, designed exclusively for NiSHA?" A portion of the proceeds from each bracelet goes directly to the animals. Available at claytwombly.com and in his studio at 2 Union starting Friday, November 24.
Another gift to warm the hearts of animal lovers can be found at Made on Nantucket on Old South Wharf. Kathleen Duncombe donates a portion of the proceeds from select prints and jewelry in her shop to CatTrap Nantucket. CatTrap's mission is to lower Nantucket's feral cat population through a humane trap, neuter, return, care, and educate program. They provide sanctuary for cats with special needs and find caring homes for socialized cats and kittens. Stop by Made on Nantucket at 18 Old South Wharf weekends from 11:30 am to find the purrfect holiday gift that gives back.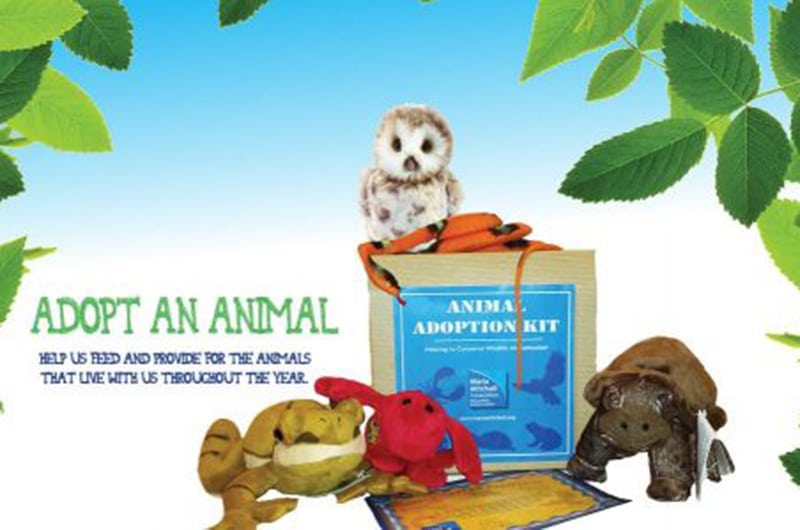 How about a soft and snuggly barn owl or lobster for a child in your life? You can symbolically adopt an animal to support the care and feeding of the actual animals in the Maria Mitchell Association's Aquarium and Museum. Their Adoption Packs are $75 and include a cuddly animal, adoption certificate, animal fact sheets, and more. You can choose from a Spring Peeper, Barn Owl, American Lobster, Eastern Milk Snake, or a Painted Turtle. Adoption Packs can be ordered at 508-228-9198 or email gdonnelly@mariamitchell. org.
You can even give a gift of entertainment that gives back on-island. Wrap up a Dreamland membership card to slip into a Christmas stocking or a holiday card. Memberships start at just $40 for students and seniors and at $125 for a family. If you have a real film buff on your list, consider their Director or Producer memberships. Details on all membership options are at nantucketdreamland.org.
If your gift recipient prefers live theatre, then give a gift card from White Heron Theatre so they can enjoy stellar performances and play a part keeping culture alive on Nantucket. White Heron also has a limited number of seats and courtyard bricks that you can have engraved in honor of a loved one to ensure that future generations will have a dedicated, permanent space to enjoy theatre on Nantucket. whiteherontheatre.org or 508-228-2156.
If none of these suggestions are on your "Santa's list," then visit the Seconds Shop at 32 Sparks Avenue for gently-used designer clothing, shoes, gifts, home decor, and housewares. All proceeds from this shop go to Fairwinds, Nantucket's Counseling Center which provides affordable on-island mental health and recovery treatment.