Nantucket has become widely known for its festivals: we celebrate daffodils in April, wine and food in May, books and screenwriters in June, comedy, gardens, yoga, and dance in July. Autumn brings the Cranberry Festival and the Maritime Festival. Just when we think the season is over, the Nantucket Historical Association lights up their Whaling Museum with the Festival of Wreaths and the Festival of Trees.
The Festival of Wreaths Preview Party and Silent Auction Kickoff is Tuesday, November 21, from 5 to 7 pm and is the Nantucket Historical Association's (NHA) first celebration of the holiday season.. Tickets to the preview party are $65 at nha.org or by calling 508-228-1894.
Opening to the public on Wednesday, November 22, the 19th Annual Festival of Wreaths features an array of unique and beautiful wreaths handcrafted by local residents, businesspeople, organization members, and schoolchildren that are on display during the week of Thanksgiving. Wreaths of many sizes made from a wide variety of materials are featured. From traditionally decorated greens to unconventional materials, all of the Festival of Wreaths entries capture the creativity of Nantucketers.
Visitors may bid on their favorite wreaths in a silent auction to benefit the NHA's year-round outreach efforts. The festival is closed Thanksgiving Day, but reopens on Friday, November 24 through Sunday, November 26. This display in the Whaling Museum at 13 Broad Street is free to the community, so attendees may visit and revisit favorite wreaths to increase their bids and their chances of winning. Winning bids will be announced at 2 pm on the last day of the Festival of Wreaths, Sunday, November 26.. Bidders do not need to be present to win.
The hours for the Festival of Wreaths are 10 am to 5 pm on Wednesday, November 22, Friday, November 24, Saturday, November 25, and 10 am to 2pm on Sunday, November 26.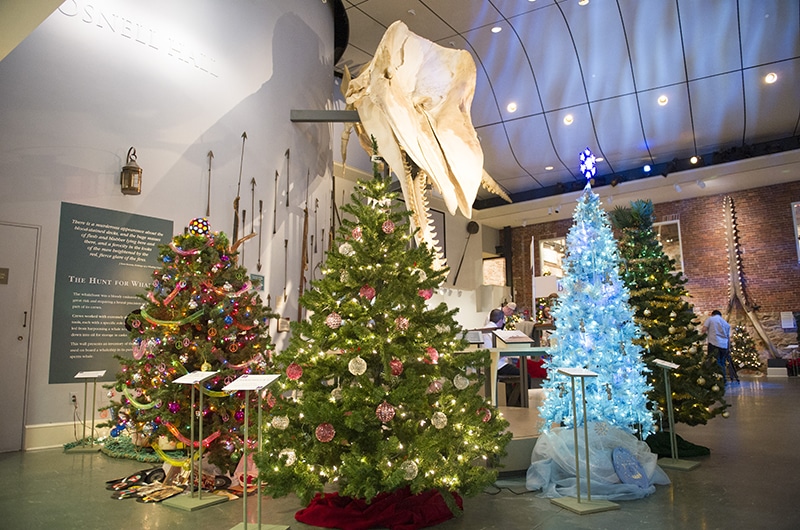 One week later, on Friday, December 1, the NHA's 24th Annual Festival of Trees opens to the public. Transforms the Whaling Museum into a festive winter wonderland for the entire month of December. Trees trimmed with photographs, with symbols, with scrimshaw, and more are side-by-side with trees made from origami and trees constructed with other materials. The creativity always astounds in this festive display.
The NHA's Festival of Trees began in 1994 as one of several events that celebrated the organization's centennial anniversary. The event was held at various NHA properties over the years, and permanently moved to the Whaling Museum after the museum's 2005 renovation. With a variety of innovative tree designs every year, it is one of the most anticipated events of the island's holiday season. "It is an honor to chair the 2017 Festival of Trees event and we will do our best to elevate the efforts of the talented tree designers in this most special Nantucket setting," says Beth English, co-chair for this year's event with her husband Mark Donato. "It is always a joy to unite with friends and community members at the Preview Party before we all disperse for winter travels or hibernation. We hope that seeing the trees in the context of the Whaling Museum reminds every one of the legacy of creativity and spirit that is still a vibrant part of Nantucket today!"
The Festival of Trees is free for all current NHA members and children under 6, and $5 for Nantucket year-round residents. General admission is $20; $18 for students and for seniors over sixty-five. The display is open in the Whaling Museum, 13 Broad Street on Fridays, Saturdays, and Sundays from 10 am to 5 pm (til 8 pm on Dec. 1), as well as Tuesday through Sunday, December 26 – 31. The Festival of Trees will be closed on Monday, December 25, for Christmas Day.