• by Chef Jenn Farmer •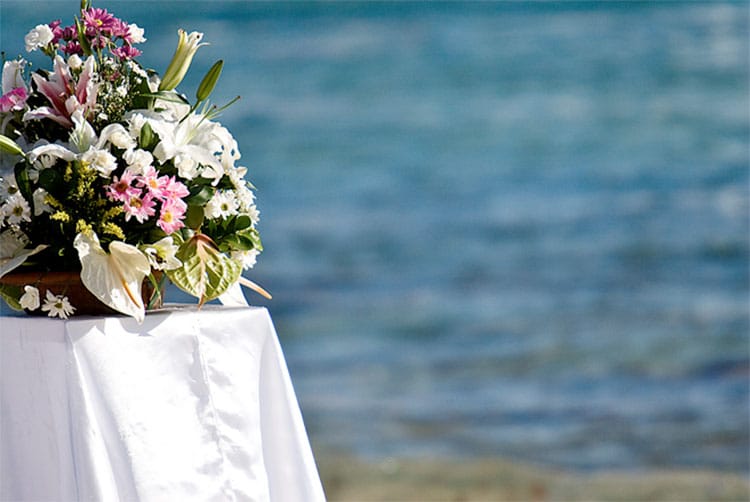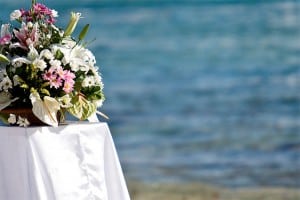 Nantucket is a perfect location to have an outdoor wedding.  Recently my editor mentioned that two members of her family had outdoor weddings this year, and what a good idea.  I was instantly interested.   The timing was oddly excellent; I was going to be having lunch with a friend of mine who works for a very busy catering company.  He has catered more weddings than nearly anyone I know.  He had just catered a wedding only the night before and had three in the same day on the following weekend.    It was no surprise he had some great tips to keep in mind.
His first suggestion for a summer wedding was to make lots of salads.  Quinoa or other grain based salad tossed with chopped vegetables and dressed with zesty vinaigrettes were at the top of the list, along with a classic hearty chopped salad, maybe containing no lettuce at all, but shelled peas, cubed cauliflower, broccoli, tender raw sweet corn cut from the cob, diced tomatoes, diced steamed squash…well you get the idea, just about any vegetables will do.   Salads can really showcase local produce.  Watch the time and temperature of the food, put it away if it is beginning to get too warm, or throw away anything that is questionable.  Also remember that creamy dressings tend to be a little less stable in warm weather than vinaigrettes, so the vinaigrettes are obvious choices.   Another suggestion was crudité platters with or lemon and herb tahini dressing.
Pickled vegetable and fruits are also well-suited to picnic style dining.  Pickles are becoming more and more vogue to serve at functions.  Charcuterie, or cured meats and fish are lovely selections, since they are fine to eat at room temperature, and the cures on them help prevent bacterial growth, and illness.  In Nantucket a variety of smoked fish can be purchased from almost all of the fish stores, or one can easily make their own cured gravlax.  When I serve smoked or cured fish, I usually accompany it with crackers, pumpernickel crisps, whipped cream cheese, capers, minced red onion, chopped chives, sieved hard boiled eggs, homemade hot relish, and pickled shredded beets with horseradish.  Nice cooked, cold, sliced tenderloin can also be set up next to the smoked fish, since all the accompaniments taste equally delicious on tender chilled beef.
Hiring a raw bar or a clam bake, are both classic Nantucket wedding cuisine, and they take the pressure off the family, let the professionals set up, serve and clean up. There is also a mobile pizza truck on Nantucket; the pizza would be very novel especially for the kids at a backyard wedding.  And pizza and flatbread can be elegant or gourmet.
More and more people are going with creative themed wedding receptions.  I love the idea of hiring the shaved ice machine for the kids, or even (gasp) cotton candy machines, and you can customize the color and flavor of the spun sugar confection to match the wedding.  Even adults are entertained by making cotton candy.    One of the best weddings I was at was held on a farm.  They had wheelbarrows of beer and sodas on ice, they barbequed a suckling pig, smoked brisket, and a couple chickens, there was a pot of baked beans, a platter of dinner rolls, a big chopped salad, and, of course, cake.  It was excellent.
I would have to say the very best idea for a backyard wedding feast was from a friend.  She is a chef, and thus most of her friends and family are too, so she would request guests bring a potluck dish instead of a gift, and a recipe card with the recipe on it for the bride and groom to keep.  It was a brilliant idea!
Easy and Elegant Cold Tenderloin
1 two pound high quality tenderloin, trimmed of silver skin
1 tablespoon, medium-coarsely ground black pepper
1 teaspoon kosher or coarse sea salt
Pre-heat your oven to 500 degrees.  Pat the tenderloin dry and evenly coat with the salt and pepper on all sides.  In a cast iron skillet heat enough cooking to sear the tenderloin to medium high, very hot, but not smoking.  Carefully sear the meat on all sides to a nice brown.  Roast the tenderloin in the same skillet for 15-20 minutes, or until meat thermometer registers 130 (medium-rare).  Remove the meat from the oven, and skillet, and let it rest until it reaches room temperature.  If you are not serving the meat immediately, wrap it tightly in plastic wrap, and refrigerated for up to 2 days. The meat should be allowed to come to room temperature before slicing.  Arrange the slices attractively on a platter with horseradish sauce, or capers and cornichons, or my favorite, with pickled onions.  It can be served with rolls and condiments for sandwiches.
Salmon Pastrami
One side of salmon, scaled, and bones removed (around 3lbs)
2 ounces lemon juice
One half cup kosher salt
One half cup sugar in the raw or brown sugar
2 tablespoons black peppercorns, cracked
One bunch cilantro, rough chopped
One bunch parsley, rough chopped
6 shallots, chopped fine
One quarter cup molasses
1 teaspoon cayenne powder
6 crushed bay leaves
One half teaspoons yellow mustard seeds
One quarter cup coriander seed, crushed
One eighth cup paprika
One eighth cup ground black pepper
Cover a sheet pan with cheese cloth, or a couple sheets of plastic wrap, overlapping.  The plastic will be wrapped around the fish. Lay the fish skin up on the wrap.  Rub the fish with lemon juice.  Make a dry rub from the salt, pepper, sugar, cilantro, parsley, and shallot.  Rub the cure on both sides of the fish, focusing most attention on the flesh side.   Wrap in the cheesecloth or plastic and refrigerate for 3 days.  Scrape the extra rub off, and wipe salmon off gently.  Bring the molasses, cayenne, bay leaf to a simmer.  Allow to cool.  Brush the salmon with the molasses mixture.  Make a dry spice mixture from the mustard seed, coriander, paprika, and black pepper.  Press the spice mixture into the salmon.  Allow flavors to combine under refrigeration for 12 hours before serving.  It keeps for up to a week, if it is wrapped and refrigerated. Serve thinly sliced on platter with the same accompaniments as gravlax.
Classic Cream Cheese Mints
one 8-ounce package of cream cheese
one 2-pound bag of powdered sugar
1 half teaspoon mint extract
(wintergreen or spearmint or even almond extract  is great too)
Food coloring (optional)
Granulated sugar
You will need silica candy mold to make pretty little mints, otherwise these rolled and cut into half inch candies.  Knead together the cream cheese, powdered sugar and mint.  Add the food coloring drop by drop if using, and knead, until the desired color is reached.  Roll into small balls and roll them into granulated sugar and press into mold.  Immediately pop out and sheet tray them for to air dry each side for half the day (up to 24 hours per side).  Keep well in a cool dry place, very well sealed for a week, or a little longer.  If making them ahead, then freeze them. The yield varies depending on the size of mints.  Yields 50-100+ mints.