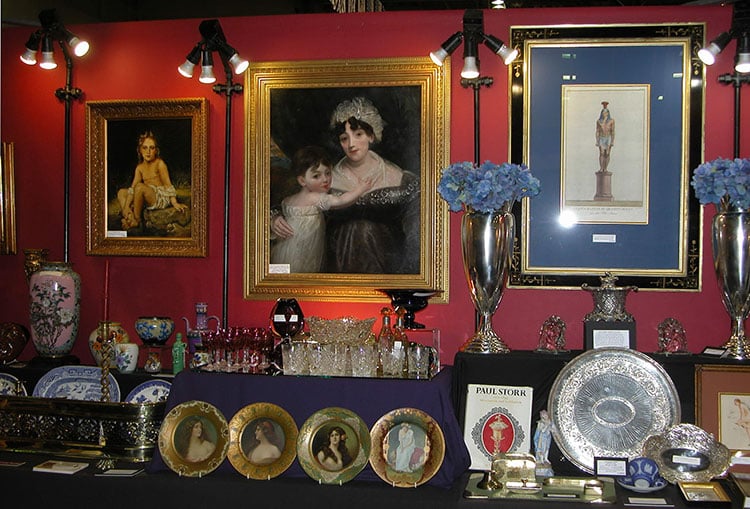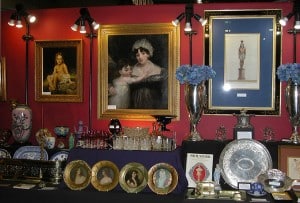 The 36th Annual Nantucket Antiques Show to benefit the Nantucket Fireman's Association is being held this week at Nantucket High School, 10 Surfside Road.  Through Saturday, August 10, the show is featuring exhibitors from throughout the United States and Europe, with antiques from the 18th, 19th, and 20th centuries. The show is open 10 am to 5 pm; admission is $10.
Dealers will be showing items ranging from beautiful antique American & European furniture, antique oriental rugs, striking estate jewelry, silver, gorgeous antique paintings, prints, quimper, majolica, nautical, primitives, garden & statuary, folk art and much, much more.
Frank Shaia, who manages the show, is a second generation oriental rug dealer. He has been in business in Williamsburg, VA since 1973. His main focus is on oriental rugs woven between 1880 and 1940. These are the rugs that are commonly known as antique and semi-antique oriental rugs. During the show he will share his knowledge on how and where they were made, and how to date a rug. He specializes in such rugs as Heriz, Serapi, Caucasion, Bidjar, and Oushak.
David Weston has collected and dealt in scientific and marine antiques for more than 40 years. His specialty is in navigational instruments and sailor woolworks.
Keith Funston specializes in antique furnishings from 1600 to 1850, including furniture, art, textiles and small objects (such as tea caddies, knife boxes, delftware, ivories, agates, jades, etc.) He is particularly fond of American, English and Southern European goods, but also deals in Asian, Northern Europe and South American, and ancient  Roman and Egyptian mix with Asian and Polynesian. However, his real claim to fame, so to speak is his focus on Wunderkammer.
Another seasoned and returning dealer is Jerry Ritch of J & M Antiques. Jerry's specialty is 18th & 19th century American lighting such as kerosene & oil lamps, student lamps, gasoliers & chandeliers. He also is well noted for his eye for American cherry & tiger maple furniture. This year, among other items Jerry will feature an oil on canvas, mid- to late 19th century depicting  General George Washington winning the battle at Monmouth, New Jersey, showing the British surrendering.
A dealer who has been with the show for many years is Gold Leaf. Duanne & Don have a unique collection of 19th & 20th century art and estate jewelry. This year they are featuring a signed lamp 'Duffner Kimberly Lilly Pad lamp', a 4″ signed vase 'Louis Comfort Tiffany Hearts and Vines' and the crème de la crème, a natural lite fancy yellow 4 carat diamond set in platinum accented on the sides with diamonds and emeralds.
Other notable dealers at this August Antiques Show are Apropos from Richmond, VA; Karenlynn Williams of Williams Works, Bellaire TX; Blue Diamond Antiques of Dearborn MI; Julie Harris, who specializes in sports and college memorabilia; and Gary Bardsley Antiques of Sudbury MA, specializing in period antiques & decorative accessories.
To see a complete list of dealers, and to watch for updates, visit the website at www.nantucketantiquesshow.com.