The Nantucket Cottage Hospital Thrift Shop has donated $250,000 to Nantucket Cottage Hospital (NCH), the largest gift in its 85-year history on the island.
The generosity of the island community and the dedication of the Hospital Thrift Shop's board, staff and volunteers combined in 2014 to generate this extraordinary, record-setting donation to NCH, which includes the first installment of a major gift toward the construction of a new hospital on Nantucket.
The Hospital Thrift Shop sells merchandise donated by island residents and visitors – anything from books to furniture to artwork – from late May through mid-October, and operates as a separate non-profit organization.
This year's $250,000 gift has been designated for four specific purposes, including: $150,000 toward the goal of an eventual $500,000 donation to the NCH capital campaign, Building Our Future, Committed to Care, for the construction of a new hospital; $75,000 for equipment needed for a new primary care office space within the hospital; $15,000 to the NCH Social Services Department; and $10,000 to Palliative & Supportive Care of Nantucket (PASCON) for the Marla Lamb Cancer Travel Fund.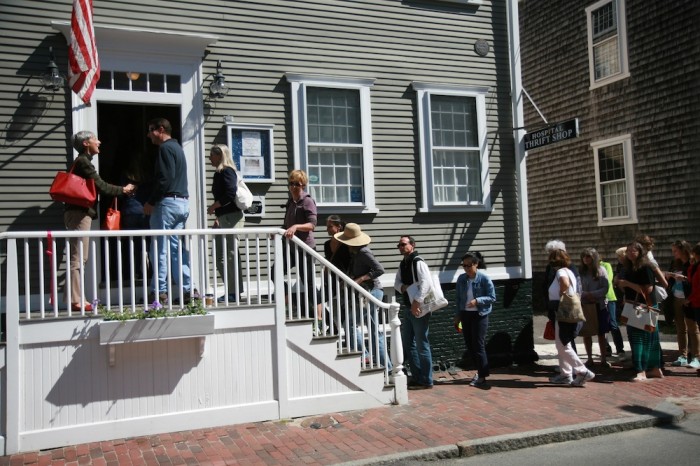 Catherine S. Ward, the President of the Thrift Shop's Board of Directors, presented the checks to Nantucket Cottage Hospital President and CEO Dr. Margot Hartmann in late November. "Once again the Hospital Thrift Shop has generously donated a significant gift that will benefit island patients both now and in the future," Hartmann said. "These contributions will allow us to maximize the time we have left in this building, and also represent an investment in the future of health care on Nantucket with the extraordinary gift to the capital campaign."
"The new hospital represents one of the most important projects for the island community for generations to come, and we're proud to be able to contribute to this critical endeavor," Ward said. "We also recognized the need for Dr. Hartmann and her team to reconfigure the existing hospital to better serve patients, particularly in the area of primary care, and are pleased to be able to help NCH meet this goal as well."
The Thrift Shop was founded in 1929 when a group of dedicated volunteers came together to provide affordable clothes and household goods to the island community. Its first gift to the hospital that year was $603. Since that first donation, the Thrift Shop has contributed more than $3.9 million to the hospital during its 85 years of operation, a legacy of generosity that has benefited NCH in many ways, from new radiology and lab equipment, to a remodeled dialysis unit and new furnishings for patient rooms.