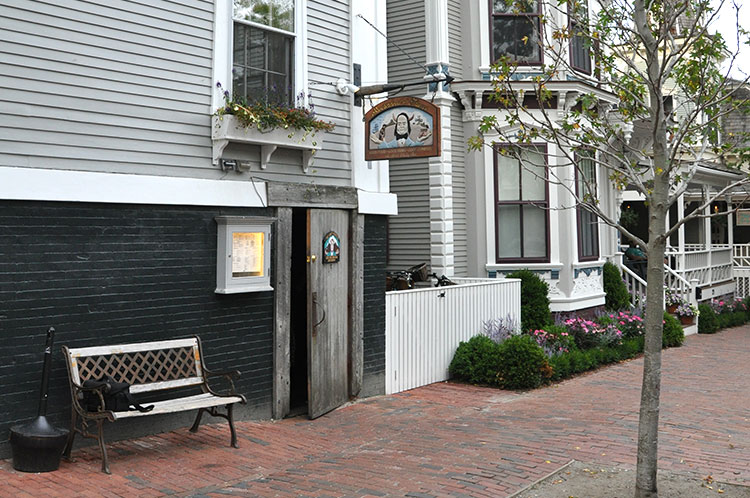 September is the month that island residents like to think of as their reward for the long, hard work they did all summer. Days are still warm and nights are pleasantly cool; the water is perfect for swimming; and it's the ideal time to gather the friends you haven't seen all summer and meet up at The Brotherhood of Thieves. One of the few island nightspots that is open yearround, The Brotherhood is sought out for its great selection of beers, creative cocktails (try their Old Fashioned PiggybACK made from The Brotherhood's exclusive single barrel of WhistlePig Rye Whiskey), good food, and comfortable atmosphere.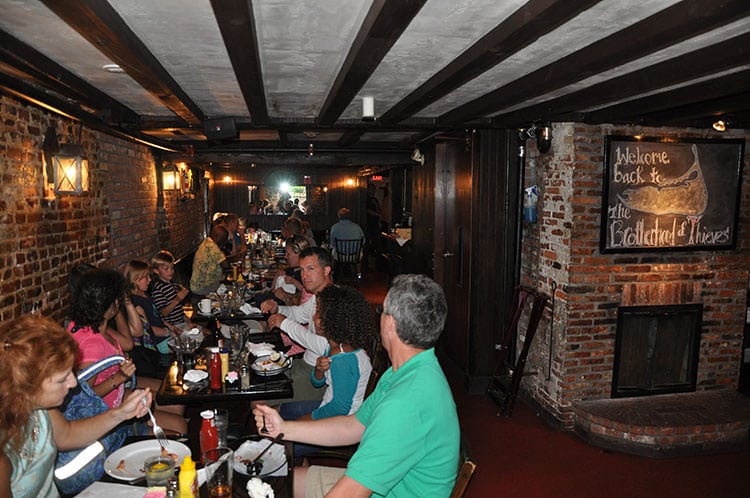 Much larger than it appears from the sidewalk, The Brotherhood has three dining levels. Their 1840s Whaling Bar, the original Brotherhood of Thieves, with its low lighting, exposed brick, fireplaces, and a dozen beers on tap, is what comes to mind when most think of The Brotherhood. In 2005, the owners converted second floor offices into five separate dining areas including a chic second bar that overlooks Broad Street. Set back from Broad Street, around the side of the building is their "Biergarten," an enclosed patio with tables and an outdoor bar that features Cisco beers on tap and housemade sangria.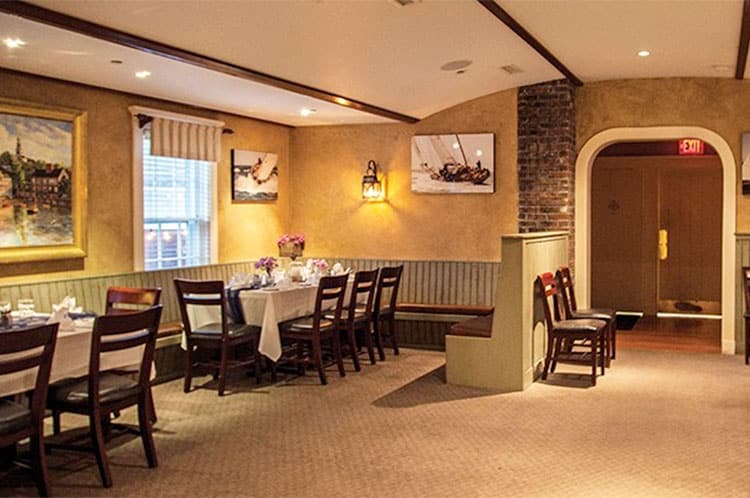 Upstairs or downstairs, inside or out, the menu is the same and the food is terrific. The menu at The Brotherhood emphasizes simplicity and quality—it's the obvious stop if you're looking for a light summer meal or a multicourse feast.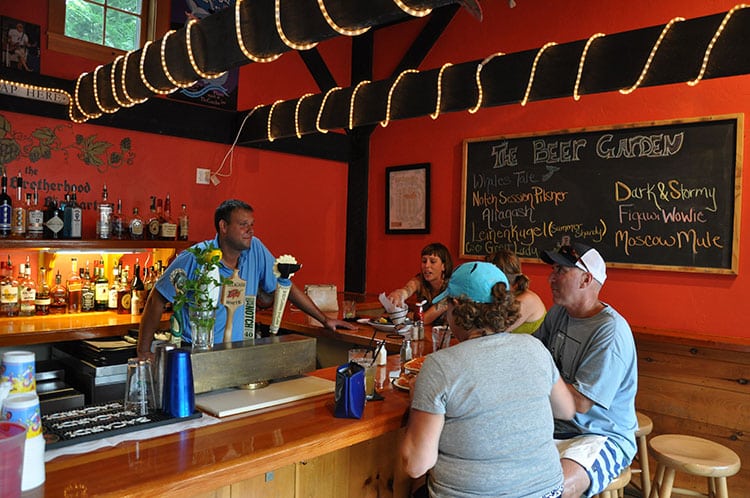 Taking advantage of a summer breeze that promised to cut through the unrelenting humidity, we took a table in the Biergarten last week.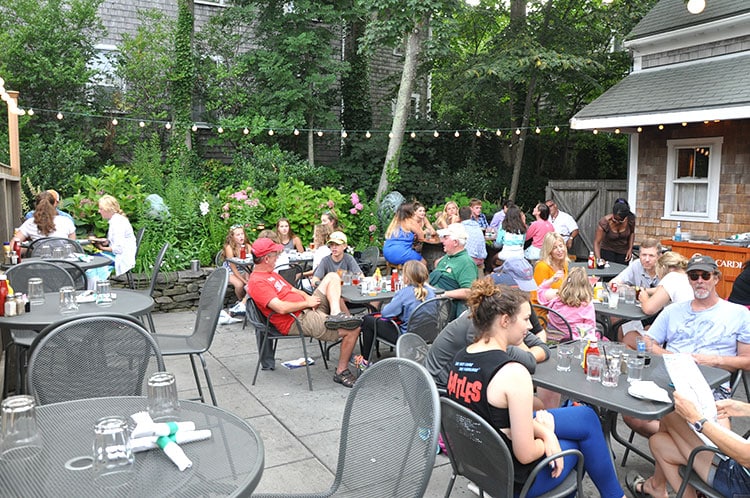 Click images to view enlargements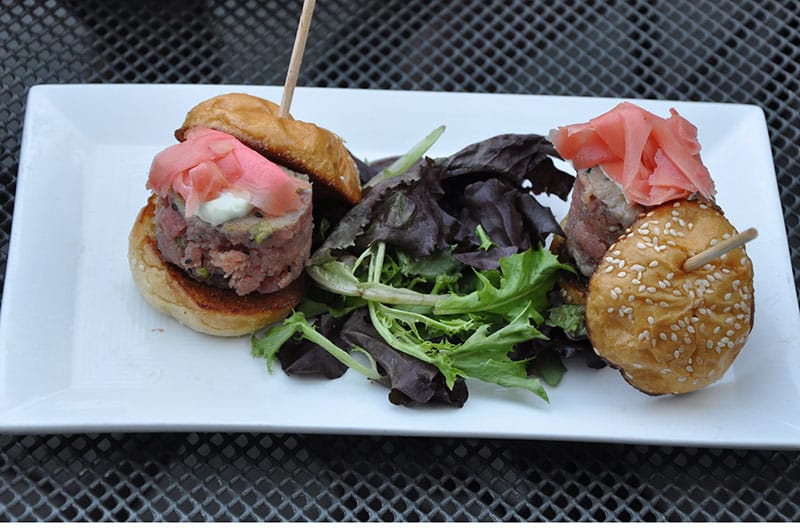 We're happy to report the Ahi Tuna Sliders that were among our favorites from last season that are still on the menu this season. Small chunks of seared, rare tuna is is formed into thick patties and served on toasted brioche buns. A smear of spicy wasabi aioli adds a spark of heat with pickled ginger, and the sliders are finished with a dash of sweet hoisin. (Suggested Pairing: Les Vielle Ferme still Rose)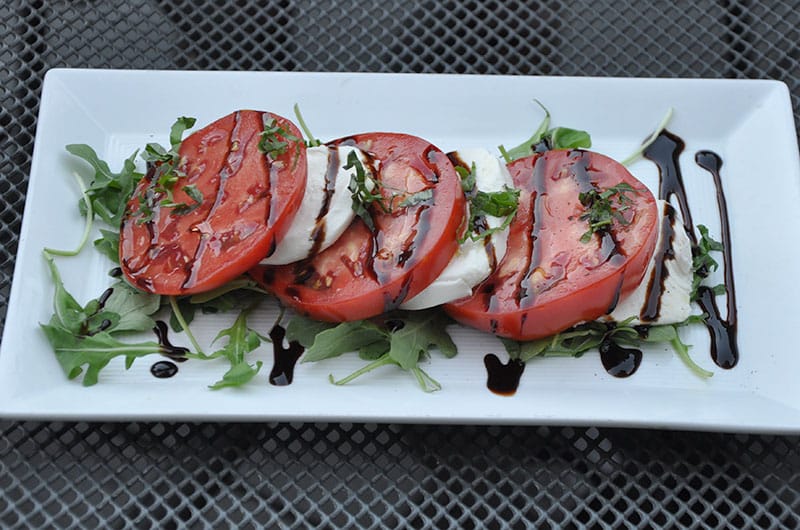 At the suggestion of Tony, one of the managers, we ordered the Brotherhood's Nantucket Grown Tomato Salad. Most call this a caprese salad, but we like that here they emphasize the tomatoes, 'cause that is really what this salad is all about. This is the time of year to take advantage of the local harvest, and this salad does not disappoint with thick slices of perfectly ripe, meaty tomatoes. The tomatoes are exceptional, and we like the addition of peppery arugula tucked underneath. (Suggested Pairing: Maine Brewing Company Peeper Ale)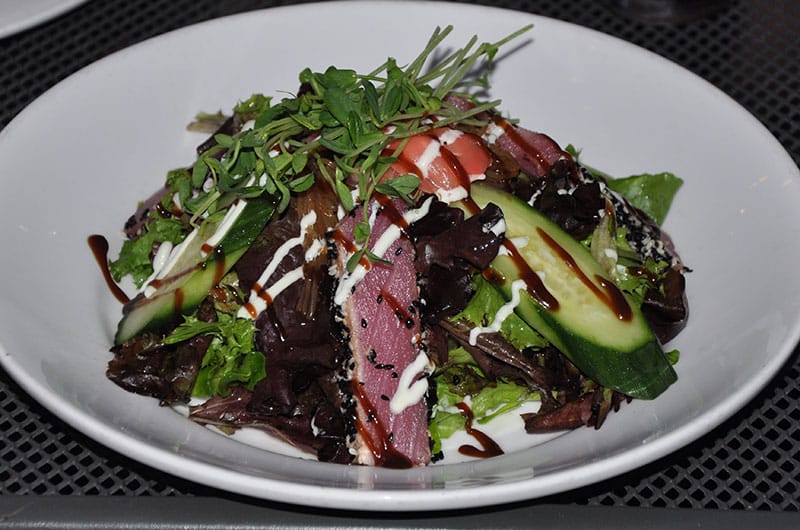 Another of the excellent half-dozen specialty salads served at The Brotherhood is their superb Seared Tuna Salad. Long glistening slices of fresh tuna, seared and encrusted with sesame seeds, are draped over a mound of mixed field greens tossed with pea shoots in a ginger sesame vinaigrette. Cool, crisp cucumber, soy marinated rice noodles, and shavings of pickled ginger add color and flavors. As you work your way through the salad, you get a few surprises in the form of wasabi peas, which add a fun crunch and bit of heat. (Suggested Pairing:Downeast Cranberry Cider)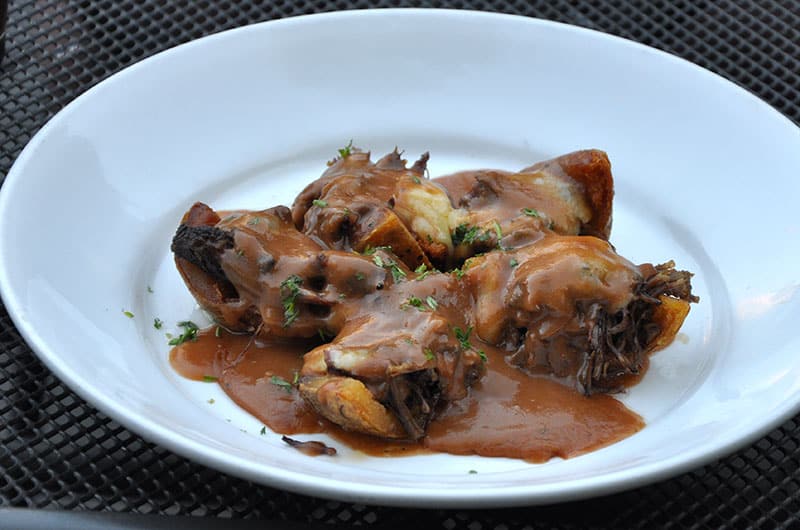 The Brotherhood menu also offers a variety of classic pub-style dishes, new this season is the BroHo Poutine, a new take on a Canadian comfort food. Traditional poutine is a combination of French fries, cheese curds, and gravy. The Brotherhood builds their version with crisp potato skins instead of fries, adds meltingly tender shreds of short rib and cheddar cheese curds, and then drenches it with hearty beef gravy. (Suggested Pairing: Old Fashioned PiggybACK)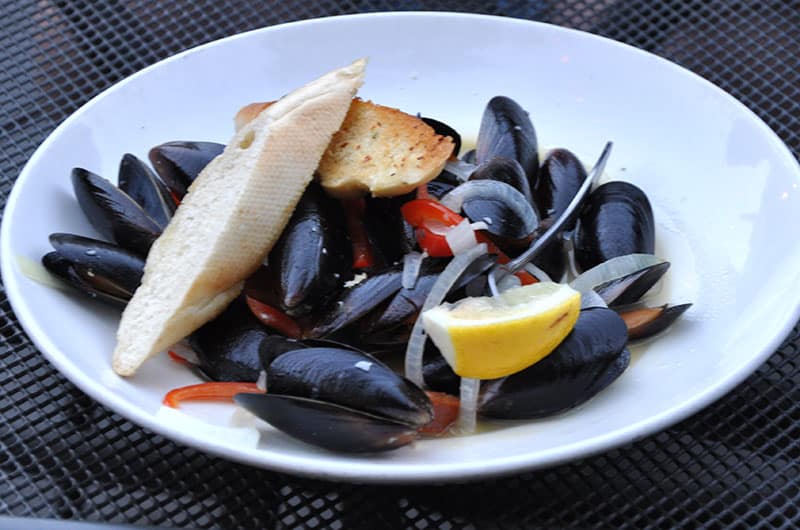 Each pub on the island has its own version of mussels, and we were delighted with the Prince Edward Island Mussels served here. The mussels are tender, with a fresh, clean taste. They're served in a simple but flavorful white wine broth with fresh tomato, linguica, and strips of red pepper and onions that is good enough to finish with a spoon. (Suggested Pairing: Dogfish Head 60 minute IPA)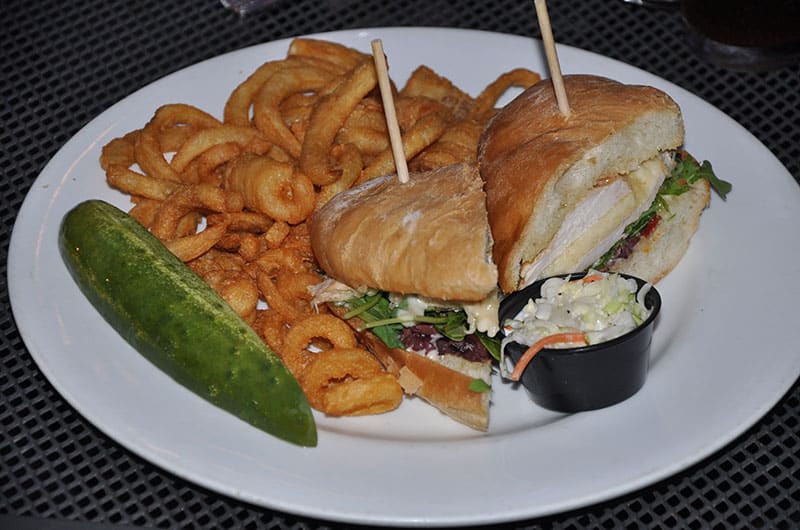 We didn't think any of the sandwiches at The Brotherhood could beat their Lobster B.L.T., the tasty construction of lobster salad, applewood smoked bacon, creamy avocado, lettuce, and tomato that was a Featured Restaurant favorite last season. That was before we tried their Chicken Arugula Sandwich, another of Tony's spot-on recommendations. It sounds very simple, but key to the bold flavors of this sandwich are the marinade and the spreads that are layered onto it. It starts with a freshly baked ciabatta roll from Nantucket's own Petticoat Row Bakery (right around the corner from The Brotherhood) that is split and spread with a tangy, garlicky black olive tapenade. The moist chicken, marinated and grilled, is sliced in half horizontally so that parmesan cheese and a luscious garlic aioli can be spread between. A handful of fresh arugula is the finishing touch. We're not saying the Chicken Arugula Sandwich has unseated the Lobster B.L.T. as our favorite BroHo sandwich, but it's a very close second. (Suggested Pairing: Talisman Wildcat Mountain Pinot Noir)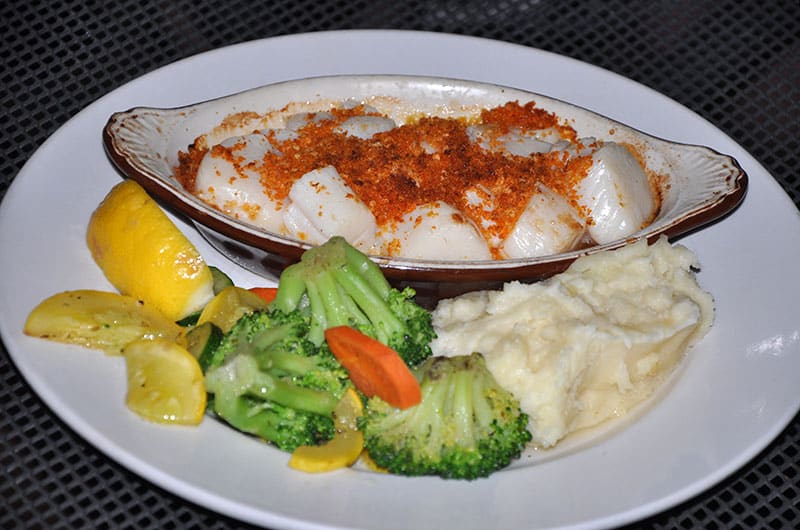 At 5 pm The Brotherhood menu is expanded with entrees and specials (though they do serve their fried seafood platters all day and evening from 11:30 am). Seafood dominates the entree list—even their Mac & Cheese has lobster in it. This eatery is well-known for some of the best scallop dishes every winter, when bay scallops are in season. Rather than wait until November, we sampled the Broiled Scallops entrre that The Brotherhood prepares with sea scallops from April through October. Large and sweet and tender, the sea scallops are cooked just right and presented simply in a butter sauce, topped with cracker crumbs in a classic New England recipe. (Suggested Pairing: Rodney Strong Chardonnay)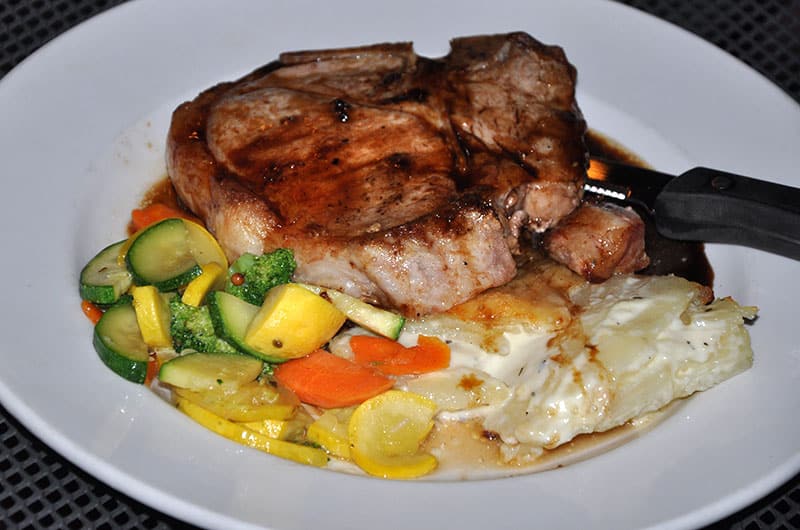 Every evening, in addition to nightly specials, a Chef's Butcher Block Special is offered that features specialty cuts. During our dinner last week, it was a Porterhouse Pork Chop: 14 ounces of a thick steakhouse classic with tender chop on one side of the Tbone and succulent
pork tenderloin on the other. The robust flavor of the pork was highlighted by a light and slightly sweet honey balsamic glaze that was also very tasty with the au gratin potatoes served alongside. This dish was our favorite entree of the evening. (Suggested Pairing: Susana Balboa Signature Malbec)
If you like to end your meal with something sweet, then you'll love the desserts at The Brotherhood! Their Chocolate Mousse arrives piped into a sundae glass with raspberry sauce and whipped cream.
Their housemade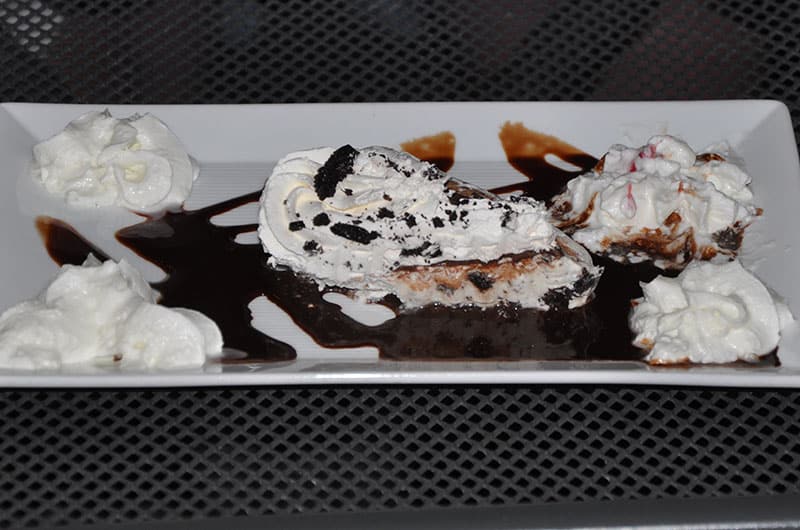 is also very good, but be ready to eat it fast before it melts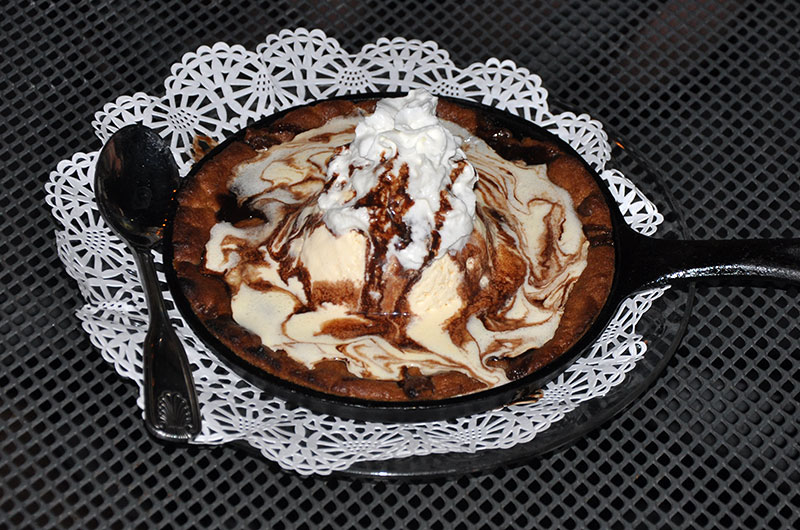 Our favorite is their Blondie of Thieves—an enormous chocolate chip cookie freshly baked in an iron skillet and topped with vanilla ice cream and drizzles of fudge sauce. This is a dessert you'll want to share: we cannot imagine a single person being able to polish it off without help
The Brotherhood of Thieves
23 Broad Street • 508-228-2551
brotherhoodofthieves.com
serving continuously from 11:30 am; bar open till 1 am
Dinner entrees range in price from $26
Crafted Burgers, Sandwiches, & Lighter Fare from $15 to $25
Brunch served Saturdays & Sundays from 11:30 am
take-out • kids menu • indoor & outdoor dining
handicap accessible • full bar