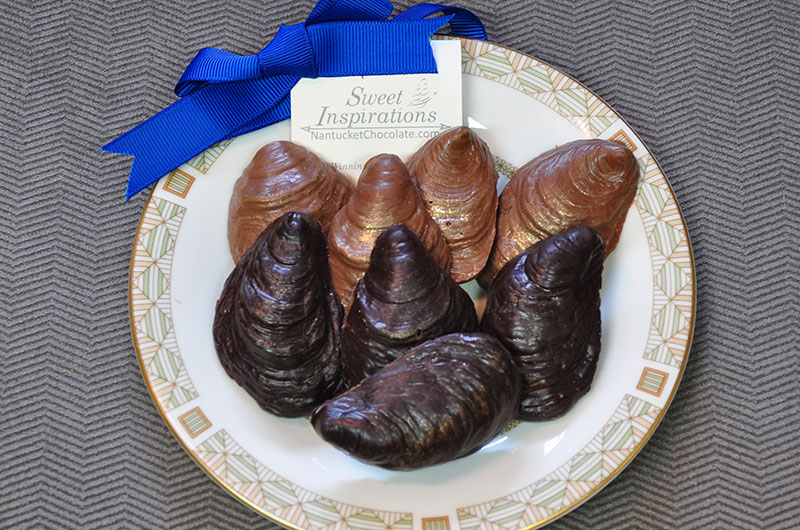 We've discovered a new treat for island celebrations that pairs deliciously with champagne: chocolate oysters handmade by Nantucket Chocolatiers at the aptly named Sweet Inspirations. John
and Kathy West and their team love to design unique confections and have become known for recreating island icons and Nantucket favorites in fine chocolate.
The inspiration for chocolate oysters came from islander Roni Roberts of the Retsyo Oyster Farms in Wauwinet. Roberts brought a large array of shells to Sweet Inspirations, and the chocolatiers selected the "best" models for reproduction in chocolate.
During the icy winter of 2015, the Sweet Inspirations Team all contributed to the recipe and the design of the beautiful and authentic fine chocolate shells, creating hundreds of first-generation models and tasting each one till they selected the perfect combination. Each shell is carefully made by the Sweet Inspirations chocolatiers, who fill the bowl of each "shell" with buttery caramel and a layer of fine chocolate, and then sprinkle each with grains of coarse sea salt. To mimic the striations of an oyster shell, the outer shell is lightly brushed with edible gold
dust. The chocolate oysters are available in rich dark chocolate and in creamy milk chocolate. John and Kathy tell us that "the creative process continues for the Nantucket Chocolate Oysters with new recipes and "surprises" planned." We'd love to find a pearl in one of our chocolate oysters!
These delectable Nantucket Chocolate Oysters are sold individually or presented in gift boxes and exclusive collectible tins at the Sweet Inspirations Open Kitchen and Retail Shop, located at Zero India Street, across from the Atheneum Park. Sweet Inspirations is open year round. For mail orders or to order a couple dozen chocolate oysters for your island celebration, call them at 508-228-5814 or visit them at NantucketChocolate.com.