"An adventure in theatre going. As I left the first performance I felt myself rather oddly shaky and breathless…There is nothing else anywhere near like Moby Dick in the theatre."
— The New York Daily News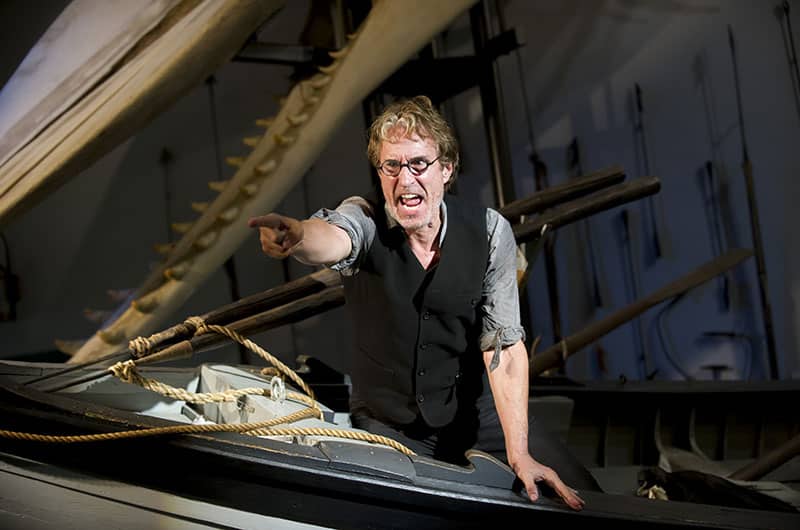 Written by Orson Welles, Moby-Dick Rehearsed celebrates the enduring legacy of Herman Melville's masterpiece of American literature and was first performed in 1955 at the Duke of York Theatre in London. The adaptation by Nantucket Historical Assn and Theatre Workshop of Nantucket of this moving two-act play, directed by and starring TWN Artistic Director Emeritus John Shea as Captain Ahab, will alive under the 46-foot sperm whale skeleton in the Whaling Museum's Gosnell Hall on August 10, 11, 12, and 13 at 7 pm.
Featuring an illustrious cast of community actors, the play evokes the essence of the ocean and turbulent life aboard a whaleship, as Captain Ahab follows his obsession to find the great white whale.
"We are bringing Welles's Moby-Dick Rehearsed back to the halls of the Whaling Museum for the fifth consecutive summer and it has become a Nantucket tradition," says Marjan Shirzad, NHA Director of Visitor Experience. "We are thrilled to partner with TWN again and welcome our guests back to this dramatic performance, which features top-notch acting in an unforgettable venue. Audiences should not miss an opportunity to see John Shea as Captain Ahab!"
Moby-Dick Rehearsed performances will run at the Whaling Museum from Monday to Thursday, August 10-13. On closing night, Thursday, August 13, tickets include the performance followed by a cocktail reception and meet & greet with the cast on the Whaling Museum rooftop observation deck.
Doors open at 6:30 pm; performances begin at 7 pm. To purchase tickets for this sure-to-sell-out event, visit nha.org/tickets or call 508-228-1894.