There are several ways to demonstrate your love for Nantucket even when you're off-island: carry a lightship basket purse, have a row of beach stickers crowded along the bumper of your SUV, and wear Nantucket Reds.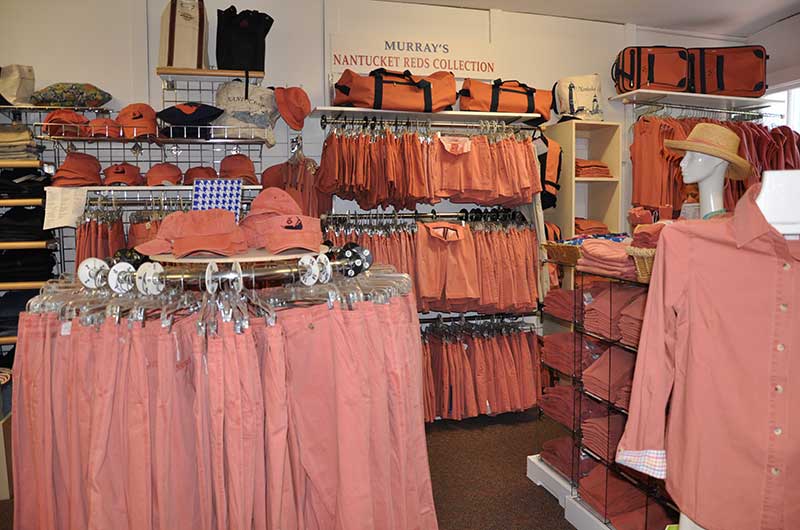 Murray's Toggery Shop at 62 Main Street is the home of Nantucket Reds. This fashion trend was started in the 1960s, when second generation store owner Philip C. Murray remade Brittany trousers from France. The durable pants that hold up well and fade to a classic pink with wear quickly became a mark of someone who lives on or summers on Nantucket.
The pants fade, but the popularity of Nantucket Reds only grew. The first generation to wear them now buys them for their grandkids, and Murray's Toggery has a room full of Nantucket Red clothing in a wide variety of styles and sizes to choose from for all ages.
New this season are slim pants, jeans, and shorts (both 5-inch and 9-inch lengths) for women. There is a new button-down poplin shirt in Nantucket Red for women, fitted attractively with pretty gingham cuffs, and a very popular Nantucket Red clutch with navy piping and handy inside pockets.
Murrays even has an assortment of Nantucket Reds for kids: pants, overalls, jumpers, skirts, shorts, polos, caps, hats, and sweatshirts.
Nantucket Reds for men, women, and children are available exclusively in Murray's Toggery Shop at the top of Main Street, Nantucket, and online at nantucketreds.com.