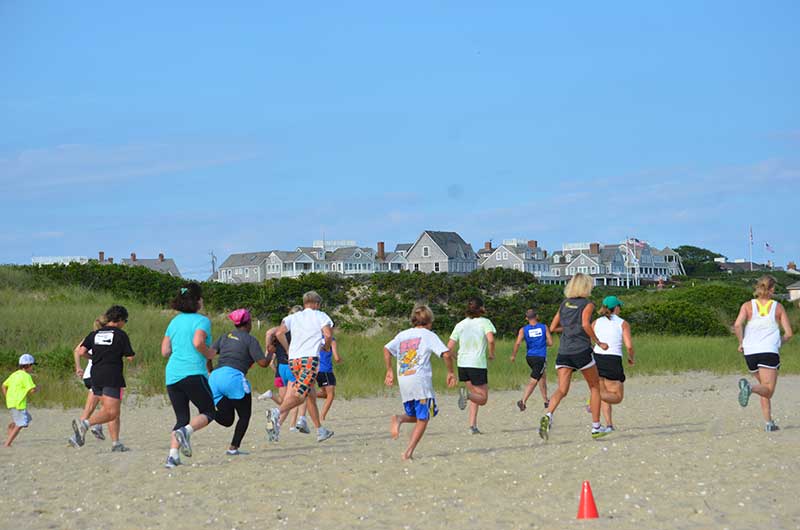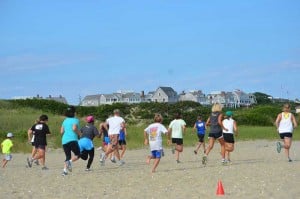 This week and next, you can get fit with fitness expert Tom Holland in the fresh morning air of Jetties Beach. Each morning from 8 to 9 am Monday through Friday, August 3-14, this acclaimed exercise physiologist will lead participants through 60 minutes of cardiovascular drills, strength training, abdominal work, flexibility training, team drills, and games to hone agility and coordination.
Since 1998, Holland's summer Nantucket Beach Fitness Camp has helped thousands of residents and visitors of all ages get into shape.
From the beginner exerciser to advanced athlete, Holland provides a fun yet challenging workout tailored to "camper's" personal fitness levels. He is committed to helping people better their lives through fitness and through his positive message of "Believe in Yourself." Holland has encouraged and coached thousands of people to reach their fitness goals; from losing weight to climbing mountains, running marathons, and completing Ironman triathlons.
Holland is an elite endurance athlete and has run more than 50 marathons, including races in Italy, France, Ireland, and Hawaii. A Certified Sports Nutritionist as well as an Exercise Physiologist, he is Bowflex's Fitness Advisor, and his workouts have appeared in SELF, Shape, Fitness, Oxygen, Men's Health, and other national magazines. You may have seen him on ABC's Good Morning America, where he is a regular, or read one of his books: Beat the Gym, The Marathon Method, The 12-Week Triathlete, and Bike, Run – Eat.
To register for Tom Holland's 17th annual Nantucket Beach Fitness Camp, visit www.teamholland.com or call 203-550-6767. You can sign up for single sessions, for one, week, or for both weeks. Registration is possible the morning of each camp day at Jetties Beach, but only if space is available.