~ by Amy Jenness, author of On This Day in Nantucket History, available at Mitchell's Book Corner ~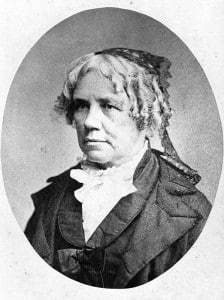 On August 1, 1818, Maria Mitchell was born into the Nantucket Quaker family of William and Lydia Mitchell whose family lines went back to the island's original white settlers in 1659 and to distant cousin Benjamin Franklin. William Mitchell worked for many years as a teacher and ran a school before switching to commerce. An astronomer all his life, Mitchell instilled in all of his nine children the importance of education and learning, a lesson young Maria took to heart. Just after finishing her own schooling, she worked in a school run by Cyrus Peirce at age 16 and then opened her own school in 1835. A year later she was offered, and accepted, the position of librarian at the Nantucket Atheneum. In her 20 years as librarian there Maria continued to study humanities, science, and math on her own using Atheneum materials.
Already prone to support social justice because of her Quaker upbringing, Maria's world view would be further shaped by hearing speeches given at the library by Frederick Douglass, Lucretia Coffin Mott, Ralph Waldo Emerson, and Henry David Thoreau. For the rest of her life she would oppose slavery and call for equal rights for women. In 1842 she left the Quaker church and began following Unitarian views. She refused to wear cotton clothing because its manufacture depended on slavery. She called Elizabeth Cady Stanton a friend and co-founded the American Association for the Advancement of Women.
As a young girl Maria and her father studied the stars together using his telescope. At age 12 she helped her father calculate the timing of an eclipse and by age 14 local sailors asked her to perform their navigational computations in preparation for whaling voyages. In 1847 William Mitchell was cashier at Pacific National Bank on Main Street and his family lived on the top floor of the bank. Maria and William often spent evenings on the roof sweeping" the sky with their telescope and looking at the stars. On October 1 of that year Maria was stargazing alone on the roof when she spotted an uncharted fuzzy object that she had never seen before. She ran to get her father who confirmed that she had discovered a comet. Known informally as "Miss Mitchell's Comet" (and formally as C/1847 T1), the discovery made Maria Mitchell an international star. Prior to her discovery, the King of Denmark had announced the prize of a gold medal to anyone who discovered a "telescopic" comet, or a comet that could not be seen with the naked eye. True to his word, the king awarded Maria a gold medal, which ended her quiet island life and launched her into the public eye. From then on her life was one of firsts.
Maria Mitchell was the first woman elected into the American Academy of Arts and Sciences, into the American Association For The Advancement of Science, the American Philosophical Society as well as the first woman to be female federal employee when she later worked for the US Nautical Almanac Office.
In 1865, administrators at Vassar College, which had just been established, made Maria Mitchell its first hire as a professor and director of Vassar College Observatory. After teaching at Vassar for a while Maria became aware that she was paid less than her male counterparts. She demanded, and received, equal pay.
But for Maria, teaching was the role that most suited her. She loved educating young women on the same par as men and was an inspiration to her students. She taught at Vassar until 1888, one year before she died.
Maria never married and remained close to her siblings. She lived her last year with her sister Kate in Lynn, Massachusetts, died June 28, 1889 at age 70 and is buried on Nantucket next to her parents.
After her death she was inducted into the National Women's Hall of Fame. In 1902 Maria's friends, family, and former students formed the Maria Mitchell Association in her honor. The Association purchased Maria's childhood home on Vestal Street and turned it into a museum. Six years later the association built an observatory there. As the association grew, it employed Maria's credo of "learning by doing." Today the Maria Mitchell Association owns and operates several buildings on Vestal Street and an Aquarium on Washington Street, as well as an observatory on Milk Street which it opens for public viewings of the island's night skies. For more details about the Maria Mitchell Association and its educational programs, visit www.mariamitchell.org.