~by Julianne Adams •~
For the past few weeks, the Dreamland has been a flurry of activity during the day, not with film but with theater – Seussical Jr., to be exact. Spearheaded by Tiffany Gallo, the Children's Theater Education at the Dreamland has grown rapidly since its humble tent beginnings and now includes three programs: Young Actors Theater Company (YATC), Junior Company, and Senior Company, each of which, if you ask the kids, is a blast. Gallo became involved with the Dreamland after performing in The Sound of Music on the as-yet-unfinished property six years. "I fell in love with the island. Typical story," she jokes. "Then at the Foundation, we grew the children's programming and we've watched it grow for the past five years."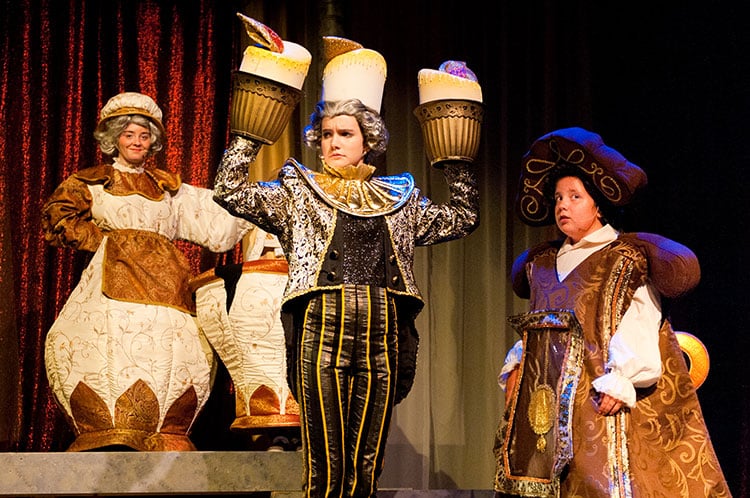 A weeklong program, the YATC produces 20-minute performances of classic stories. This year, the YATC performances, held in the 314-seat Main Theater, all sold out. The Junior Company show, Seussical Jr., is likely to do the same.
Like so many of his students, director Jimmy Calitri is back after last summer's successful Beauty & The Beast. Calitri, who this fall is joining Providence College as an assistant professor and managing theater director, is brimming with good words about the 54 kids he is working with. "These kids are rocking and rolling," he says. Because all the kids have greatly impressed Calitri with their acting chops, he chose Seussical in order to accommodate a large cast. "There are so many talented kids, that we really needed a show with lots of leads." Anchored in Horton Hears a Who, Seussical is a musical amalgamation of Dr. Seuss's greatest characters. Even with 20 principal characters, the ensemble musical left Calitri wanting parts. "I added six Things that aren't in the script and those people were like, 'Oh, I'm a Thing? But it's not even in the script!' but they are working."
For Calitri, that hard work the kids are putting in is what's important. "I said this to them day one: 'If this show is an amazing product, that's great but I'd rather our process be amazing, I'd rather the product represent the journey. If you communicate, collaborate, and respect each other, it's always going to be a good product.'" Calitri and Gallo hoped the ensemble musical would have a positive impact on the audience, as well as the performers. "We thought we could connect [the program] with books. Aside from the Cat in the Hat's hat and the grass, everything else that comes out onto the stage is a book that pops out to be Jojo's bed or folds down to become something. We're hitting the educational value of books," he says.
"It's also super funny," he adds. And, for a youth musical, has fantastic production value. "[The kids] are working with such great people," he says. "We've been lucky to work with really great designers who have worked all over the place and are really great people to be around," says Calitri. Calitri praises the work of the whole production team, some of whom, like choreographer Michael Richards have worked with the kids before, to much success. "We were lucky to bring in Kathryn Kawekci [who worked on Beauty & the Beast] and Amanda Downing Carney, who is bringing costumes," says Calitri. Professional designers, the pair help elevate Seussical, Jr. to a spectacle that will keep the whole family engaged.
The young performers, a mix of year-rounders and summer residents, are clearly loving the experience Calitri has crafted for them. "We have a nice new crop of students," says Gallo, "but we have high retention rate." In fact, so many students wanted to stay on after aging out of the Junior Company that the Dreamland began a Senior Company. Three of these students, Lizzie Roswig, Leah Hull, and Paige Walker, have been involved with the program since its start. Hull and Walker were even part of the Sound of Music production that initially inspired the youth programming. Proud theater kids, the girls are so enamored with the Dreamland that they've taken on non-performing roles outside of the Senior Company. Roswig is a Suessical assistant stage manager and worked with YATC; Hull, an island native, helps with hair and make-up, serves as prop master, and works the concession stand; Walker, who also worked with YATC, doubles as assistant stage manager and dance captain.
The three girls are ardent in their love for the Children's Theater Education programming. Speaking about their work with the Junior Company, the girls bubble with enthusiasm. "It's so much fun," says Hull, "because you've been in that position as the younger kid who looked up to the older kids who helped out. It's very rewarding." Roswig agrees with Hull. She cites the older volunteers, some of whom she remains in contact with, as role models. The program has offered her, and the others, more than a stage. "The Dreamland is a part of me," says Roswig. "I've never veered away from it.   I've always done it—every summer I come to the Dreamland. They're like my family," she says, turning to Hull and Walker to joke with Gallo about her being their mom.
Seniors in high school, Hull and Roswig have their sights set on theater, thanks in part to the Dreamland.     Walker, a sophomore, is not eager to describe theater work as a job. "It's my life and my passion now," she says. All three girls are more than content enjoying the moment at the Dreamland. "The Dreamland is the place to work," says Hull. "This is absolutely my dream job," asserts Walker. Speaking directly to the girls, Gallo tells them, "I hope what you get out of this is an inside look at a performance and see that there are so many job opportunities in theater." This more general exposure to theater is an important tenet of the Dreamland programming
When they're not on the clock for Seussical, the girls are at the Dreamland prepping their own shows with the Senior Company on August 16 and 17. A cabaret style with numbers from the opening acts of Broadway hits, The First 5 Minutes has a much smaller cast of 13. "Everyone who does it," says Roswig, "we've known each other for such a long time. And for anyone who's new, all of a sudden we're best friends." The bonds the young students build during this short period of time run deep. Hull reflects: "It's my summer highlight—of the year," she corrects herself, "the year in general actually."
Their theater work, aside from their friendships, has taught them a great deal about the craft of acting and performances generally, which is part of the program's goal. "Working with Jimmy, especially with me as a character actress," says Roswig, "has helped me get into my part and have movements for it and incorporate it with the rest of the group." Calitri would certainly be glad to hear this. "I'm personally hoping that [the kids] will leave better actors," he says. For Gallo, the kid's experiences with acting will help them down the line. She speaks of how the programs, especially the YATC, are designed to help kids develop confidence that will aid them in the classroom, at interviews, and for simply discovering their own personalities. And, of course, Gallo sees the programs as embedding the students with a life-long love for art. "We're building appreciation for the arts," she says. "We're creating patrons of art."
It just so happens that this creative mission is a whole lot of fun for their kids and audience. "Everyone always leaves this rehearsal happy, says Hull. "I'm so excited for the kids to actually be on the stage because they're doing such a great job out of costume in front of us. Once they get in costume, in front of an audience, it's going to be mind-blowing. As Roswig aptly puts it, "Dr. Seuss—it's happiness and it's crazy. With theater, it's whole new level of imagination.
Great for all ages, Seussical Jr. runs August 13-17. To purchase tickets ($20 adults; $14 kids), visit nantucketdreamland.org or stop by the Dreamland box office at 17 South Water St.. And for the Broadway fiends, or just those who like good entertainment, tickets to The First 5 Minutes ($15 adults; $10 kids) can also be purchased online or at the box office.