• by Sarah Teach •
Nantucket isn't known for having a robust hip-hop scene. Instead, we rely on Neil Diamond to make us sing, Bing Crosby to get us on the dance floor, and we've never been to a wedding reception without Sinatra. But 26-year-old island-based hip-hop artist Mark Dwyer wants to introduce Nantucket to a style it has yet to embrace.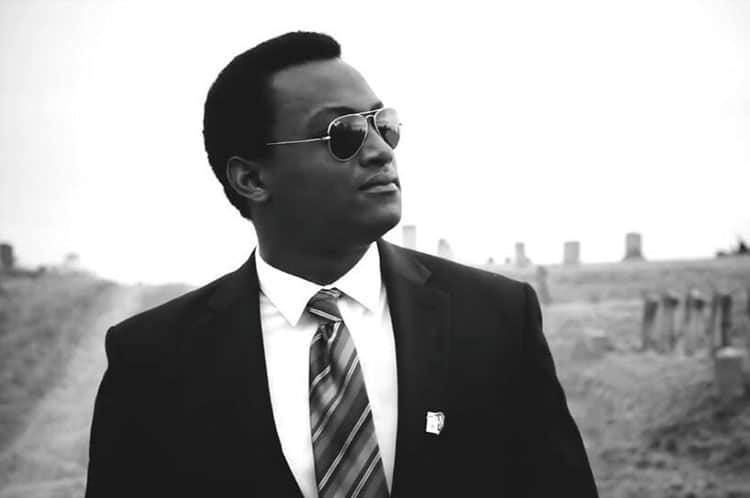 Forget all of your preconceived notions about rap. Dwyer isn't interested in violence or any other negative themes that are often associated with hip-hop culture. "I'm very optimistic in my work," explains Dwyer, whose stage name is M. Dwizzy. "My big thing is inspiring people to pick up a pen and pad instead of a gun. My hope is that they hear my music and they say, 'you know what, man? I don't need to sell drugs or kill anybody. I can make it another way.' I want to show that truth and be that example."
Dwyer, who has just dropped his second album, writes and records in his home studio on Old South Road. An elaborate synthesizer sits in front of the studio's window, and sound-absorbing cushions are arranged strategically about the small, whistle-clean room. "I can record music anywhere I put that eyeball," he says, gesturing towards a basketball-sized foam orb with a central recording mechanism. Neatly attached to the walls are oversize images of legendary reggae artist Bob Marley and celebrated rappers Tupac, Jay-Z, and Biggie Smalls. "These guys are my idols," says Dwyer, nodding as he gazes slowly around the room. "And this is my safe space where I come to make my art." And just a few seconds of hearing Dwyer's music proves that this art is worth sharing.
Dwyer works in three musical genres: rap, reggae, and dancehall, a fast-paced style of digital pop that is uniquely Jamaican. All the way from bass to treble, every aspect of Dwyer's songs is his own creation. Despite having no formal training in music, Dwyer's natural knack for it has served him since he began recording five years ago. Many rappers don't sing, and vice versa, but Dwyer carries his supple tenor up and down the gamut. He says of his creative process, "I just have to feel the music. If it's there, it's there. I don't force it." In the same fashion as Richard Rodgers and Lorenz Hart, Dwyer first concocts a beat then adds lyrics. Always a stellar English student, he attended Stevenson University to study history, a writing-heavy major that enhanced his command of language. He says, "Writing a song is like writing a movie, except it has music and rhymes. It's a story. Some lyrics I completely make up, but that's a part of all creative writing." Other M. Dwizzy verse is drawn from real life. He discusses the first time he connected with rap, as a poetry-writing kid in Jamaica. "I heard someone rapping and thought, 'I can do that. You're talking about my life.'" In the ultimate tribute to his Jamaican homeland, Dwyer has just released his first reggae song, "Guide My Steps." ("Actual reggae," he adds emphatically with a grin that gently teases the unauthentic.) The lyrics of "Guide My Steps"–full of gratitude and hope–evoke the peaceful contentedness of Bob Marley.
Dwyer's childhood in Montego Bay, Jamaica, was anything but peaceful. Riddled with police brutality and a sky-high murder rate, Montego Bay was unsafe, and Dwyer's mother wanted her son out of that environment. When Dwyer was 15, his family moved to Nantucket for a work opportunity. He started attending Nantucket High School, and quickly fit in with his peers. Academically, his learning curve wasn't steep; he just had to remember to do things like remove "u" from the word "color," since Jamaican schools teach British English. Other areas proved a bit more difficult. He says, "I missed out on folklore and the other things people learn as they're growing up in a certain place. When kids would make references to shows like Saved by the Bell, I wouldn't get it."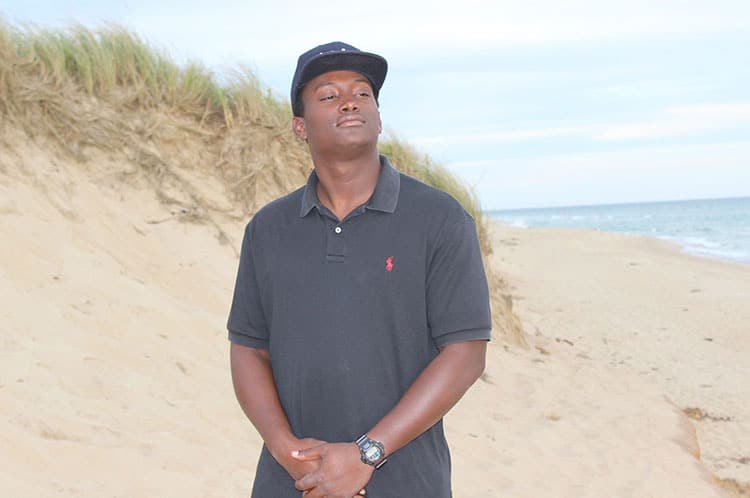 When asked about similarities between Nantucket and Jamaica, Dwyer immediately responds, "Other than being islands, there are absolutely none. Nantucket is a lot quieter. As an artist, I can concentrate out here, and I think that comes through in my music. It's so peaceful. If you're a violent person and you come out here, you'd better leave that part of you behind. Sometimes we have bad stuff happen, but Nantucket is not the place for violence. In that, it doesn't reflect the real world. The real world is brutal. It's painful, cutthroat. It's not friendly like it is here. But it was growing up in a tough environment that made me realize I wanted to stay out of trouble so I could accomplish great things."
Due to the island's large Jamaican population, Dwyer gets plenty of chances to hail back to the more pleasant aspects of his childhood, such as speaking Jamaican Patois, a dialect of English that is largely unintelligible to the average English speaker. Dwyer says of his fellow Jamaicans on Nantucket, "They come here and work mediocre jobs because they don't have the education to get better ones. But Jamaicans work hard at everything they do, especially when it comes to bettering their lives. We aren't bothered by having to take a cold shower or hand-wash our clothes if the washing machine is broken." Dwyer's own day job is in the appliance delivery department at Marine Home Center. He says, "If I'm not working, I'm making music. Time and repetition, repetition, repetition are what make success happen. In my music, I try to motivate people toward their own success."
Dwyer markets his music through social media, an avenue that has opened what is literally a world of opportunities for artists whose budgets don't have room for traditional advertising. "With today's technology and social media, people like me can make it without a record label," says Dwyer. "I'd like to be famous, but that's not my main goal. I really just want to make a living from my art. If you wake up in the morning and get to do your art, that's a good day."
Check out Dwyer's music on iTunes or at MDwizzy.com, where you'll find songs, music videos set on Nantucket, and chances to buy his album. Listen for Dwyer's Nantucket theme song, called "Live from ACK," which is on his latest album, New Testament.