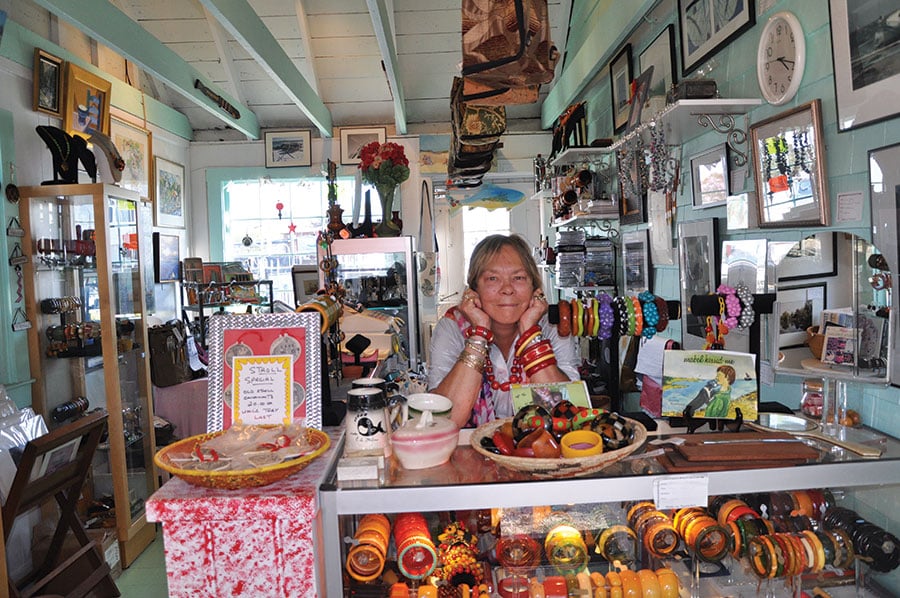 "Vintage" has become a buzz word, too often used without regard to true meaning. But there's a shop on Old South Wharf where vintage = quality and where there's history to the art and to the gift.
Kathleen A. Duncombe of Made on Nantucket has been a part of Nantucket's art scene for decades. This season she is offering some treasured pieces of Pre-Owned art in her shop at 18 Old South Wharf. Classics by such well-respected and widely collected artists as Nancy Gares, Polly Bushong, Watson Cady, Linda Zola, Scott Maclain, Katie Trinkle Legg, George Davis, Heidi Funck, Graham White, and others are rarely available in this type of selection. It's an all-star collection of art from the 1960s, with new pieces being added.
Made on Nantucket is filled with vintage collectibles. In addition to the Pre- Owned art, Duncombe offers vintage Old Spouter pottery and highly collectible vintage Bakelite—the largest collection in the Northeast—that includes beautiful bracelets, earrings, rings and necklaces as well as stunning barware and kitchenware sets.
Duncombe can't remember a time when she wasn't interested in art. "I was very fortunate to have parents who supported my creative aspects," she says. She summered on Nantucket her entire life, "my parents loved Nantucket: my whole family would gather here in the 1950s." Being able to combine her two passions— art and Nantucket—was a dream come true.
Whether you're drawn to Made on Nantucket by Duncombe's fascinating collections or by your own passion for art and for Nantucket, it is well worth the stroll down Old South Wharf. You'll find Kathleen in her gallery at 18 Old South Wharf after 11 am.