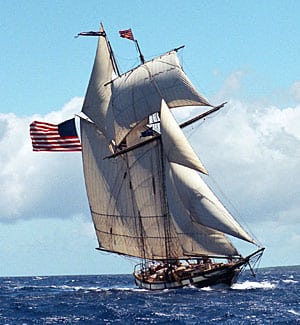 Egan Maritime Institute (Egan Maritime) is delighted to announce a unique opportunity for fanciful family fun at Family Day aboard Tall Ship Lynx, A Pirates and Mermaids Extravaganza on Thursday, August 17. Participants meet at 8:15am at the Town Launch on Straight Wharf, behind Straight Wharf Restaurant, to ensure they will be onboard Lynx for the 9 am sail.
Once aboard Lynx, participants will join the adventure and enchantment with a salty crew of pirates and mermaids sharing tales and tails of life at sea through song, story, and sail. With the memorable backdrop of Nantucket's townscape, the island's maritime folklore will transport participants young and young at heart through the misty curtains of time aboard Nantucket's iconic Tall Ship, Lynx.
"This is a Nantucket family program like no other," said Orion Couling, Egan Maritime's Director of Special Maritime Programs. "With a cast of costumed seafaring characters, kids and their families will experience history through the lens of imaginative play and fanciful fun."
Participants of all ages are encouraged to come in costume dressed as their favorite pirate, mermaid, or maritime character. Snacks will be provided onboard the ship. Tickets may be purchased online at Eganmaritime.org, or by calling the Egan Maritime Institute box office at (508) 228 -2505 x.17, Monday through Friday, 9am to 1pm. Tickets are $25 for adults and $10 for children with special pricing for Egan Maritime members.
Egan Maritime Institute envisions a future in which Nantucket's seafaring legacy is preserved, protected, and embraced by future generations. It works to achieve this vision through its programs: the Nantucket Shipwreck & Lifesaving Museum; Sea of Opportunities, a collaboration with public and private Nantucket schools; ACKweather, a website, phone app, and multiple social media channels dedicated to reporting Nantucket's unique weather challenges; Mill Hill Press, publisher of distinct Nantucket books; and the annual
Maritime Festival. Each program aims to educate and provide experiences to achieve Egan Maritime's mission of inspiring the appreciation and preservation of Nantucket's maritime culture and seafaring legacy.