by Catherine Macallister
Among the shelves, tables, and books in the Great Hall of the Nantucket Atheneum sits a man, pouring over the captain and ships logs of one of the many vessels that departed from Nantucket Harbor over the course of the prosperous whaling era. Peter Panchy is deciphering the loopy writing of the logs of Argo, a whaling ship that sailed from1808-1811. Panchy, a former Nantucket High School teacher is enjoying his retirement and pursuing his passion for history. In my research for various topics about the island I came across Panchy's name several times, particularly in association with the Atheneum. Panchy's lecture titles caught my attention first: "Misogyny and Topics in US Society Today," "A Continuing Conversation on Immigration," along with many other versatile topics addressing a wide range of issues. During our meeting, I saw his passion for community, inspired conversations, and the impact he has had on the community since his arrival in the 1990s.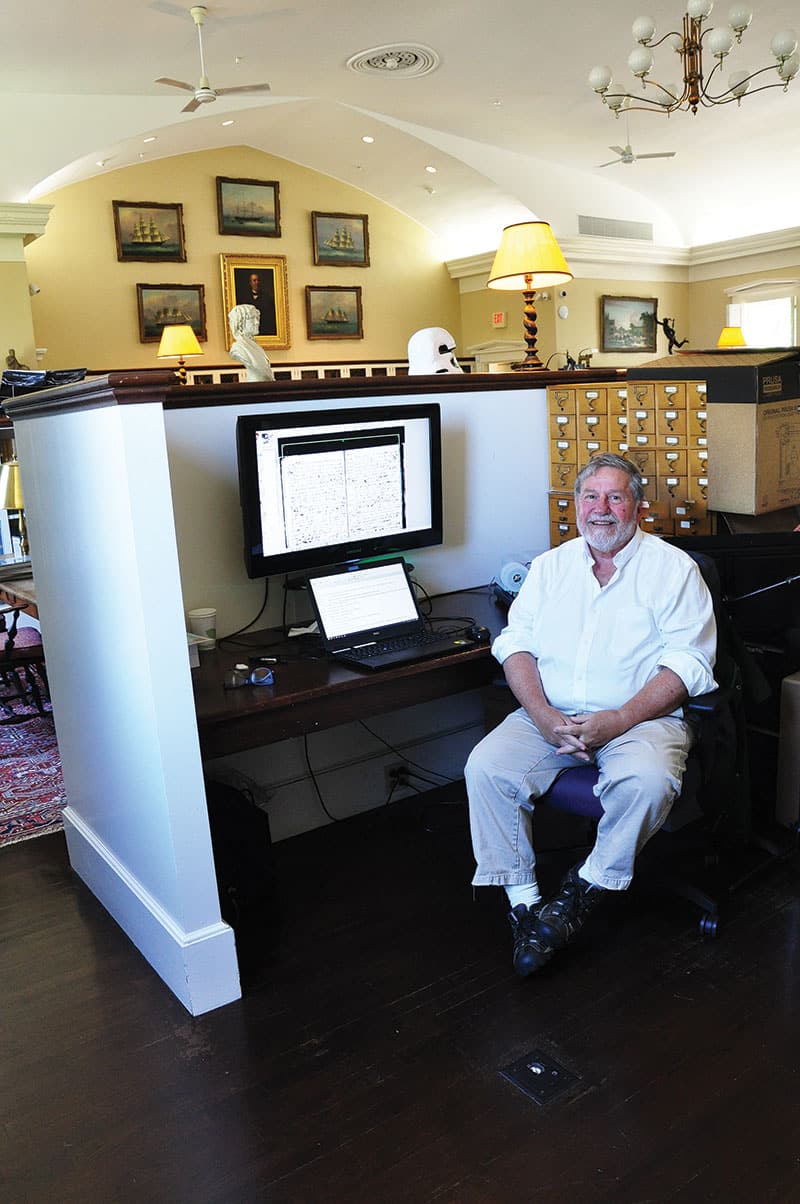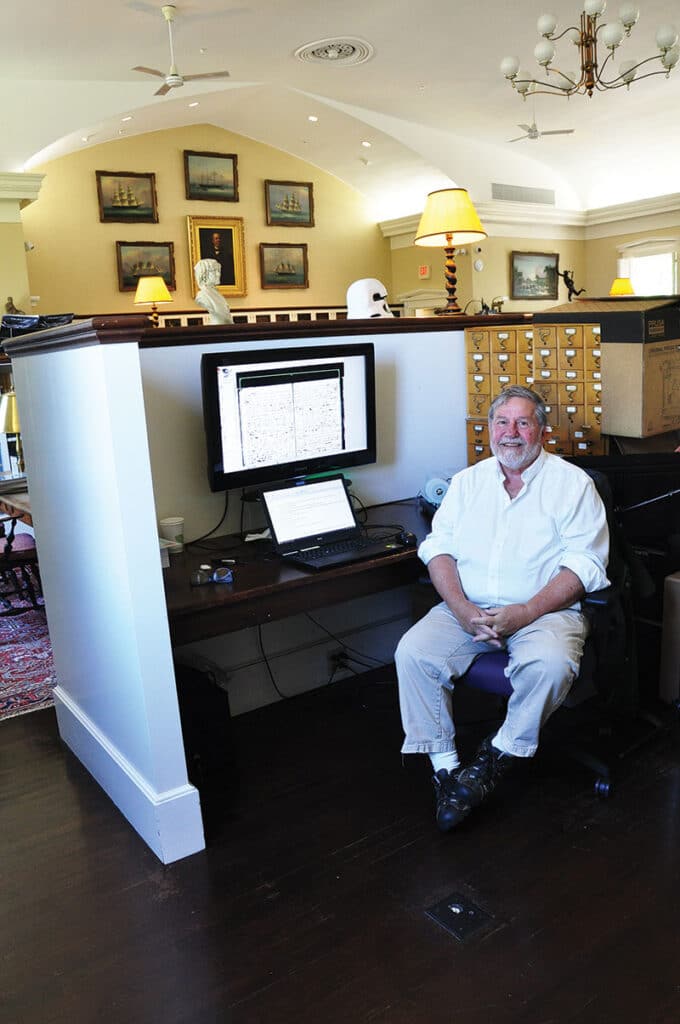 Panchy had never been to Nantucket before he came to teach here twenty-eight years ago. He grew up in Boston, the son of Albanian immigrants— a history that he had the chance to explore later in life. He won a scholarship to Philips Academy in Andover, a prestigious prep school before attending Harvard for undergrad. He later received his masters from Lesley University in Cambridge.
His dedication to serving the community, starting with its youngest members, began early on his career and has only continued to grow as he has moved through his life. Before coming to Nantucket, Panchy worked with a City of Cambridge, in Massachusetts from 1970-1975. He began first at WIC, or Women, Infants & Children's Nutrition Program, a program that offers nutritional counseling, foods, and support to families in need. He believes in "equal opportunity from beginning," explaining that a child's outcome in life is dependent on the formative years where nutrition is key. The program "addresses the needs and conditions that place people who are less affluent," he says and provides "the basic necessities." Ultimately, the program aims to provide children in the earliest stages of their life, a chance to reach the same goals, especially when there is a financial or nutritional is need involved. Panchy helped to bring this program to several states.
Panchy's continued commitment to the people around him didn't stop when he reached Nantucket: "I love this community," he explained, "I went from complete ignorance…to love for this island." Panchy became an integral part of the school system on island, working as a special education teacher, a history teacher, and even serving as principal of NHS from 1996-1999. He worked for the Nantucket Public Schools for 28 years before retiring from full time teaching in 2014 and part-time teaching in 2018.
It is evident that Panchy had an effect on his students and cared about their work. With adolescents there is a "sense of emerging…of energy," says Panchy, pointing out why he eventually chose to stick with teaching US History for the last several years of his career. For Panchy, it was about encouraging this "energy" to be used towards positive change and preparedness for real life issues. I asked Panchy if he recalled any particularly sharp "teachable" moments over the course of his career, his answer "every moment is a teachable moment." He notes, "They are all the time…each year you use what presents itself—any event at the school or large in the community—like September 11," adding "everything connects." Panchy's approach broadens the mind, asking students to look at history but also asking then to look at what is happening in the community, an important skill for students who will take on larger community roles as adults.
Panchy took a sabbatical from teaching at Nantucket High School for a year from 2005-2006. He and his family traveled to his parents' home country of Albania, where Panchy taught at the University of New York in Albania. "It was a wonderful year of teaching," he says, it was an opportunity "to live in the country my parents were from." While there, he attempted to "recapture Albanian language" and also had the chance to trace his family back to a "little village in the mountains." This experience and Panchy's ability to become a part of Albania and their educational system shows his commitment to being an educator and to connecting to a greater global community.
One of Panchy's favorite aspects of his career, besides mentoring and teaching, has been the opportunity to participate in development programs. Panchy participated in the Teaching American History Grant Program, working with Dr. Peter Gibbon, a professor and researcher from Boston University. The program was "really exciting…newest cutting edge in US History…it was the best professional development that I've participated in." It required work on weekends and summers from 2010-2016, but he had the opportunity to meet authors and learn new techniques through coursework: "It was dynamite."
At the forefront of Peter Panchy's retirement are his wife, children, and nine grandchildren. When retired from teaching, it seemed to only make sense that Panchy would find himself a part of a long-lasting island institution, The Nantucket Atheneum. "I love the Atheneum," he commented, "it's such a wonderful asset to our community." Outgoing Executive Director, Molly Anderson worked with Panchy to set up more lectures with the Atheneum and got him started on the Argo ship log project, transcribing the exact written words so that researchers can easily access the log.
Panchy truly seems to enjoy his work, especially his opportunities to engage with the community during his lectures. They are "lectures," but Panchy thinks of them as a discussions led by questions and ideas that are brought up by participants based on a general topic. He begins many by asking "What would you like to talk about?" Panchy believes in the idea of community education and uses the lecture as a platform for "historical facts, their opinions, and" he adds with a chuckle "my own opinions." The most important take away is that the lectures are supported by facts and history. "We no longer talk to one and other, " he says, everyone is "so polarized…they believe they're right…why listen to others?" His discussions often get right to the root of problems going on locally, nationally, and globally, and the civic duties we should expect. Speaking to society as a whole, Panchy says "We've gotten worse…lost a sense of duty," speaking to the importance of community and being "informed to participate." In some ways it is "my way of working out issues" says Panchy with a laugh, but he is also keen to point out that his topics are "spurred by threats to the democracy." Panchy encourages community interactions, "if we can get people together," he says, we can have a "more vibrant community."
Even in his retirement, Panchy continues impact the community, bringing members together through active participation and listening. A lot of what Panchy hopes to accomplish in his community discussions, applies to the larger US community as well. "There's been a twenty-year deadlock in Congress," he says, and we need to "talk and compromise." Panchy told of a recent lecture discussing misogyny and the clash of opinions among participants—he was speaking from a historical and factual point of view, but still opened the floor to participants to share their opinions. Despite these "clashes," his sessions are, most importantly, a conversation. With Panchy there are no limits on discussion, "once we limit what people can talk about, we limit our ability to unify," he explained. Panchy is spirited in his speech, and his lectures undoubtedly draw those who will both agree and disagree on certain points: which seems to be the entire goal of the lectures. He offers an outlet for discussion, informed opinions, and maybe even some new information for those who attend.
A teacher, an historian, a principal, an orator, a father, a husband, and a member of the island community, Peter Panchy uses his experiences and expertise to draw connections between history and the current social, political, and emotional climate to enrich Nantucket. When I asked him how he viewed the world he said "History and our lives are greatly determined by perspective and examining a life or past events…like looking through a kaleidoscope, making that little turn, to change what you see." I, for one, hope that we never stop making those adjustments to broaden our horizons and bring communities at home and abroad, closer together.
Join Peter Panchy on Wednesday September 25 from 6 to 7pm in the Great Hall, when he will lecture and open a discussion on "Threats to Democracy."