We savor September on Nantucket for the warm and sunny days, for the cool, crisp evenings, and for the ability to finally get a table at Black-Eyed Susan's.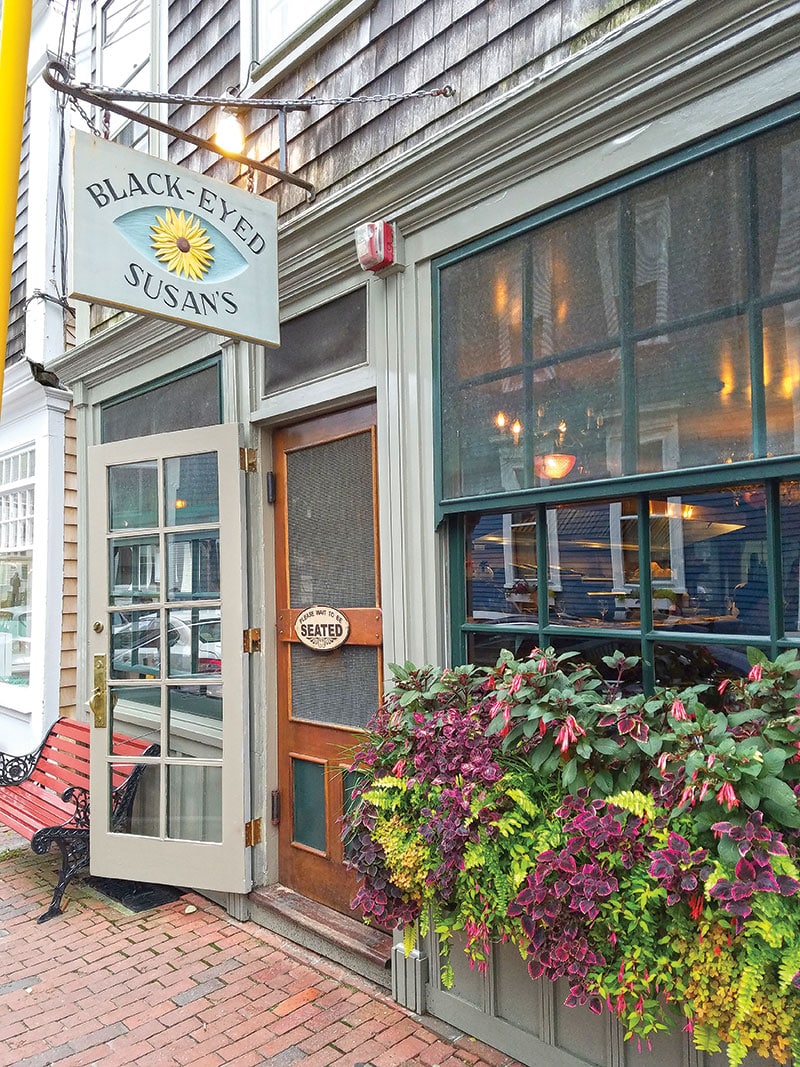 This popular eatery in the heart of Nantucket Town has been a favorite among locals and visitors for about a quarter-century. Co-owners Susan Handy and Jeff Worster have kept their small restaurant with big personality a vibrant place to dine. Executive Chef Worster's wellspring of creativity is executed by Chef de Cuisine Todd Edwards in the restaurant's open kitchen, where guests who score a seat at the counter can watch the show. Culinary creations at Black-Eyed Susan's combine the exotic and unusual with familiar ingredients in inspired preparations that sometimes stir old memories and sometimes make new ones.
In all the years we've dined at Black-Eyed Susan's, we can count on one hand the dishes we've seen repeated. Three of them are the signature plates that Worster and Handy could not remove from their menu without a patrons' revolt: Whole Leaf Caesar Salad with asiago cheese, Capellini with tomato, basil, and garlic, and Linguini with Wellfleet Quahogs. All three are available in both half and full portions, so they can start your meal or be your meal. Black-Eyed Susan's is BYOB, so bring something chilled and sparkling with you, and the waitstaff will be happy to pop the cork and pour.
We started our meal last week the way we always do: with an order of Sourdough Bread and whipped butter. Warm and crusty with soft and tangy crumb, it's the perfect backdrop for the international flavors to come.
If you want a light, fresh, and healthy starter, order the Mixed Local Greens. The tender leaves are tossed with crumbles of ricotta salata and chopped roasted almonds in a red-wine plum vinaigrette, and fresh plums add a juicy sweetness to the salad.
Just as fresh tasting and summery but with three kinds of crunch is the Crisp Carrot and Napa Cabbage Salad. Chopped cabbage, shredded carrot, and puffed rice are combined with distinct flavors of garlic, Thai herbs, and a kaffir lime-coconut dressing. Cool and beachy with a kaleidoscope of sweet-sour flavors, this salad has a tasty undercurrent of heat.
Very different and a vegetarian delight is the Garlic Chili Broccoli Rabe. There's a pleasantly bitter taste to the greens that is smoothed out by a satiny pistachio cream. A squirt of lemon brightens the dish, and pomegranate seeds coated in sesame and cumin add fun pops of juicy, crunchy flavor.
Our favorite starter this trip to Black-Eyed Susan's is the appetizer they call Smoked Local Cod Pate. The lush, creamy pate is well-seasoned and mounded on a golden brown and crunchy rectangle shaped from creole seasoned hash browns—a delicious contrast in texture and taste. Pickled red onion on top gives the dish a puckery lift and jalapeño remoulade underneath adds just a spark of heat.
Entrees at Black-Eyed Susan's are playful and experimental and very good.
We started with the Berbere Marinated Chicken, a canvas on which a mix of African spices paints a delectable masterwork. Crisp skin covers the succulent meat that is stacked and nestled in the creamy subtly of parsley potato puree. Spiced cashew crumble adds hints of sweet and a soft crunch, while a Moroccan olive vinaigrette is the punchy sauce.
Simple and satisfying best describe the Szechuan Lamb Noodles. Prepared with ground lamb and plenty of garlic, chili, and scallion, the dish is fragrant and intense. This stir-fry does not have the fiery spice this style of cuisine is known for, but it has heat on the finish that builds with every bite. We were happy for the tender noodles to cut the heat without stealing the spotlight.
Grilled Wester Ross Salmon entree is named for the salmon farm in Scotland where they hand-feed the fish and use only the best organic aquaculture practices. Firm and delicious, the filet is perfectly cooked: crisped top and bottom and rare in the center. A smoked green chili sauce adds deep flavor with just the right amount of spice, and we love the squiggle of sweet corn crema served overtop. Even the cumin-scented fried yucca cubes deserve high praise in this dish of Southwestern flair.
Very different from the salmon but every bit as good is the Panko Fried Hamachi. Moist and flavorful, the thick fish is enveloped in a deliciously crunchy cloak and set in a pool of Japanese black curry. Snow peas, chopped and sauteed with butternut squash, add whispers of sweetness to the curry. Chilled wedges of diakon radish add a mild, peppery bite.
We love the rich, deep, dark, dense chocolate Pot de Creme that, served with their freshly baked coconut macaroon and macadamia and white chocolate chip cookie, is a staple dessert at Black-Eyed Susan's. But even better is their Gelato with Grilled Cinnamon Sugar Tortilla. The gelato flavors are at the whim of the chef and often unexpected—one week in April, they featured a gelato of sweet pea, ginger, and toasted sesame. This week it was banana-coffee-pecan-caramel, with a taste reminiscent of tiramisu. No matter what the featured flavor, the house-made gelato is superb folded into pieces torn from the charred and sweetened flour tortilla.
Savor September (and October) at Black-Eyed Susans!
Black-Eyed Susan's
open through mid- to late-October at 10 India Street
stop by or call 508-325-0308 for reservations
Breakfast served from 7 am to 1 pm
Dinner served Mon.-Sat. from 6 to 10 pm
entree prices range from $26 to $29
BYOB, corkage fee • Cash or checks only, no credit cards
black-eyedsusans.com