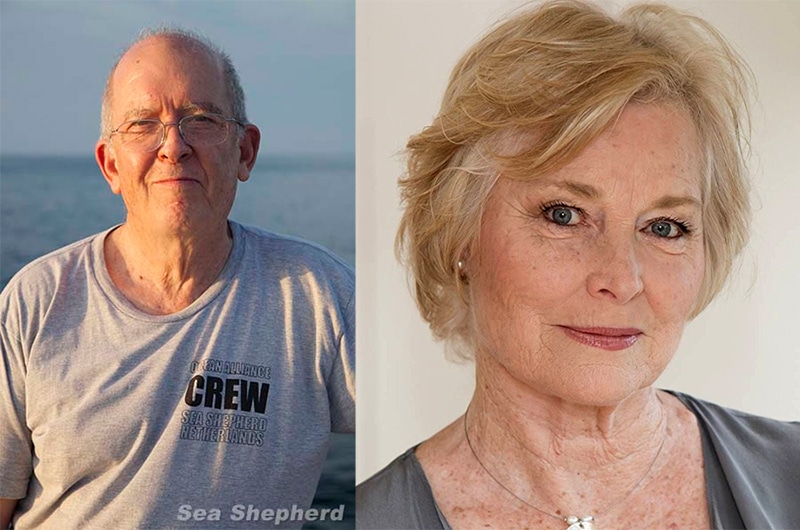 This Wednesday, August 30, Dr. Roger Payne and actress Lisa Harrow will perform on Nantucket for one night only their acclaimed lecture-performance SeaChange: Reversing the Tide in the Whaling Museum, 13 Broad Street. By combining knowledge of science with the wisdom of poetry, Payne and Harrow argue compellingly that man is not the overseer of life but an integral part of life's complex web, and that our survival requires that we attend not to just our own well-being, but make the well-being of the entire web of life a primary consideration for every action we take.
"We are thrilled to welcome Dr. Roger Payne and renowned actress Lisa Harrow to the Whaling Museum for this one-of-a-kind performance," says Brianne Roth, NHA Public Programs Coordinator. "Guests are sure to be delighted and inspired by this powerful and educational experience."
Dr. Payne is the biologist famous for the discovery of humpback whale songs in the 1960s, and an environmentalist who has played a major role in the worldwide campaign to end commercial whaling. He is best known for his co-discovery (with Scott McVay) that humpback whales actually sing songs. His 1971 article in National Geographic magazine included a playable recording of whale songs.

Dr. Payne has led more than 100 expeditions to all oceans and studied every species of large whale in the wild. He pioneered many of the benign research techniques now used throughout the world to study free-swimming whales, and he has trained many of the current leaders in whale research, both in the US and abroad.
Lisa Harrow was born in New Zealand. In 1966, she was awarded a scholarship from the N.Z. Queen Elizabeth II Arts Council to study acting abroad, and was accepted by the Royal Academy of Dramatic Art in London. Upon leaving RADA she was invited to audition for the Royal Shakespeare Company (RSC) and in her first season with them played Olivia in Twelfth Night (opposite Judi Dench). Her other roles with the RSC included Desdemona in Othello, Anne Boleyn in Henry VIII, Portia in Merchant of Venice, (opposite Patrick Stewart).
Gillian Armstrong's film, The Last Days of Chez Nous earned Harrow an Australian Oscar for Best Actress. In 1997, her film Sunday won The Grand Jury Award at the Sundance Film Festival, as well as an Independent Spirit Award nomination for Best Actress.
As a result of her involvement in creating SeaChange: Reversing the Tide, Harrow wrote the environmental handbook What Can I Do, separate editions of which were published in the US, Australia, New Zealand, and the UK. Admission to the evening's performance is $25 and includes a reception following the program. Tickets are on sale now at nha.org/tickets. Doors open at 6:30 pm, with the performance beginning promptly at 7 pm.