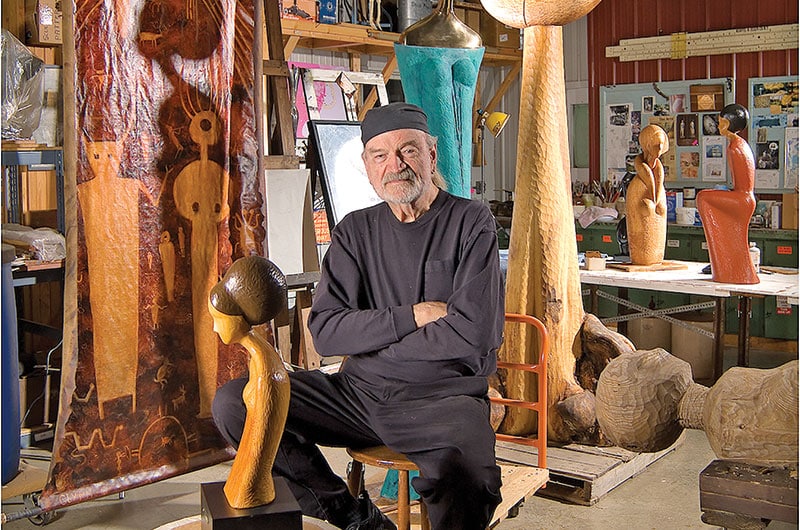 David Hostetler—painter, printmaker, wood carver, sculptor, musician— was very much a part of the Nantucket art scene and community for nearly half a century. His work is in museums, galleries, and private collections around the world. He was known for capturing the feminine form and spirit in his art, for his insight and wit, his love of jazz, and as a beloved teacher and mentor.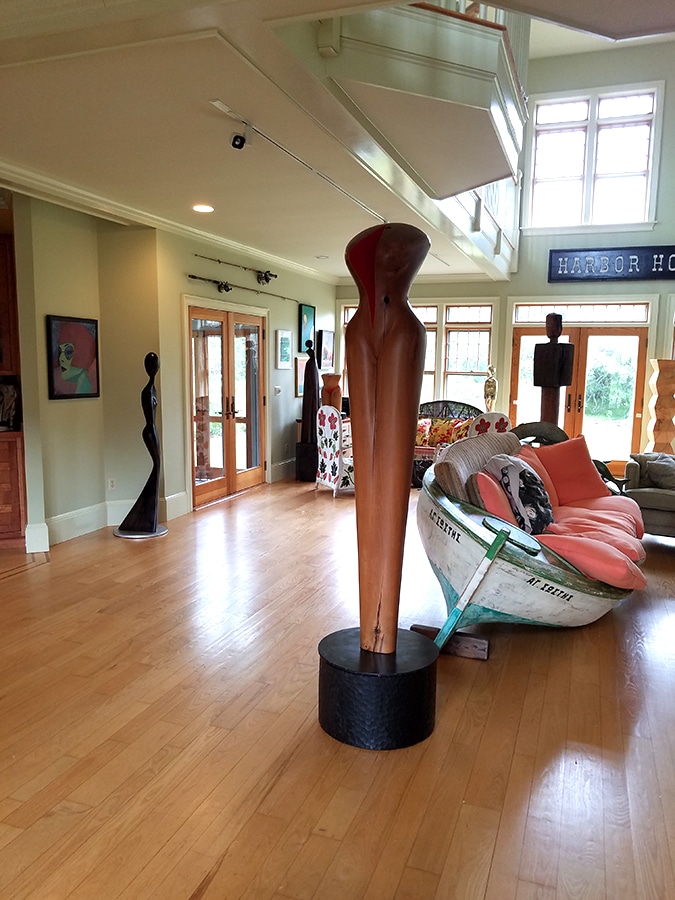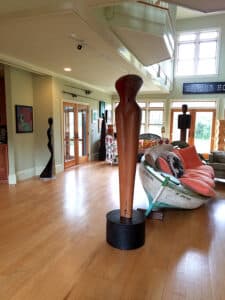 This Thursday evening, August 24, his wife and muse, Susan Crehan- Hostetler, will celebrate his life and his art in a Night of Art with one of David's protégés, sculptor John Evans, in the Hostetler home at 13 Upper Tawpawshaw, Nantucket.
Evans described his mentor- protégé relationship with David Hostetler by saying "we were really friends above all else. We had many similar interests and as both of our careers evolved, we were able to share our experiences in a very specific way that would probably only been of interest to us. Laughing, commiserating, rejoicing in successes, and dismissing and reviewing failure, pushing forward, somehow all seemed to work in our favor."

Susan added that David recognized John's commitment to wood carving when they first met in 1966. "John went on to Ohio University and took sculpture courses from David. They shared carving tools, David guiding John in his life and art, and then, as time went on, John helping David with the wood hunt, bases, making art, sharing their philosophy and journey of life."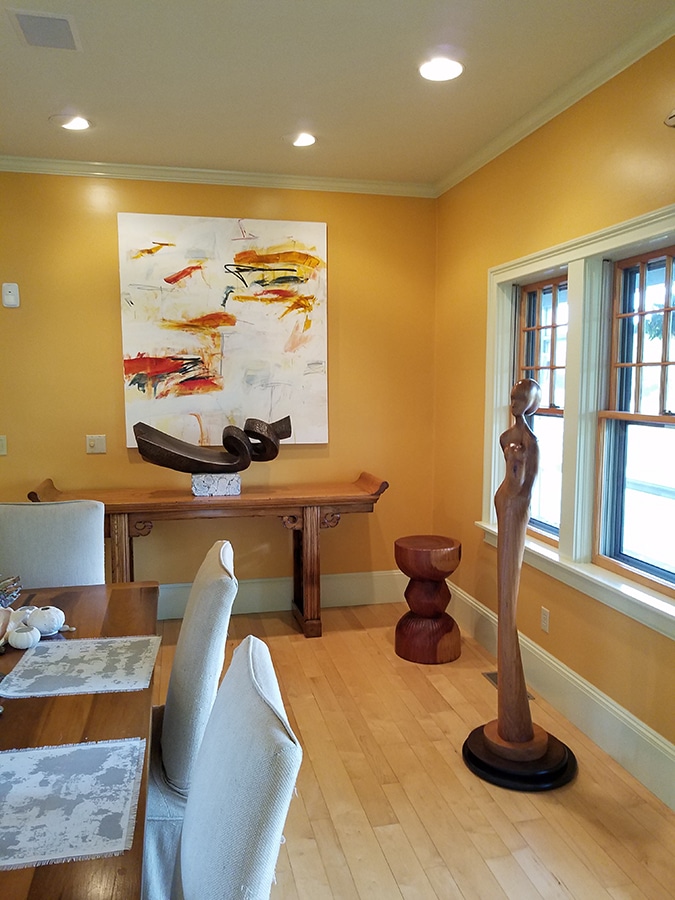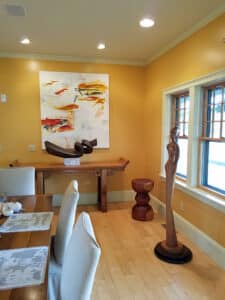 In addition, Evans and Hostetler showed together in Ohio galleries and other shows throughout the US. "They would travel together when John drove our art back and forth from Nantucket every year" Susan added. "… go antiquing along the way, play music together, lots of shared life experiences, and lots of laughter. They shared a deep and unique bond. David encouraged John to exhibit his art in Nantucket…they became great friends."
A protégé is not a clone of his mentor, and the sculpture of John Evans is very much his own. But like John and David, the two styles play well together. Evans explains: "David's work is representative and figurative, and my work is abstract and non-representative in nature. David made his love of the female form his life's work, while I concentrated on yet-to-be-discovered organic form, industrial ideas, and the combination and similarities of those diametrically opposed forces.
"David's and my works are aligned in some very basic ways. The search for aesthetic form, our interest in beautiful and interesting content, and a love of wood. Although we both have strayed from wood on various projects, most of the design work has always been done in wood. Carving, the concern for line, and surface, texture, and presentation are all key elements to why our work has been appreciated."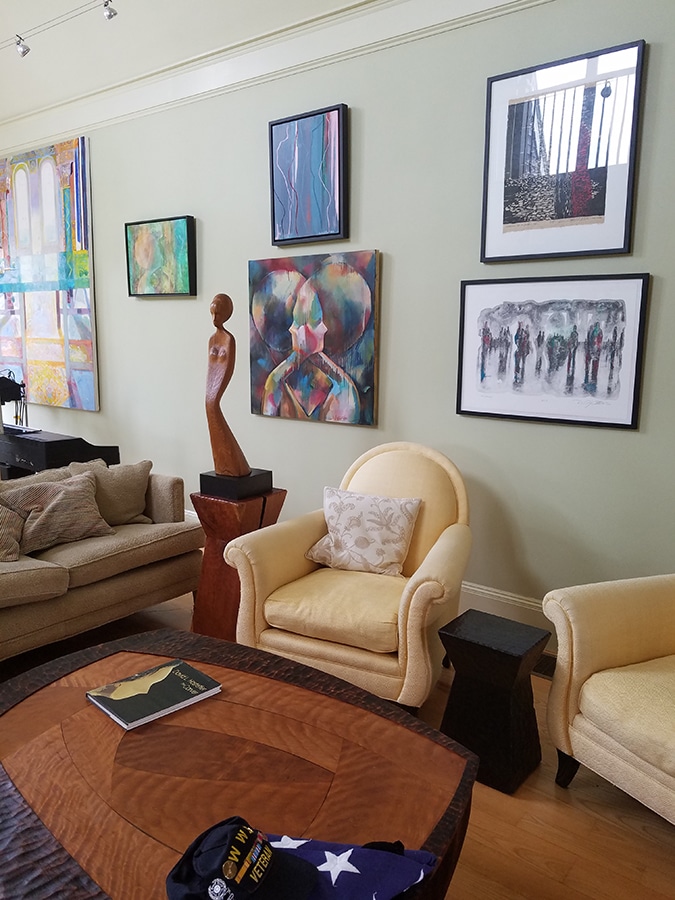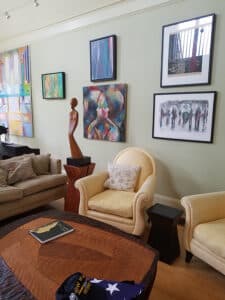 Susan decided to host Thursday's Night of Art, which she's describing as "a happy party," in the Nantucket home she shared for so many years with David rather than in their gallery at 42 Centre Street to show the work of both artists where there's room to really see and appreciate the scope and what it can add to a personal environment. "There's so much more room here, and people can see art in its place in a home… People will see art next to a couch and next to a coffee table." Art is an "extension of my style, creativity in collecting… It's like your heart and soul in solid form," she explained. "It adds [to a home] energy, excitement, beauty, original thinking, a reflection of your personality and attention to life around you."
Susan shared a memory of the first time she "saw" David's sculpture. It was "the first summer of our courtship. It was the IKON: his classic head form, I noticed the lines and shapes and felt punched, "WOW—this is gorgeous!" We still have that sculpture. It was enlarged to 13 feet for a commission for The Sheffield on West 57th Street in NYC." And the pieces she would never part with: "Elegant Woman in black walnut, he gave it to me as a wedding present and Bather, a carved and painted wood from 1962."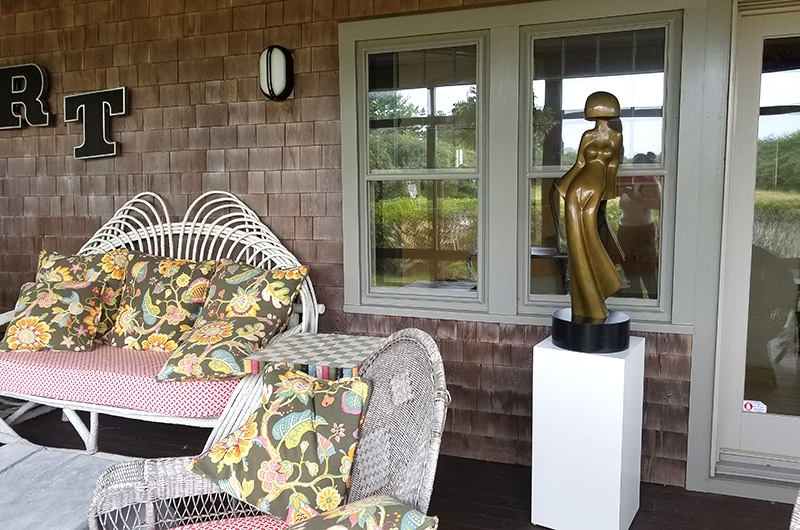 David Hostetler inspired many across all walks of life, and he continues to do so through his art in museums and public spaces. John Evans summed up how David influenced him by saying "When you young and searching for things that you feel might serve you and be enriching, art is usually considered all of that, but only as a hobby. David's lust and pursuit of his artistic vision somehow seemed to actually make this "art thing " a possible career. That was really all I needed to be off and running. It was 1966-67. David really believed that "life is art" and that allowed me to pursue what I really loved in my art."
Don't miss this opportunity to experience the legacy of mentor, teacher, and world-renown artist David Hostetler and the work of his protégé John Evans.