by Sanibel Chai
The Macy's Thanksgiving Day Parade conjures up images of floats, balloons, marching bands, and lavish performance. Notions of entertainment come to mind before artistry, but the giant inflatable balloons that the parade is most famous for are the brainchild of celebrated German-American artist Anthony Frederick Sarg (1880-1942).
Tony Sarg, as he is more commonly known, is being featured by the Artists Association in a new exhibit called Wizard of the Whimsical: Tony Sarg's Fantastic Art. The exhibition includes cartoons, toys, games, marionettes, fine art, and works on paper such as books and illustrations. The works featured come from the Artists Association of Nantucket, loans from private collections including the collection of George Korn. Korn formerly owned an antiques business on Nantucket and is a lifelong collector of Sarg's work.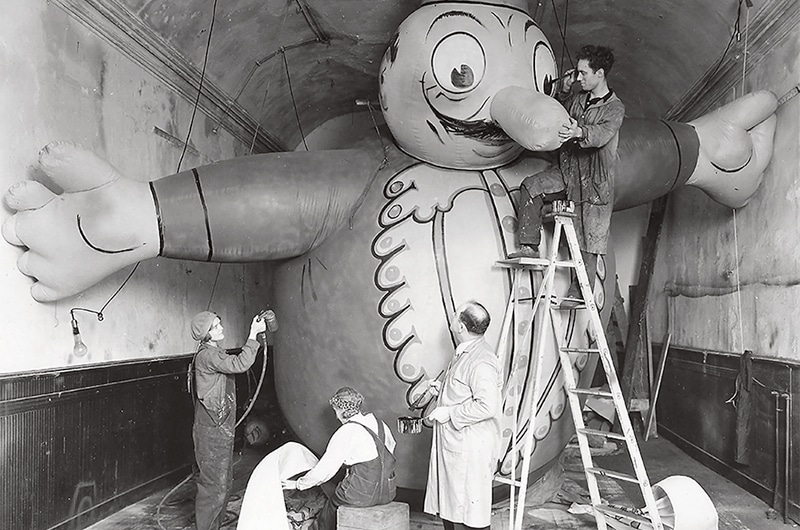 The child-friendly exhibit will be held at the Visual Arts Center Gallery at 24 Amelia Drive from June 23 through September 1, open for viewing Monday- Friday, 9 am to 5 pm. A festive opening reception will be held this Friday, June 23 from 6 to 8 pm. There is a complementary exhibit on display now through August in the Great Hall of the Nantucket Atheneum on India Street. Two cabinets are dedicated to Sarg's works on paper. In honor of the Tony Sarg exhibit, George Korn and AAN Curator of Exhibitions Robert Frazier will be giving a Curator's Talk at the Nantucket Atheneum on August 15 at 5:30 pm in the Great Hall.
Curator Robert Frazier explains, "Sarg was a creative genius…beyond illustration he designed toys, games, furniture with illustration, and of course, the iconic cartoonish balloons for the Macy's Thanksgiving Day parades." His prolific career is all the more impressive given the knowledge that he received no formal artistic training. Sarg introduced a giant Felix the Cat balloon in 1927 during what was then called the Macy's Christmas Parade. The balloons at the first year of the parade were oxygen-filled and propped up to keep them standing. For the second annual parade, Sarg designed an elephant, tiger, and hummingbird. These were filled with helium and released into the sky at the conclusion of the parade. The tradition of releasing the balloons had to be halted when an airplane flying overhead the parade became entangled and nearly crashed. Sarg's balloon creations captured the imagination of the parade audience and they have since become a treasured tradition.
At the height of his fame in 1933, Sarg showcased his marionette theater to an audience of three million at the Chicago World's Fair. In 1935, Sarg designed the elaborate New York City window display for Macy's in addition to illustrating ads for the retail heavyweight. His creativity was unbounded: jigsaw puzzles, animated films, maps, and musical blocks were all part of his repertoire.
Sarg purchased a summer house in Nantucket in the early 1920s and opened Tony Sarg's Curiosity Shop on Federal Street, which later relocated to Centre Street and then to the corner of Steamboat Wharf and Easy Street. The annual Hospital Fête fundraiser posters were designed by Sarg at his Curiosity Shop. Sarg also created portraits of everyday life on the waterfront in his Nantucket studio.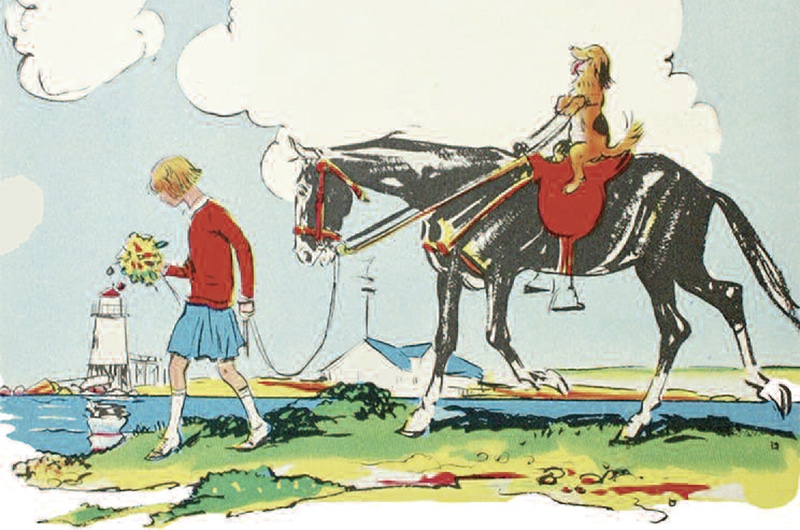 While on-island, Sarg staged an elaborate hoax sighting of a Nantucket Sea Monster in 1937. The Nantucket media went along with the hoax, sighting to create public interest in what would become the unveiling of the sea serpent balloon Sarg had created for the thirteenth annual Macy's Thanksgiving Day Parade. Playing into the prank, a local businessman and a local fisherman were photographed measuring prints left by the elusive creature. The department store (founded by Nantucket native R.H. Macy) anonymously backed the hoax, believing it would bring about good publicity for the island. The inflatable "Nantucket Sea Monster" washed ashore on Coatue that August to mixed reactions. Some felt that the hoax had gone overboard and depressed the island's economy by scaring off potential tourists. Speaking to the artist's legacy, Frazier noted, "The fact that Tony Sarg became a local legend after he engineered the sea monster hoax when he floated a huge balloon figure over from Coatue in the summer of 1937… is just one part of his eclectic background." One of Sarg's favorite subjects was animals. Sarg was fond of anthropomorphizing animals and portraying them carrying out human actions. He brought his sense of humor, which averred that his subjects were "actors in an infinity of small comedies," to all of his creations. In an illustrated children's story, Sarg depicts a dog sitting astride a horse, while holding the reins. This same illustration includes Sarg's other favorite subject: his daughter Mary. She is often included as the main character in Sarg's children's works. Sarg gave Mary weekly art lessons which led to her career as a portrait painter with a studio on Washington street where she taught classes and painted. Though Mary was an accomplished artist in her own right she believed she would never reach the lofty heights of her father's mastery.
Sarg's legacy extends beyond his parade contribution. A gifted filmmaker, Sarg has the honor of five of his films being included in the Academy Film Archive, a select group of fewer than 1000 films that includes Patton and All About Eve.
Considered somewhat of a rebel, Sarg defied his military education to pursue an artistic career. In this same vein, Sarg rebelled against the tacit understanding that puppeteers never reveal the machinations of their craft. Not only did Sarg demonstrate his tricks, he penned a 'How-To' guide called The Tony Sarg Marionette Book in 1921 instructing novices in the art of puppetry. Libby Oldham, research associate at the Nantucket Historical Association Library, shared several stories about Sarg as told by his daughter, Mary Sarg Murphy. She described her father as someone who never grew up and who "never worked a day in his life," so enjoyable did he find his work. One of Sarg's more elaborate pranks, as recounted by his daughter, occurred at sea during Prohibition. Sarg's wife and daughter were en route to Nantucket when their ferry was forced to stop by a Navy boat. The passengers on board began dumping their illegal alcohol overboard, fearful that the 18th Amendment would be enforced. As the Navy boat came closer to the ferry, Mary realized that her father was on board and that he was the architect of the ruse. Those who had jettisoned their contraband did not find the prank all that funny, but the incident demonstrates Sarg's irreverent sense of humor and whimsy.
Mary speaks of another instance of Sarg's boyish antics, which took place at the Yacht Club where he participated in a variety show. His entertaining act came at the expense of an unwitting audience member who was selected to sit for a caricature. The easel was set up so the subject saw only the back of it, but the audience was able to see Sarg at work. Sarg drew the head as it appeared on the person, but when it came to the body he would render it "a fish, or an elephant, or any animal according to the character of the person." Mary recounts, "the audience went to pieces as the person's face got redder and redder. It took all the aplomb of the sitter to live through that."
Sarg's work was influenced by his joyful and prank-laden approach to life. The art on display at the Visual Arts Center Gallery honors a Nantucket transplant who captured the spirited essence of childhood and its wondrous possibilities.