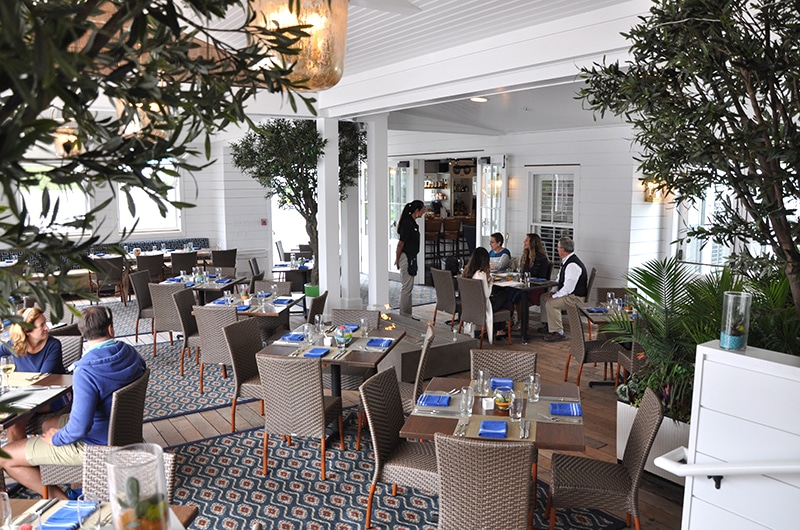 I could see she was a bit hesitant as I helped my little granddaughter into the fire truck. She was clearly not convinced that we were supposed to be climbing into the back of this shiny red vehicle. She sat on her mother's lap and the truck took off from outside Visitor Services on Federal Street. By the time we turned onto Easton Street, she was ringing the bell and calling out "all aboard." When we pulled up to The Nantucket Hotel she didn't want to disembark, and I realized we just established a new tradition for family visits on Nantucket.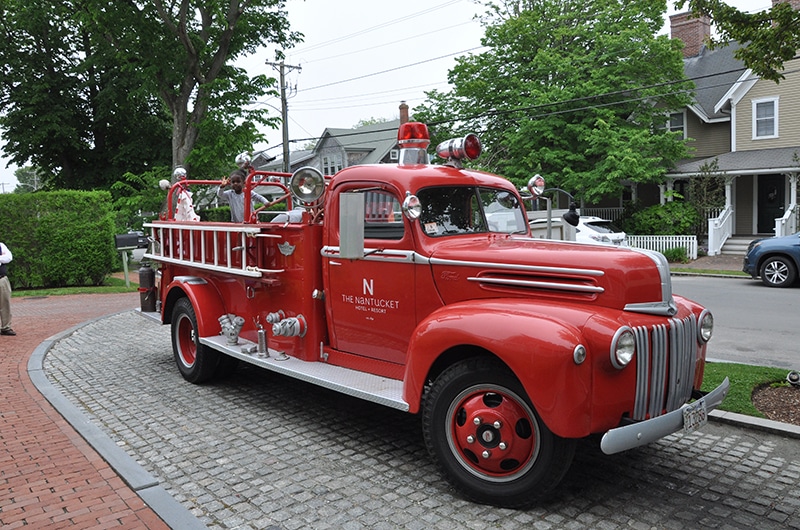 It was too close to nap time for her to join us at lunch, but we did notice that Breeze Restaurant is well equipped for families with youngsters. From a Children's Menu with appealing selections, drawings to color, and a puzzle to their complimentary Kids' Deck program designed to entertain children after they dine with parents so adults can linger over dinner and dessert, this hotel restaurant is ready to offer their warm hospitality to all ages.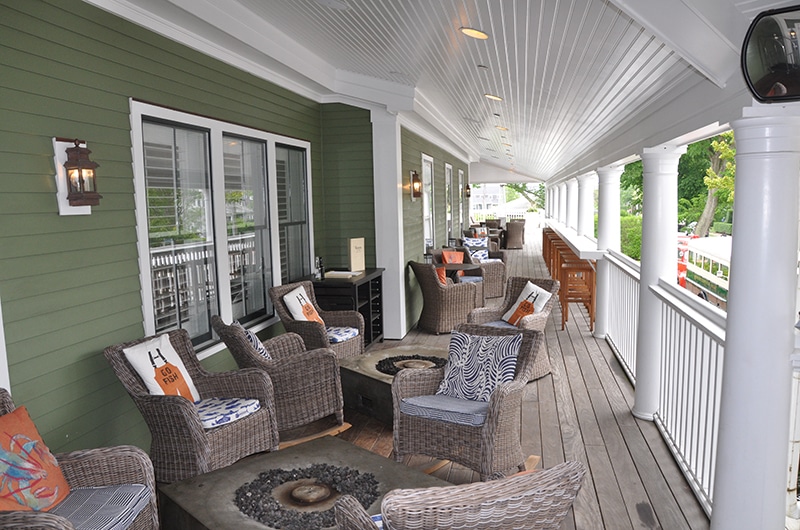 As we walked up the steps to The Nantucket Hotel, we glanced at the arrangement of cozy chairs and tables along their front porch. It was quiet at noon, but from late afternoon into early evening this is a gathering spot with live music, cocktails, and a light menu. The doorman (a doorman is just one of the many gracious traditions this beautiful resort hotel has revived) welcomed us and opened the big double doors. Entrance to Breeze, the hotel restaurant, is a few steps through the elegant lobby.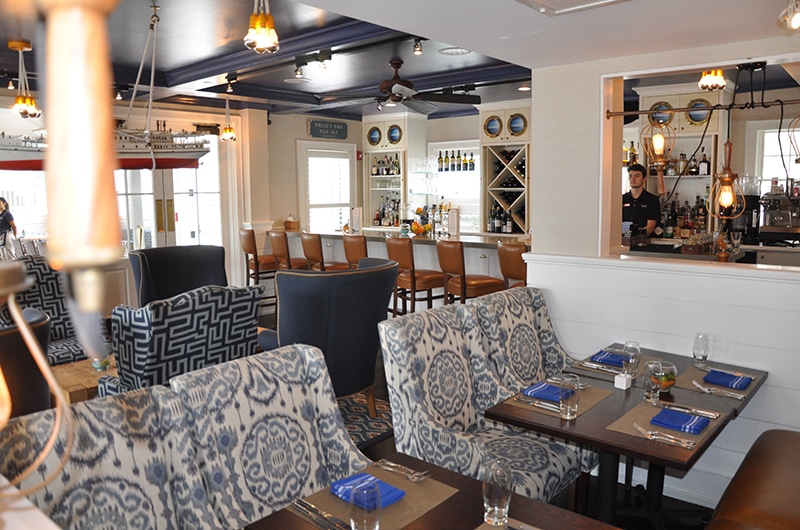 Breeze restaurant and bar were redesigned over the winter to add more enclosure to what had been patio or deck dining. Now, in addition to the indoor dining area and bar, they have a spacious terrace with huge windows and glass doors that can be opened to the fresh island breezes or closed against inclement weather. The decor is decidedly fun and summery, with wicker chairs, indoor fire pits, and potted plants. At lunchtime the terrace is bright and sun-drenched. Just beyond the dining area is their more formal Ballroom, the scene of many weddings, galas, and other special events.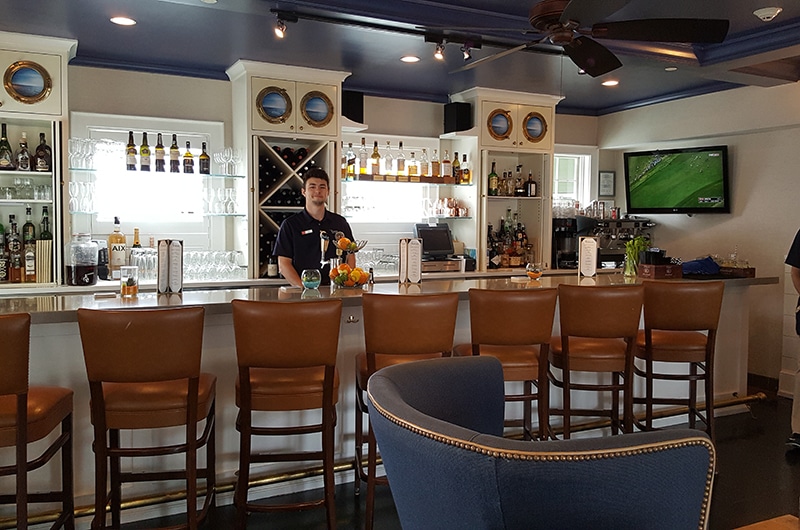 More than just the venue has changed: Breeze Restaurant also has a new executive chef. Chef Bill Weisse brings his island experience from The Club Car to this Easton Street eatery. "Breeze is a nice transition from The Club Car as it is fun and upbeat," he explained. "…the freedom that I have been given to create the menu has been outstanding…I [have] the opportunity to influence hot a la carte breakfast, both indoor and outdoor lunch menus, design lite bite menus for our front porch entertainment, and create a dinner menu to fill the needs of our hotel guests, Club Members, and the community. I have never had so many opportunities to create so many different touch points for my clients, and I love it!
"The lunch menu at Breeze is a combination of my personal imprint from years of cooking up and down the East Coast balanced with the more traditional items that the guests of Breeze have come know are outstanding. We have kept the Lobster Roll, The Clam Chowder, The Cod Fish and Chips, and the Three Cheese Grilled Cheese with Hot Creamed Tomato soup because our waiters insisted on having the standards that all of our repeat guests love to see on our menu. From there, I built on the menu to add fun flavors and dishes that allow for all to enjoy the open air atmosphere of Breeze."
Click on images for larger view.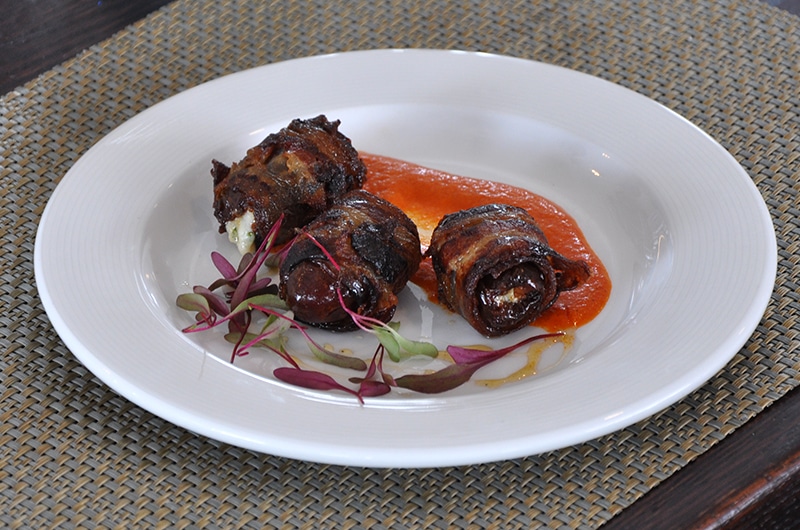 Chef Weisse let us sample two of the dishes that are not on the lunch menu but are popular on the Lite Fare Menu served from 2 to 9 pm. The Stuffed Wrapped Dates and the Crispy Fried Brussels Sprouts. We adored them both! The Dates are a perfect choice when you'd like a little something sweet but not dessert. Creamy and crunchy, sweet and savory, they are stuffed with goat cheese, wrapped with smoky bacon, and glisten from drizzles of honey. A vibrant romesco sauce adds a whisper of heat.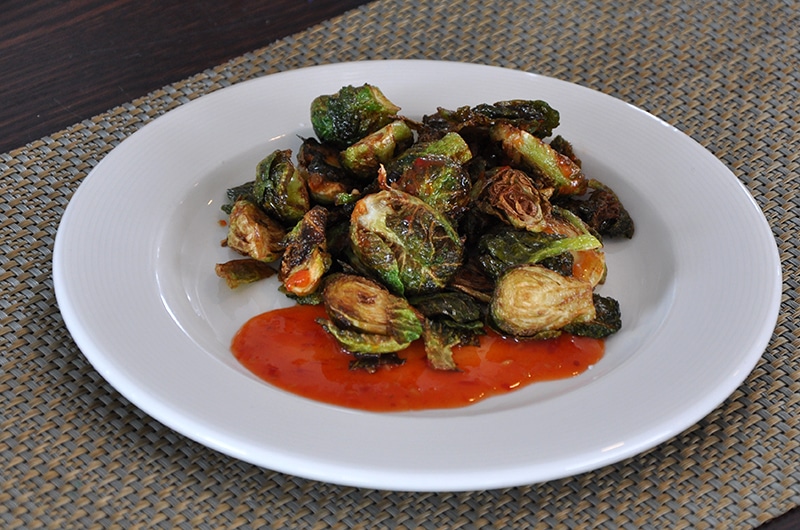 A delicious way to eat your veggies, the Brussel Sprouts are not at all bitter. They're browned on the edges and tender inside; a sweet Thai chili sauce adds a tasty tang to these little cabbages.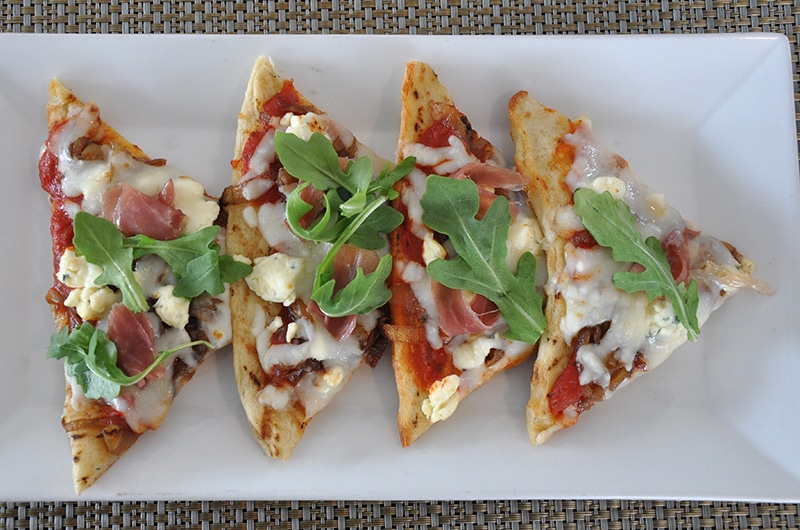 One of the dishes offered both on the Lite Fare Menu and the Lunch Menu is the Sicilian Flatbread. It's listed under the entree section, but we liked sharing this alternative to pizza as an appetizer. It arrives cut into four pieces, the flatbread base soft enough to fold yet sturdy enough to support the impressive amount of toppings: salty prosciutto, sweet caramelized onions, gorgonzola and mozzarella cheeses, and fresh peppery arugula. There is also a New England version that is topped with clams, bacon, parmesan, mozzarella, and white seafood-garlic sauce. (Suggested Pairing: Whitehaven, Marlborough, New Zealand, Sauvignon Blanc)
There are four salads offered at lunchtime: a Breeze Salad that makes a delicious prelude, a Caesar that can be an entree if you add grilled chimichurri chicken or grilled fish or sauteed shrimp, and two entree-sized salads that we sampled. The Nantucket Cobb Salad is presented beautifully, a bed of baby field greens topped with "stripes" of smoky bacon, diced avocado, blue cheese crumbles, a mix of purple, red, and yellow heirloom tomatoes, and a half of a hard-boiled egg at either end of the deep oval bowl. It tastes lighter and healthier than most salads with this much blue cheese and bacon. The greens are dressed lightly in a buttermilk dressing that permits the flavors of all the other ingredients to shine. (Suggested Pairing: M de Minuty, Cotes de Provence, France, Rose)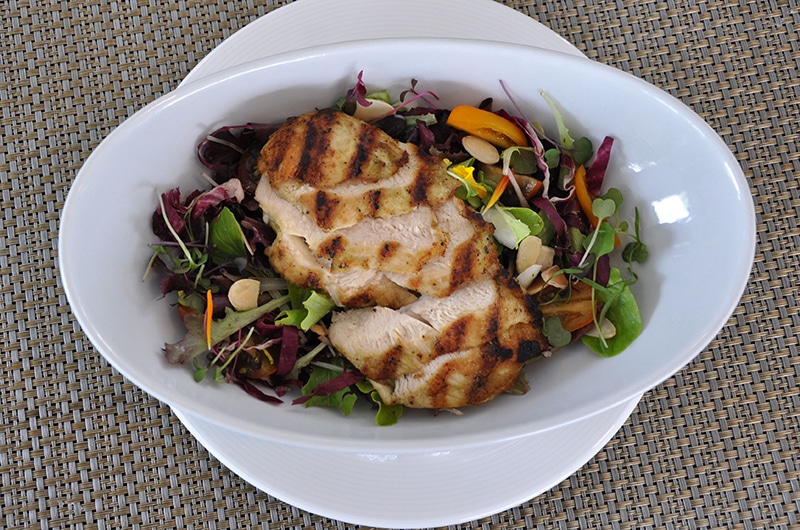 The Warm Chicken Salad is another delicious choice. For this salad, the tender baby summer field greens are tossed in a honey mustard dressing that clings nicely to the leaves without pooling in the bottom of the bowl. Slivers of toasted almonds and slices of scallion add crunch and a touch of heat. The sliced chicken breast is impressively moist and brings to the salad a taste of summer smoke from the grill. (Suggested Pairing: J Vineyards, California, Pinot Noir)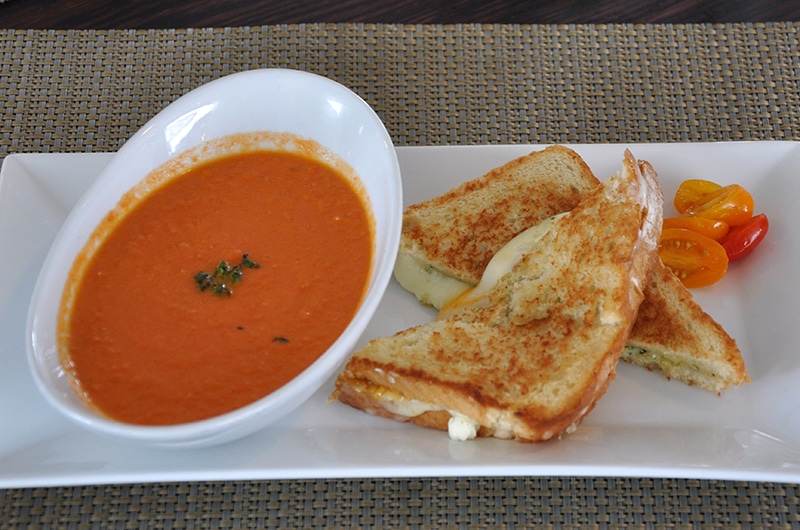 More than a traditional grilled cheese with tomato soup, the Grilled Three-Cheese Sandwich has so much cheese that it oozed and stretched temptingly as we cut it into quarters to more easily dip it into the creamed tomato soup served alongside. And speaking of the soup: it's made in-house from fresh tomatoes and blended till it's not quite smooth. If you're not a fan of dunking, the soup and the sandwich are just as good eaten separately. Chef Weisse lightly coats the white sandwich bread with a blend of mayonnaise, garlic, cilantro, tarragon, basil, and parsley, then layers on cheddar and Swiss and American cheeses, and grills the sandwich till it's crispy with a light crunch. This is truly a childhood favorite grown up to please an adult palate. (Suggested Pairing: Trimbach, Alsace, France, Riesling)
The lunch entrees are evenly divided between seafood selections and landlubber favorites. We've heard how good the Breeze Burger is, and we watched a woman at a nearby table enjoying a tall Turkey Club Sandwich. But we are on an island, so we opted to try three of the seafood dishes, expecting them to be very fresh. We were not disappointed!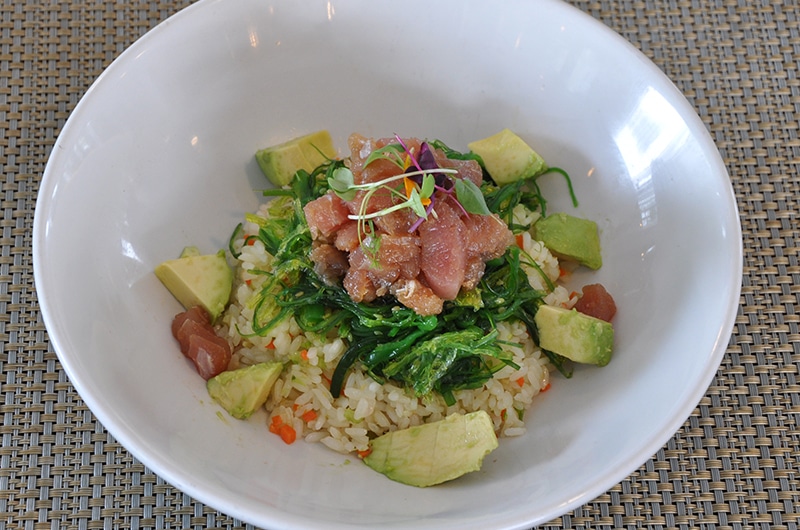 Chef Weisse described his Pacific Poke Bowl as "sourced locally and tastefully infused with delicate flavors that leave you wishing for more." We discovered from the first forkful that his description was spot-on. Fresh tuna, its pink flesh anointed with sesame oil, shoyu, and dried seaweed, is cut into medium pieces and served deliciously cool with creamy diced avocado and crisp chilled wakame over warm rice with tiny bits of sweet carrot and ginger root stirred in. The mix of textures and temperatures makes this especially appealing, so much so that none of us wanted to pass it! A slightly different version of this dish appears on the Lite Fare Menu as the Poke Martini. (Suggested Pairing: Cisco Whales Tale, Pale Ale)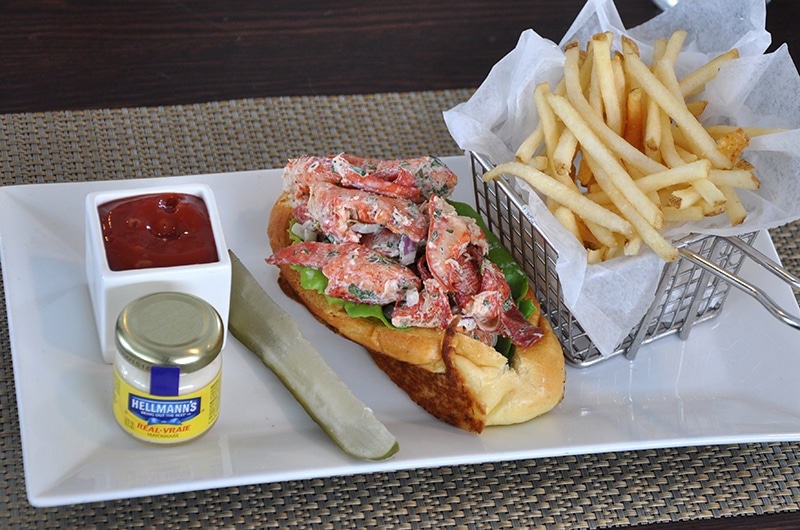 The Lobster Roll is another favorite of Chef Weisse. Simple and simply delicious, this version of a classic New England treat is a toasted brioche bun filled with lobster. Mostly claw meat, there is just a scattering of diced celery and red onion and only a touch of fresh herb mayonnaise. The dressing on this is so light that it's presented with additional mayonnaise for those accustomed to more of a lobster salad roll. We loved it just as it was served, with the lobster meat the star of the show. It was served with a basket of thin fries, delectably crunchy and salty. (Suggested Pairing: Cake Bread Cellars, Napa Valley, Chardonnay)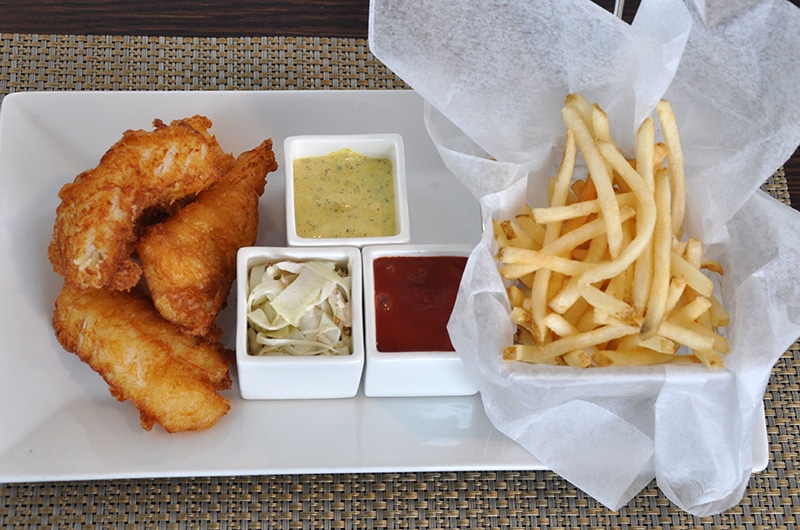 We highly recommend the Fish-n-Chips at Breeze! Prepared with thick pieces of codfish fresh from the docks that he dips in a housemade Cisco Whales Tale batter and fries till golden brown, it's rarely this good. The cod comes apart in big, moist flakes, but the light crisp batter somehow stays on the fish so you get crunch in almost every bite. A cool, crisp slaw with fennel and julienne of sweet Asian pear is served alongside with a malt-vinegar version of the same tasty thin fries we enjoyed with the Lobster Roll. (Suggested Pairing: Stella Artois, Cidre)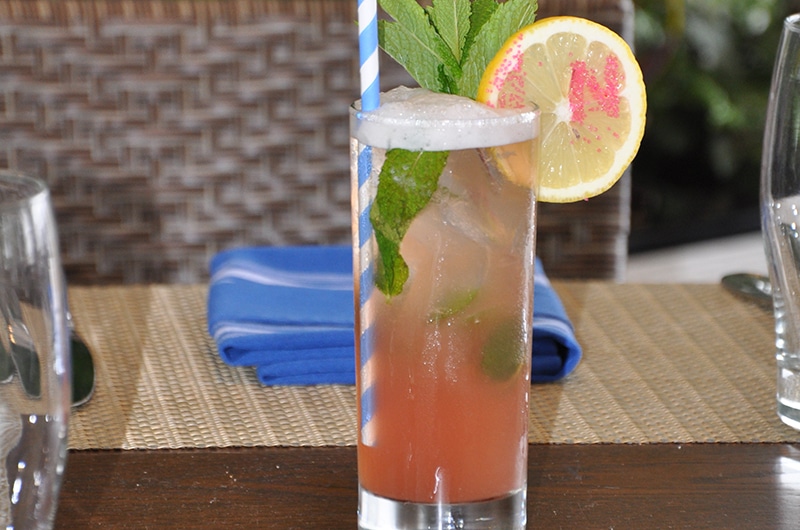 We had eaten far too well at this midday meal to even consider dessert, but bartender Laura Lanagan prepared a refreshing treat that she recently concocted for a Cisco Brewers contest using Triple 8 Raspberry, pineapple juice, lemonade, mint, and a rosé floater. As of last weekend, she had not settled on what to call her new cocktail, so we cannot recommend it by name, but It's the perfect refreshing beverage to toast a superb lunch and a new Nantucket tradition: luncheon at Breeze.
Breeze Restaurant in the Nantucket Hotel
77 Easton Street • breezebarandcafe.com
Reservations suggested: 508-228-4730
Open daily serving Breakfast, Brunch, Lunch, Lite Fare, & Dinner
Indoor & Terrace Dining • Children's Menu & Kids' Deck available
See our Calendar of Events for special Breeze & Nantucket Hotel offerings
Full Bar • Live Music • Major Credit Cards Accepted