The Nantucket Historical Association (NHA) is pleased to announce that the 5th Annual NHA History Quiz Bowl will take place on Saturday, March 8, 2014, at 6 P.M. at the Whaling Museum, 13 Broad Street.
This light-hearted competition and community program, now in its fifth year, features teams going head-to-head for "history glory" and fabulous prizes in front of a lively audience of friends, family and local community members.
Staying true to its popular quiz show format, this year's History Quiz Bowl will offer more fun and exciting enhancements than ever!  First, the competition will be even more accessible for all levels of Nantucket history enthusiasts, as the majority of Quiz Bowl questions this year will be derived from information found in award-winning island author Nat Philbrick's book, Away Off Shore. Teams are encouraged to read the book as an information source and study-guide before this year's competition.
In addition, when teams register this year, they will be offered the opportunity to register as a team of three members (as in previous years), or register as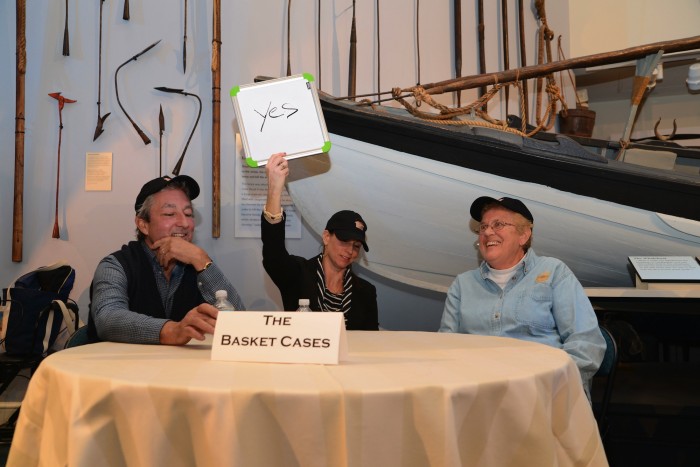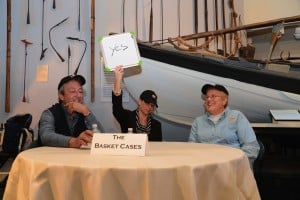 a team of two members and enlist the help of an NHA "lifeline" player, who will officially join their team on Quiz Bowl night.
Teams of two that choose to adopt the NHA "lifeline" staff member will have the NHA lifeline join them on stage for the duration of the Quiz Bowl and be a part of their team on March 8th.  NHA lifelines will be assigned at random at the beginning of the Quiz Bowl evening in front of a live audience, and all lifelines will have read this year's book Away Off Shore as a study guide.
The NHA is also excited to welcome a new Quizmaster for 2014, a position held by Nat Philbrick for the last four years. The 2014 NHA History Quiz Bowl Quizmaster will be Mindy Todd, Managing Director of Editorial for the Cape and Islands NPR station, WCAI 91.1 FM, and radio host and executive producer of The Point.

"I am thrilled and honored to be this year's Quiz Master at the NHA's annual History Quiz Bowl," says Mindy Todd. "I look forward to taking part in this program that provides a fantastic community experience during the cold winter months on Nantucket. I am going to do my best to fill Nat Philbrick's big shoes!"
"With such rich local history here on Nantucket, boning up for this event can might be seen as a challenge.  The WCAI team this year is very excited to read Away Off Shore and an NHA lifeline to give them a great shot at competing with the other teams", Todd adds
Playing the new role of Audience Ambassador at this year's History Quiz Bowl is Nantucket native Harvey Young, third-generation owner of Young's Bicycles on Broad Street. He will help spice up the night by warming up the crowd and asking audience participation questions between quiz rounds and handing out prizes for correct audience answers.  Young exclaims, "On a special night in late winter, the NHA invites us all together for this unique event of learning and laughter: The 5th Annual NHA History Quiz Bowl!  Where else can we gather with friends and neighbors, scholars and scofflaws, historians and hysterics, to enjoy the wit and wisdom of our collected community?"
Young is quick to add, "It's not a fundraiser, a festival, a requirement or an obligation, it's just a good clean way to join together for a fun time. Throw in a dash of local history and you won't want to miss this year's Quiz Bowl. I am so excited to be a part of it this year."
"Every year, the History Quiz Bowl brings out the best of our island's community spirit.  It has become a huge event in March and attracts a great turn out," says Marjan Shirzad, NHA Director of Visitor Experience. "People enjoy the competition, and they enjoy seeing their friends and colleagues share historical knowledge in a friendly, accepting atmosphere. Even audience members have a chance to demonstrate their love of Nantucket with special questions written just for them.  We always look to throw in surprises and fun elements, and this year will be no different!"
Those with a love for Nantucket's history are invited to either register a team today and compete in this year's History Quiz Bowl, or join the audience on the night and support their friends and neighbors!
All ages and abilities are welcome. Interested participants can find registration forms online at www.nha.org  or may pick them up at the NHA administrative office at 15 Broad Street.