You have to be careful when you go to dinner at the Thai House:  it's far too easy to over-order.  You might arrive intending to start with the Spring Rolls, but then you see they also serve Beef Teriyaki and Shrimp Tempura and Crab Rangoons and Egg Drop Soup and more than a dozen other appetizers.  Before you know it, you've ordered a selection—just to try—and you'll have no room for the delicious noodle dishes, fried rice, curries, stir-fries, and house specialty dishes.  Then you notice the two-page Sushi Menu.  Clearly one visit to this cozy mid-island eatery is not enough!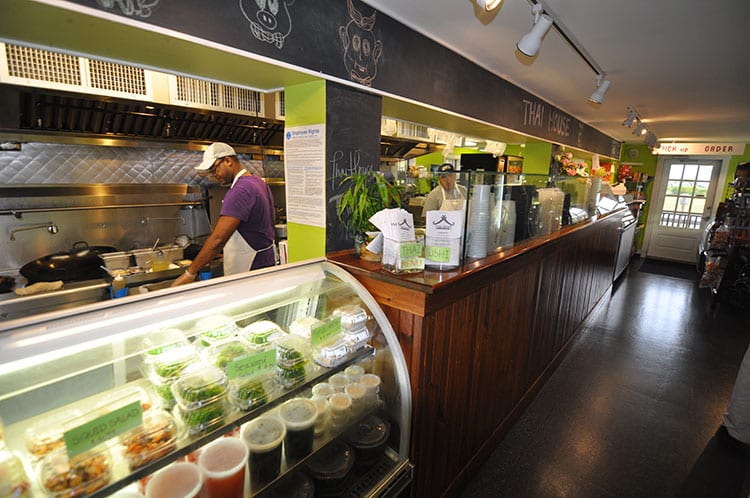 The Thai House does a brisk takeout business from when it opens at 11 am.  Mid-day, from 11 am to 2 pm, in addition to the menu, they have a "Grab & Go" section: choose noodles or fried rice plus one or two or three meat selections from six offered.  The choices are freshly prepared and often change—when we stopped in for lunch they included Chicken and Beans, Crispy Chicken Grapow, Beef Stir-Fry, Chicken and Broccoli, Orange Chicken, and Fried Chicken.  It's a fast lunch for people on the go, and there was a steady stream of working folk stopping by to "grab" a hot lunch.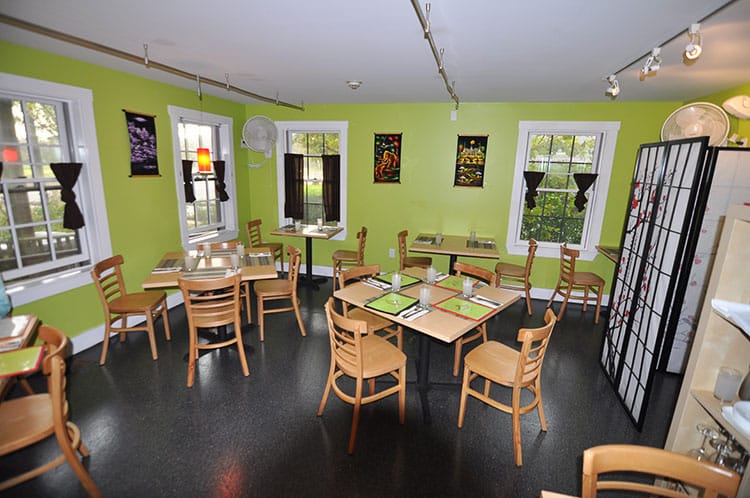 A row of stools and a narrow counter runs opposite the takeout counter, but that is not the only seating here.  Toward the back of the Thai House, through a doorway on the right is a cozy dining room where they offer table service.  The room is brightly painted, lined with windows, and decorated simply.  Service is prompt, welcoming, and attentive.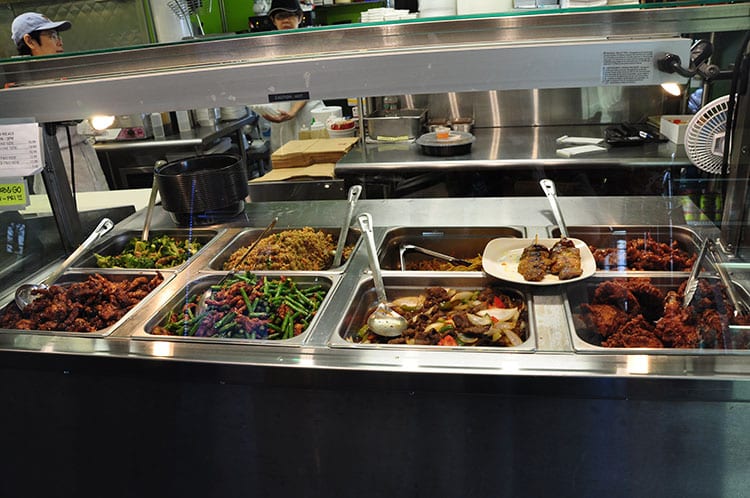 Kitchen staff is led by owner Seubsiri Thairatana, who grew up in a family of restaurant owners in Thailand and has been cooking on Nantucket for more than 14 years.  With her background, she knows exactly how to achieve the harmony of flavors—sweet, sour, spicy, savory—that are a hallmark of Thai food.  "I serve food like I feed my family," she commented.  In every dish we tried, the flavors were robust and straightforward; sauces were bold but light so they enhanced the food rather than masking the fresh flavors.  Each dish was equally satisfying to eye, nose, and palate.  Everything here is cooked to order, yet they still turn out meals quickly and efficiently.  Some dishes can be prepared gluten-free upon request, and if you'd like any dish made spicier, you only need to ask, but do note the warning on the menu that reads: "once it is made there is no turning back."  It's best to arrive at the Thai House hungry and with a sense of adventure.
 Click images to view enlargements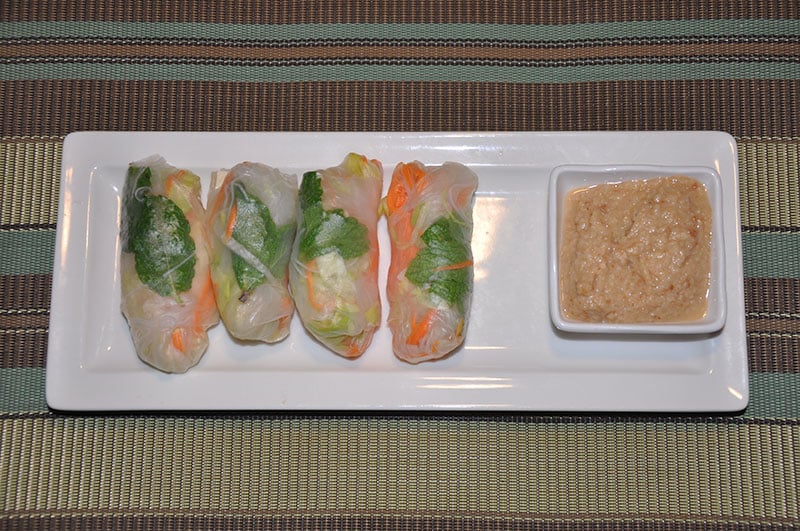 We began our recent dinner with a plate of Fresh Rolls, which at Thai House really are fresh!  The vegetables, bean threads, and tofu all wrapped tightly with a mint leaf in a rice paper wrapper are crisp and refreshing.  They are served with a slightly sour peanut dipping sauce, which is a tasty counterpoint to the fresh vegetables.  It's the ideal start to a big meal.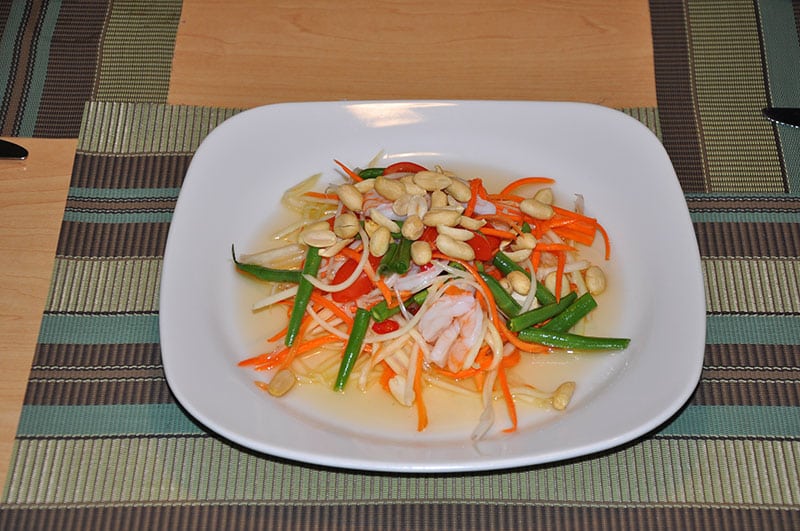 Full of color and a kaleidoscope of flavors, the Papaya Salad  combines julienne carrot, green beans, grape tomatoes, papaya, shrimp, and peanuts for a crisp and refreshing appetizer.  The dressing, with lime juice, fish sauce, and sugar, is a delectable balance of sweet and sour.  Another favorite salad at Thai House is their Yum Nur Yang, a steak salad with mint, onion, carrot, scallion, and lemongrass tossed with thin slices of beef that is just spicy enough to make your tongue tingle.  The skillful use of fresh herbs was a highlight of many of the dishes we tried.
 On Seu's recommendation we also ordered the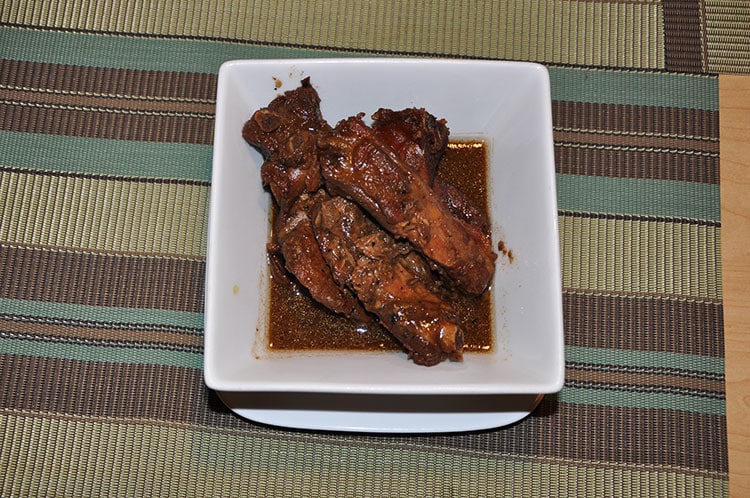 and the Chicken Satay.  These ribs are nothing like the dried out, oddly pink version that so many of us used to have flown over.  The ribs served at Thai House are succulent, meaty, and tender enough to come off the bone with just a gentle tug.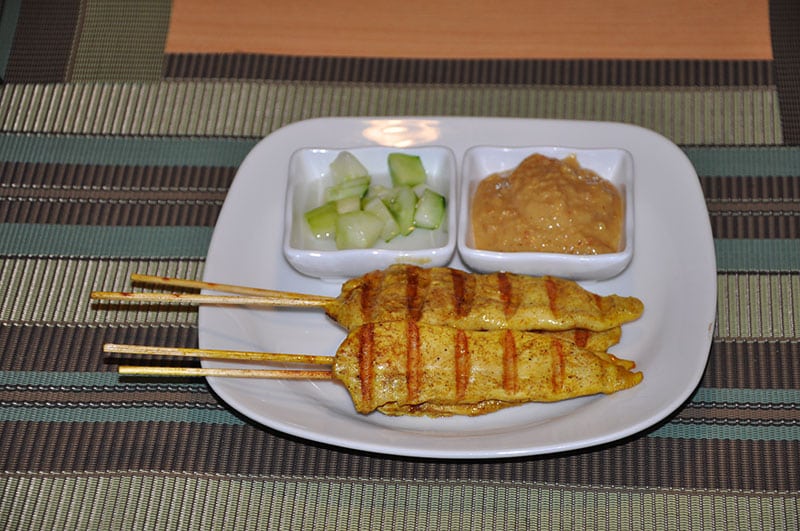 The Chicken Satay is also unlike any we've had before.  The moist chicken tenders are marinated in a light curry and coconut milk mixture and then grilled instead of breaded and fried.  They're served with a side of peanut sauce and a side of cucumber in a tangy Thai dressing of lime, fish sauce, and sugar.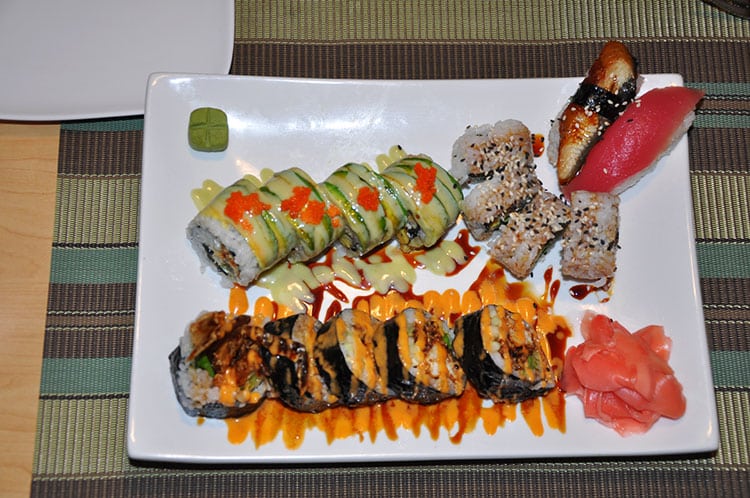 Thai House also makes superb sushi and sashimi, with a chef dedicated just to those dishes.  Their Maki, Ura Maki, and Specialty Rolls are beautifully constructed, sparkling fresh, and artfully arranged.  In addition to their a la carte sushi selection, they also offer lunch and dinner combos.  We tried a Dinner Sushi Combo of a Spider Roll, Caterpillar Roll, Eel Roll, and two Nigiri (which changes depending on what fresh fish is available).  The combo is a great value at $21.99 and was perfect for sharing.
 Entrees at Thai House are an appealing mix of the classics and specialty dishes.  You can decide on your protein—beef, chicken, pork, shrimp, tofu, or vegetables—and then on your preparation.  Or you could do it the other way 'round.  Only the twelve "Specials" on the menu have a set cast of ingredients, but the kitchen will gladly customize how spicy they make those for you.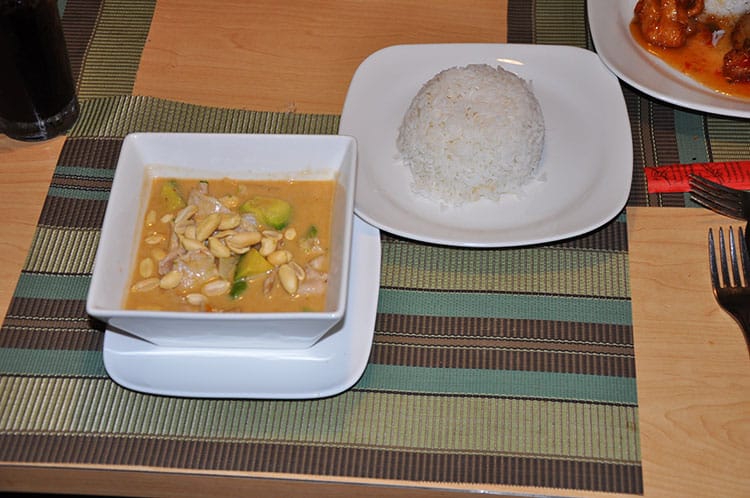 We highly recommend the Thai House Curry entrees, which are all house made.  We particularly like the Green Curry and the Massaman Curry.  Based on coconut milk and fresh green chilies, the Green Curry is spicy comfort food:  full of robust flavor and with just enough zing.  The Massaman Curry is a bit richer, with more spices, a little less heat, and a complex flavor profile.  We like this with pork, the tender, satiny slices of meat are delicious with creamy chunks of avocado and crunchy peanuts.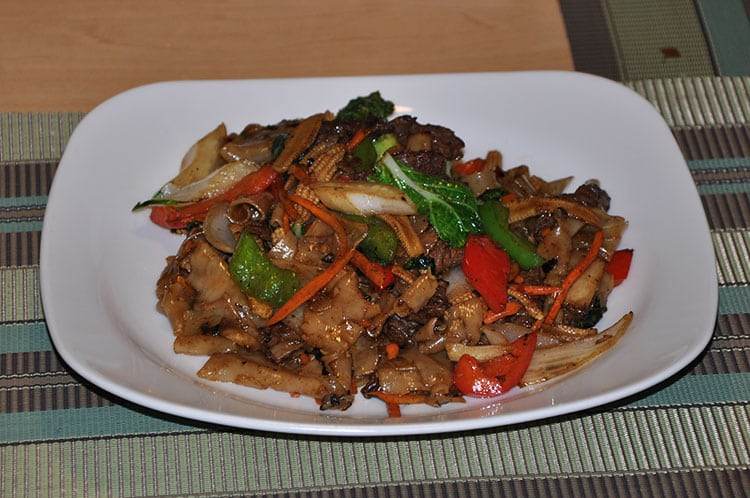 From the Noodle Dishes section of the Thai House menu, we veered away from our usual Pad Thai and ordered the Drunken Noodle with beef.  Distinctively spicy with chili and Thai basil, this stir-fry dish is prepared with broad rice noodles and a colorful and tasty mix of vegetables that include carrot, bell peppers, onion, baby corn, broccoli, bok choy, and mushrooms.  Despite the name, there is no alchol in it.  Because this is made fresh to order, each of the ingredients retains its integrity and flavor—the vegetables are cooked but crisp, the noodles are tender but not stuck together.  And there's just enough sauce for flavor but not so much that it pools in the dish.  This is was a definite table favorite.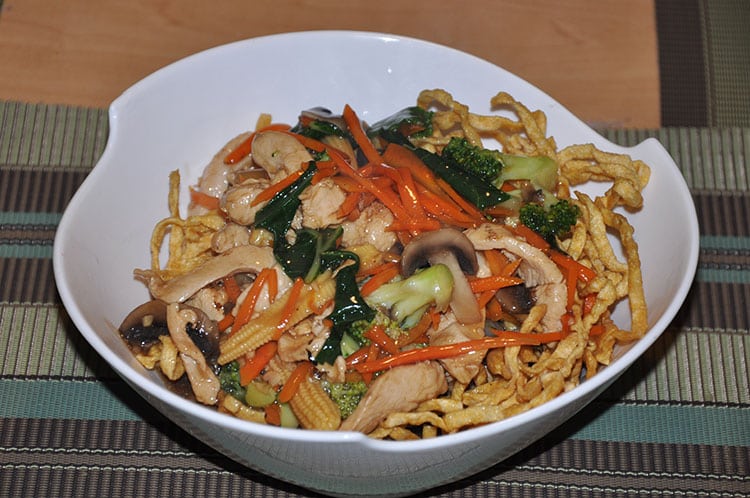 Very different and also very good is the Thai House Crispy Lad Nar.  This is served in a deep bowl to contain all the gravy, which is light but still deeply flavorful.  The noodles are deep fried and add a fun crunch to the stir-fry of carrot, mushroom, broccoli, baby corn, and bok-choy.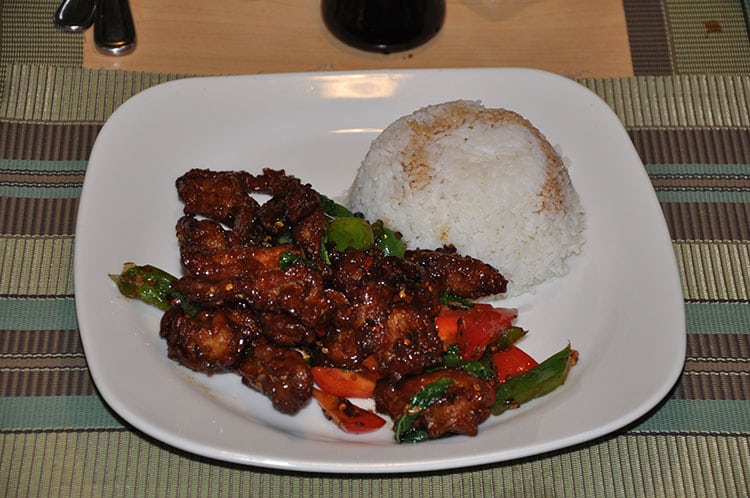 Seu brought us an order of the Grapow Crispy Chicken to try, and this entree is another that deserves high praise.  The flavors of garlic and ginger blend deliciously with the Thai basil, and though the chicken is crispy (as promised) on the outside, each piece is tender and moist inside.  This entree is also offered in a more traditional version with ground meat, but we like it better with the chunks of chicken.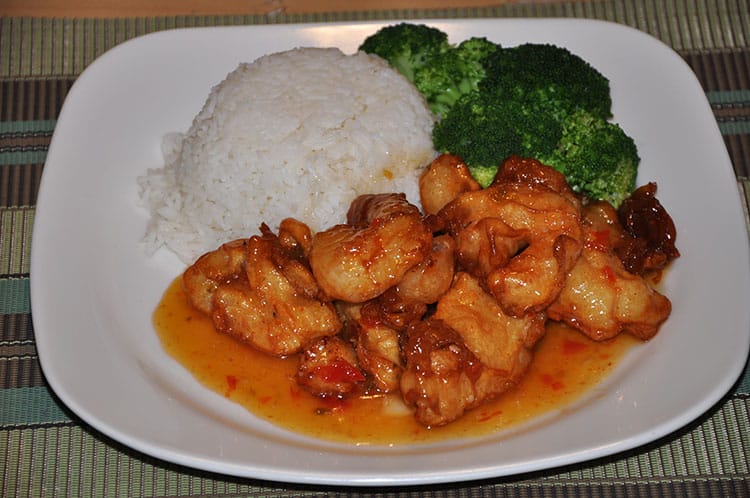 One of the house specialties is called Crispy Seaman — their version of a "fisherman's platter" with the seafood (shrimp, scallops, and squid) dipped in a batter that fries up light and crispy.  The house-made Thai three-flavored sauce (sweet, sour, salty) that is poured over the seafood is perfectly in balance and simply delicious with the seafood, as well as on the broccoli and the rice served alongside—in fact, we'd try this sauce on just about anything, it's that good.
We decided to wait till our next visit to try the desserts—Thai Style Fried Banana, Fried Ice Cream, and Kaow-Neow-Ma-Muung—no one on our team could fit another bite!
Thai House  •  508-680-1522
118 Old South Road, near the NRTA airport stop
www.ackthaihouse.com
Open every day from 11 am (closing at 9 pm for September)
Entree Prices range from $10.99 to $17.99  •  BYOB
Indoor Dining & Takeout • Gluten-Free available • Party Platters available
Cash, Visa, & MasterCard accepted  •  no Amex and no checks