Swim Across America Nantucket kicks off its annual swim on Saturday, July 22nd at 8 am at Jetties Beach. The Swim is a summer highlight and a moving experience that is not to be missed. Year-round and summer residents are invited to join the Swim, which features a kid's splash, a quarter-, half-, and one-mile distances. More than 400 swimmers and volunteers gather to meet (and possibly exceed) a goal to raise $600,000 to aid those who face cancer. As of press time, SSA Nantucket 2023 is more than three-quarters of the way to that goal. The money raised from this event is used to support Nantucket Cottage Hospital's oncology and palliative care services.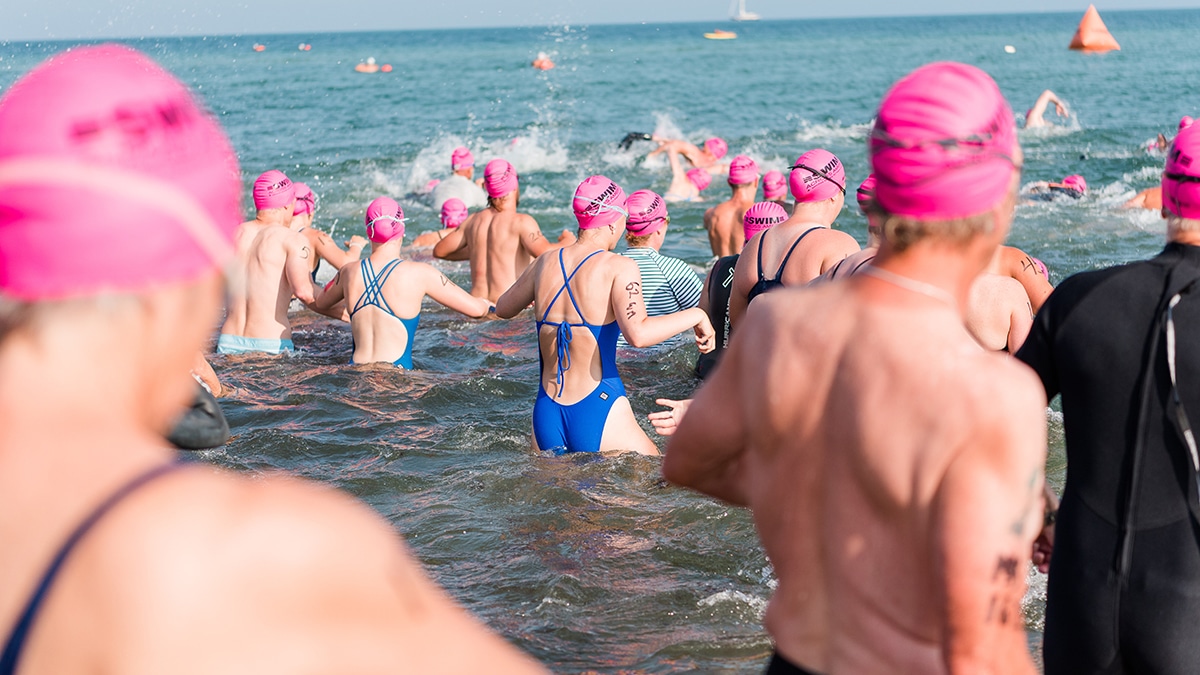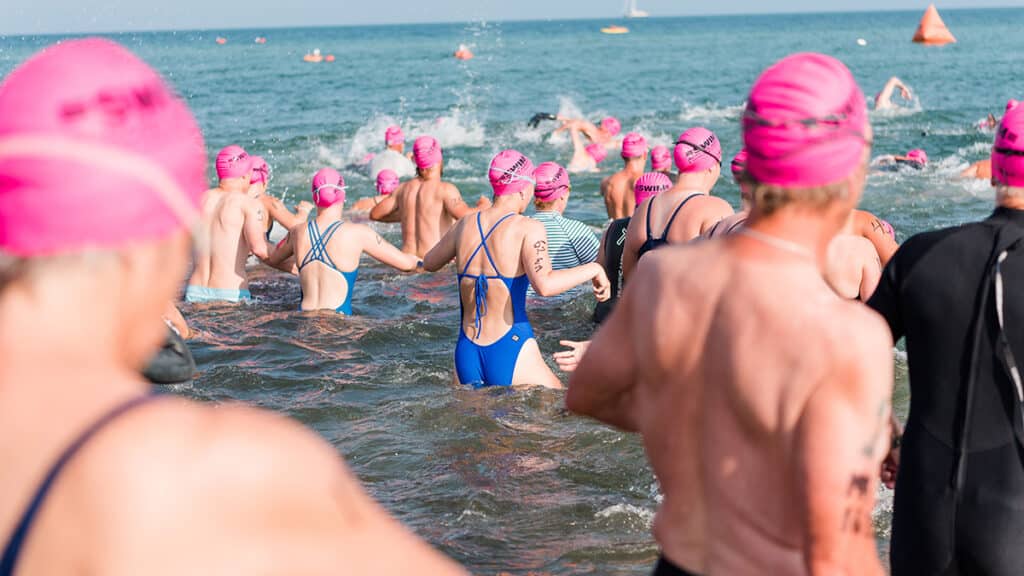 Oncology and palliative care services are offered by the Nantucket Cottage Hospital largely due to the funds raised from the Swim. Oncologists come to our island from Massachusetts General Brigham, giving Nantucket patients an academic level of care in our rural community hospital, saving them time, stress, and money by not having to travel to the mainland. Palliative care services are provided free to year-round and summer residents due to the monies raised by the Swim and the Palliative and Supportive Care of Nantucket organization ("PASCON").
There is a swimming experience for all levels of swimmer. "Everyone is welcome: there is a kids "splash," and everything from those who want to get their toes wet in a 400-yard swim to a 4-mile endurance experience. The goal is to enjoy our beautiful Nantucket Sound together and to raise funds for on-island cancer services. We have a swim experience for everyone and to participate you only need to sign up and pledge to raise $200." said Co-Event Director Jill Roethke.
Registration and check-in this Saturday at Jetties Beach starts at 6:30 am and ends at 7:30 am. There is a mandatory swimmer safety talk at 7:45 am. Spectators will want to arrive by 8 am to not miss the Opening Ceremony.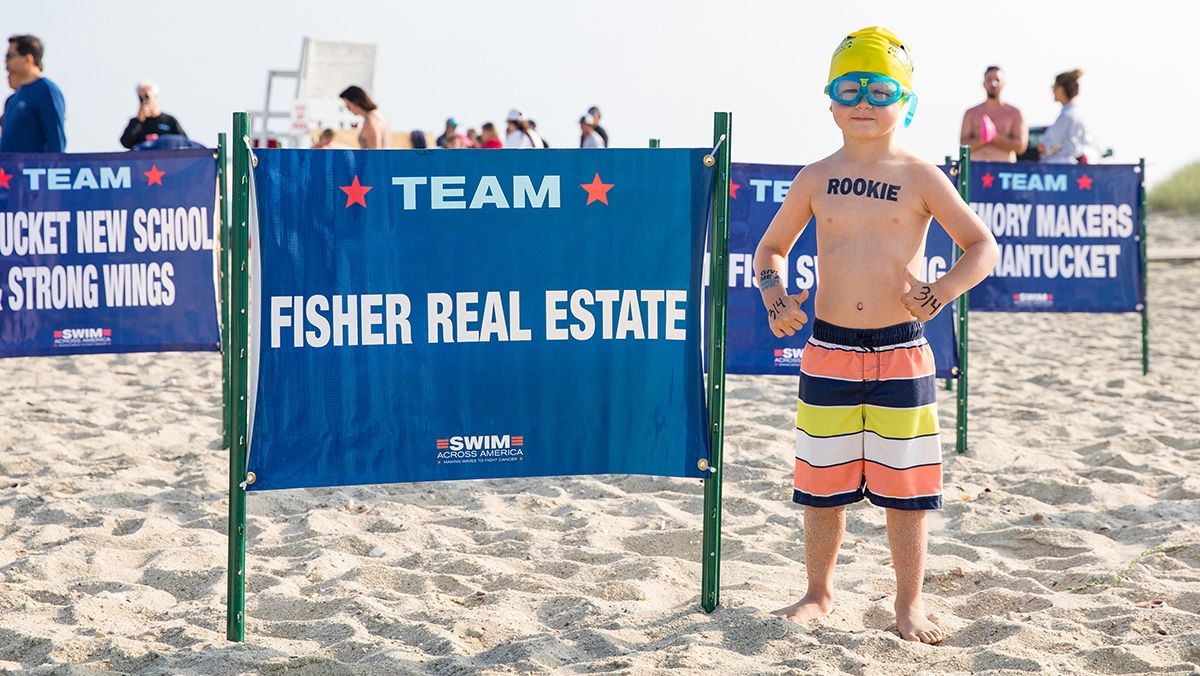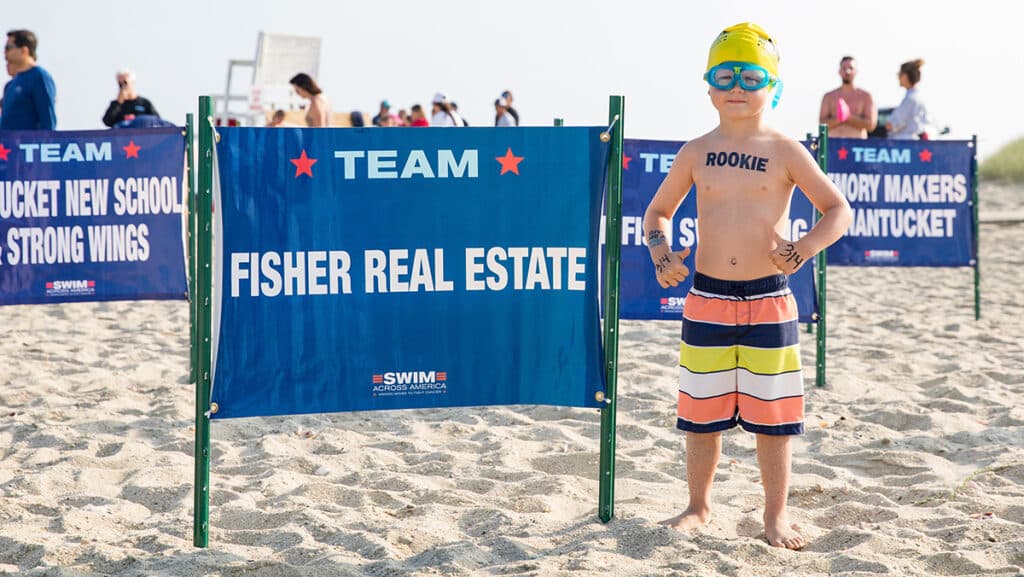 This year the Swim has expanded its campaign to defeat cancer by supporting ground-breaking research at Mass General to treat brain tumors in young children. Dr Bryan Choi is working on promising cell therapy to shrink brain tumors in kids and is being supported by Swim Across America. "We realize that in the fight against cancer, we are not an island. So we will target some of the funds raised this year to support Dr. Choi's exciting research while continuing our traditional support of Nantucket Cottage Hospital's cancer and palliative care services," said Co-Event Director Jim Pignato. This aligns with Swim Across America's mission of cancer research, which has been successful in helping to fund clinical trials that have led to four FDA approved cancer treatments, including the wellknown Keytruda.
The morning features moving tributes by cancer survivors who benefit from the funds raised by the Swim and talks by Oncology staff from NCH and Mass General. "It is really is a feel-good community event, and in addition all swimmers get a terrific beach towel and a great breakfast sandwich from Island Kitchen after a swim in our beautiful Nantucket Sound." said Roethke. Sign up today at swimacrossamerica.org/Nantucket and join the Nantucket Community in this aquatic celebration of community to Make Waves to Fight Cancer.