Medical research has shown that giving and volunteering improves the physical and mental health of the giver. On Nantucket, there is no better opportunity to improve your health status than to participate in the island charity event: Swim Across America.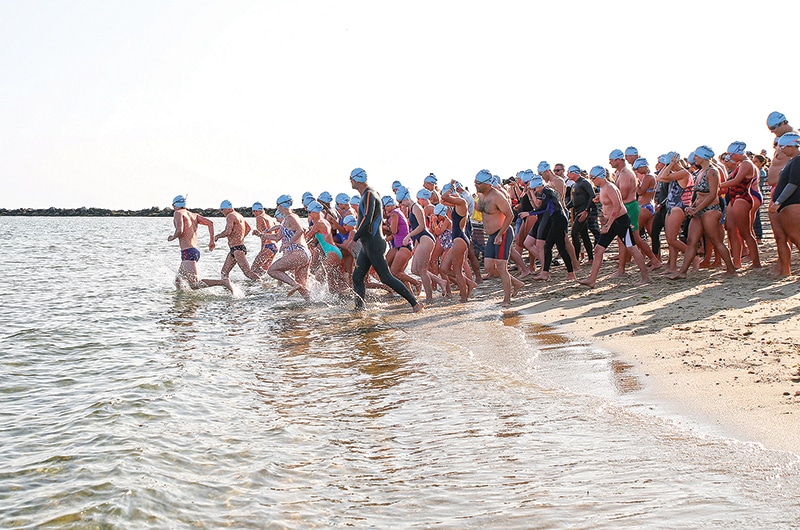 The Swim returns to Jetties Beach on Saturday, August 25 at 8 am for the seventh year and features various distances from a quarter mile, a half mile, a full mile and a kids splash. Last year, more than 250 swimmers raised $400,000 all to benefit cancer care on Nantucket. Jim Pignato, co-director of the Swim, said, "For those who need assistance in the swim there will volunteers, or angel swimmers, to guide them through the course." To kick off the week, there will also be a 4-mile swim on August 18 when twelve swimmers will traverse the North Shore from 40th Pole to Jetties Beach in a marathon swim.
Swim Across America donates significant funding for the oncology program on Nantucket. Nantucket Cottage Hospital now provides cancer care and infusion services under the direction of Massachusetts General Hospital (MGH) Cancer Services. The NCH center is led by medical director Jon Dubois, MD and program leader Ugne Aleknaite, NP. Thanks in part to The Swim, year round and summer residents can get chemotherapy and immunotherapy right here on the island. "Cancer diagnosis is devastating for the whole family and turns peoples' lives upside down. Any sign of normalcy can bring a sense of relief. Our patients can get chemotherapy and pick up their kids from the summer camp on the same day." said Aleknaite. Nantucket Cancer Care and Infusion Center takes care of 150 cancer patients in different stages of the disease. This year alone, NCH has provided nearly 500 clinic visits, 120 chemotherapy treatments, and almost 100 visits for supportive care. In recognition of the Greenbergs' and Swim Across America's contributions to the cancer services on the island, the infusion center at the new Nantucket Cottage Hospital will be named the "Swim Across America Infusion Center," a gift of Erwin and Stephanie Greenberg'.
The Swim also supports Palliative and Supportive Care of Nantucket (PASCON) cancer care services. Though a great percentage of its patients are coping with cancer, PASCON provides pain control and symptom management as well as counseling and supportive care for those being challenged by any life-threatening illness. Charlene Thurston has been the nurse practitioner and program director for the past thirty years and has noted tremendous improvements in comprehensive cancer care in Nantucket since the Swim began. "Thanks to the support of Swim Across America, there has been a dramatic increase in the level of oncology services that could be provided on the island. The collaboration between the oncology specialists and our palliative care program staff have ensured that patients on Nantucket receive a high level of comprehensive cancer care often found only in large medical centers. It's been a privilege to be part of this expansion of services," said Thurston.
Jill Roethke, co-director noted, "We encourage islanders and visitors to donate and sign up for the swim by accessing the on-line registration process at swimacrossamerica.org/nantucket. Joining the Swim will be good for your health and that of your fellow islanders." The Swim is a great way to close out the summer at Jetties Beach with friends and neighbors. Breakfast is provided for all swimmers and volunteers.