Sorry Alexander Hamilton, but the historical figures of Nantucket's vibrant story have taken over the stage in this summer's debut production of Nantucket! The MusACKal!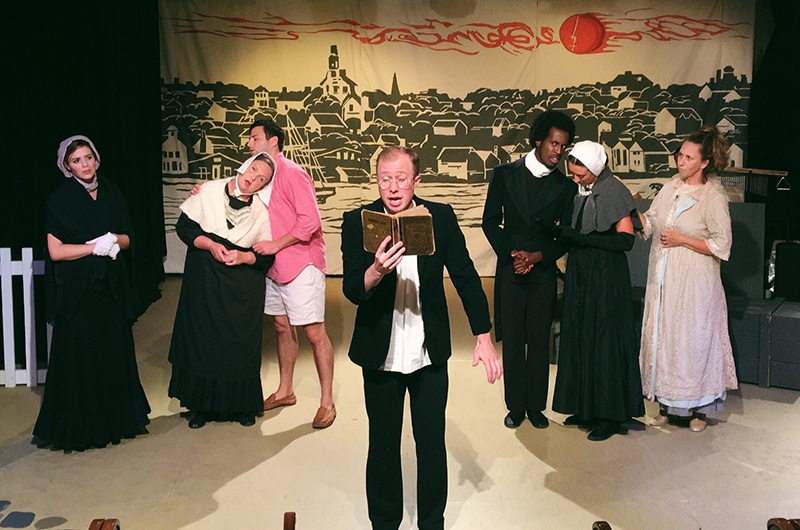 Playing a limited run this summer until August 19 (but returning next summer, with surprises and changes to keep it interesting for return guests), the raucous musical with an original, contemporary score provides both firsttime tourists and year-rounders with a comprehensive and comical telling of Nantucket's history in a tight 70-minutes, packed with a laugh every second (which is about 4200 laughs per show, so bring your inhaler, just in case.)
On stage only since July 19, the good word has clearly spread, as the theater has been selling out nightly. The best way to secure tickets is to buy them in advance at NantucketTheMusACKal.com, but the box office also opens on show days at 5:45p and is often able to accommodate day-of walkins. (Unclaimed tickets are released for resale at 6:25p.) The house opens at 6:00p, in advance of the 6:30p curtain. From Maria Mitchell to Madaket Millie, the distinct characters of Nantucket's past are brought to life by the sassy and salacious spirit of Nantucket: "Lady Grey" herself. She's on a mission to educate two aspiring writers who have been tasked with writing (you guessed it) a musical about the island… on a very tight deadline!
Oh, plus whaling. Did we mention whaling? There's definitely whaling in this musical, but there's just sooo much more!
"We wanted to give anyone visiting Nantucket—for a day or a lifetime— an unforgettable and fun way to brush up on the history of the island surrounding them," said Cecelia Joyce Johnson, whose Deep End Productions co-produces the show with Sally Horchow International Productions.
The cast and crew are composed of many real, living, non-historical Nantucketers themselves with a passion for the island and its story. On stage, cast members Will Burns, Laurel Devaney, Alex Kopko, and Susan McGinnis will be familiar faces to islanders, while newbies Torian Brackett, Gabi Van Horn, Stacey Lauren, and Matt Sav (Composer & Music Director) are rapidly creating a groupie fanbase, and proclaimed that they "never want to leave."
With can't-get-out-of your-head earworm songs like "It's Cool to be a Quaker," "Ladies Run the Nation of Nantucket," and "The Oldest/Newest House," the show spans the island's history from Native American lore to the progressive idealists of the mid-1800s, straight on up to the absurdly long line outside of "The Juice Bar" this very afternoon.
While the musical is comedic in nature, it also strives to provide the Nantucket community with an inspiring, memorable portrayal of the island's unique story, separate in many ways from America's "mainland" tale. "We're thrilled to see audiences having a blast at our show, but just as importantly, leaving the theater with a greater appreciation and respect for the island and its amazing history," added Sally Horchow, co-producer.
Nantucket! The MusACKal runs Thursdays, Fridays, Saturdays, and Sundays at 6:30p. Tickets are available now for performances through August 19. Tickets are $40 General Admission, $20 for kids (under 12), $30 for Seniors and Teens and are available at NantucketTheMusACKal.com