~ by Carl Oscar Olson ~
This Saturday, August 27, Swim Across America comes back to Nantucket for the fifth straight year. Starting at 8 am on Jetties Beach, more than three hundred swimmers and volunteers will splash into the Nantucket Sound to raise money to fight a disease affecting each an every one of us: cancer. This year, the fundraiser is on target to put the total dollar amount raised since the event's return to Nantucket in 2012 at over $1,000,000. All of the funds raised support cancer services on the island for residents and visitors.
Swim Across America came into existence in 1987. At that time it was an exclusive relay for Olympic caliber swimmers from Nantucket to Craigville Beach in Hyannis. Since then, the swim has expanded to 16 open water events taking place across the United States.
The 25th anniversary was celebrated in 2012, and in commemoration a very special swim took place once again from Nantucket to Hyannis. The timing couldn't have been better, because Nantucket Cottage Hospital was looking to add a fulltime oncologist to their staff. The fundraiser was a huge success: the hospital had the funding available to expand oncology on the island, and the event became an annual occurrence on Nantucket.
Since 2012, The Nantucket Cottage Hospital has expanded much of its oncology services thanks to contributions from the Swim. Much of the money is used to bring oncologists to Nantucket from Boston's Massachusetts General Hospital and also helps support a full-time oncology nurse. In addition, patients and their families receive supportive survivorship services free of charge through Palliative and Supportive Care of Nantucket, or PASCON. The ultimate goal of Swim Across America on Nantucket is to fully fund the island's oncology department.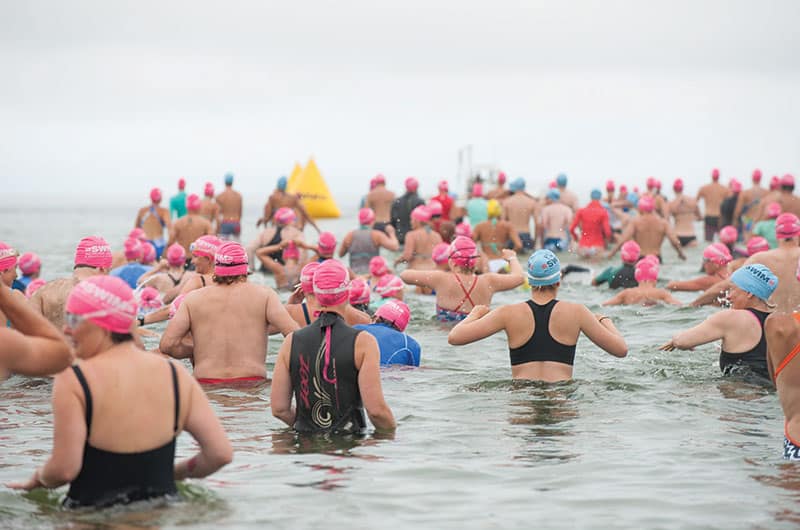 The success of the Swim has been growing every year since 2012. This year, the fundraising goal is an ambitious $375,000. The Swim is non-competitive and designed for participants of all ages and skill levels. For the children involved, the day's events begin with a fifty-yard Kid Splash. There are both half mile and 1-mile races for the rest, with a minimum fundraising target of $200 for each swimmer, and an special "Wavemaker" status for participants who raise $1,000.
New this year is a four-mile swim from Eel Point to Jetties on the Thursday before the Swim. An elite lineup of 12 swimmers will each raise $4,000 and work the waves for more than two hours to help defeat cancer. One of the four-mile swimmers will be summer resident Grant Wentworth. Last year in an historic swim, Wentworth swam more than 22 miles from Hyannis to Nantucket to raise over $150,000 for the fundraiser. At press time, slots for this marathon of a swim are still available.
Jill Roethke, co-event director of the Swim along with Jim Pignato, puts it best: "There is no better way to display the "can do" Nantucket spirit than this swim. We are blessed with great water, people, and spirit—you just can't find a better way to celebrate Nantucket than by joining in."
"We all have friends and neighbors that are battling cancer," says Jim. "This is your chance to do your part to help." He adds, "There is no better way to give something back to Nantucket then to take the plunge with us". For details on volunteering, participating, and donating, visit them at swimacrossamerica.org/Nantucket. Late entries are welcome to sign up from 6:45 am to 7:30 am the morning of the event, Saturday, August 27.