With the summer season coming to a close, one way to bring Nantucket home with you (where ever home happens to be) is to take some favorite Nantucket recipes with you. Over the years a number of cookbooks have been published by Nantucket chefs and restaurateurs, as well as by island organizations and churches. Many are out of print and are passed down through generations of island cooks, favorites dog-earred and margins littered with notes on substitutions and enhancements.
There are three Nantucket cookbooks still available for purchase here that we go back to time and time again for recipes and ideas: Harvesting Nantucket: The Taste of Bartlett's Ocean View Farm, Savor Nantucket, and A Kitchen Collection: Sconset Café.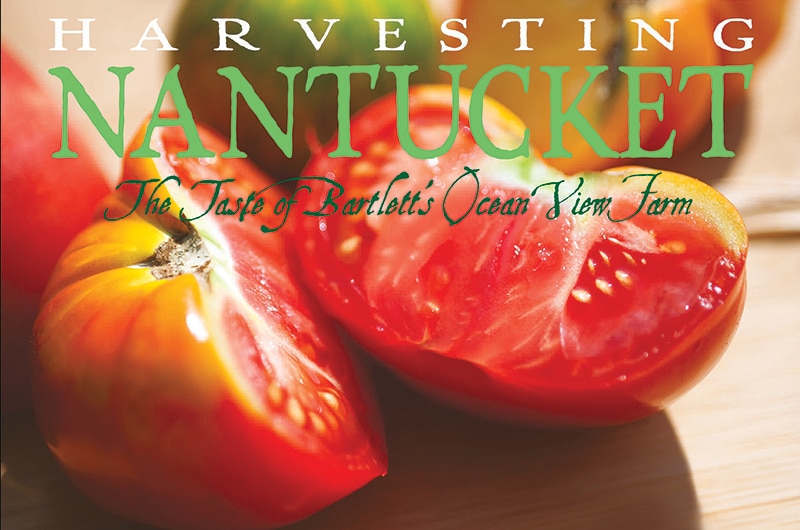 Harvesting Nantucket is a collection of recipes featuring the produce grown at one of America's oldest family farms. Farm staff describes their book as bringing "the farm to your table with colorful photos of prepared foods and recipes featuring the produce of Bartlett's Farm." Written by Barbara Gookin with food photography by Claudia Kronenberg, this cookbook includes the history of the farm and 75 recipes featuring fresh produce collected from local chefs and from the Bartlett's farm kitchen. The cookbook is available in hardcover at the farm and online at BartlettsFarm.com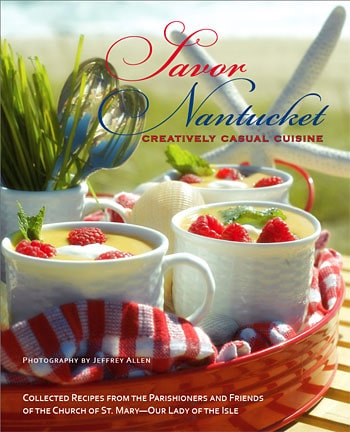 Savor Nantucket is a collection of recipes from the parishioners and friends of the Church of St. Mary—Our Lady of the Isle. All 196 recipes were tested and approved by the cookbook committee, so even those submitted by professional chefs are scaled for home cooks. This cookbook is illustrated with photography by Jeffrey Allen. According to church staff, there are just a handful of copies left, available at Mitchell's Book Corner, Bookworks, and other island shops.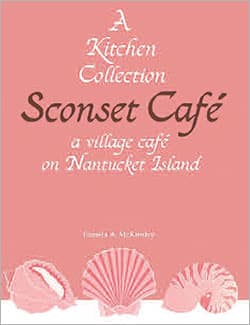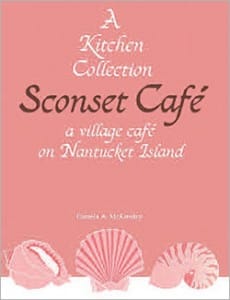 A Kitchen Collection: Sconset Café is a reprint of the first in a series published in the 1980s and 1990s by Pam McKinstry, chef and original owner of the Sconset Café. In response to many requests from her customers, Judi Hill recently collaborated with McKinstry to reprint the first in the series — the "pink cookbook" and the one that includes the recipe for McKinstry's famous Morning Glory Muffins — and is selling it in the G.S. Hill Gallery at 40 Straight Wharf.
Below is a selection of our staff's favorite recipes from all three of these cookbooks, recipes that, to us, bring Nantucket home.
PASTA WITH FRESH CORN, RICOTTA, ROAST GARLIC, & HERBS
from Harvesting Nantucket
1 large head of garlic, top trimmed off
6 tablespoons extra virgin olive oil, divided
4 ears of fresh corn with husks
6 tablespoons fresh lemon juice
4 teaspoons grated lemon peel
8 ounces angel hair pasta
2 cups loosely packed mixed greens
2 cups torn radicchio leaves
1 cup fresh ricotta cheese (7-8 ounces)
1/2 cup finely grated parmesan
1/2 cup fresh parsley, chopped
1/3 cup fresh basil leaves, sliced thin
1/4 cup fresh dill, chopped
Preheat oven to 400 degrees F. Place head of garlic on sheet of foil. Drizzle with 2 tbl. oil; wrap foil around garlic and crimp to seal tightly. Place garlic and corn on rimmed baking sheet. Bake until corn is tender and garlic is soft, about 30 minutes. Cool slightly.
Squeeze garlic out of the skins into large bowl; add any oil from foil. Add lemon juice, lemon peel, and 3 tablespoons oil; mash garlic, then whisk mixture. Shuck corn; cut kernels from cob and transfer to same bowl.
Add pasta, greens, radicchio, ricotta, grated parmesan, and herbs to bowl with garlic mixture; toss to coat. Season with salt and pepper. Garnish with shaved parmesan.
FRESH CORN & SEA SCALLOP JOHNNY CAKES WITH GREEN ONION SAUCE
from Harvesting Nantucket
For the sauce…
1/2 cup thinly sliced green onions
1/4 cup loosely packed fresh parsley leaves
2 tablespoons fresh lemon juice
1/2 cup Greek style yogurt
1 tbl. worcestershire sauce
1 tbl. whole grain mustard
1 tbl. prepared horseradish
for the Johnny Cakes…
1 cup yellow cornmeal
2 tbl. all-purpose flour
1 tbl. sugar 1 tsp. baking powder
1/2 tsp. baking soda
1/2 tsp. salt 1/4 tsp. ground red pepper
1-1/4 cup buttermilk
1 tbl. chopped fresh chives
1 large egg
1 cup fresh corn kernels (about 2 ears)
1 pound sea scallops, rinsed & patted dry micro-greens for garnish
Puree sauce ingredients in a food processor and refrigerate. In a large bowl; combine cornmeal, flour, sugar, powder, soda, salt, and red pepper. Add buttermilk, chives, and egg. Whisk until blended.
Add corn. Use a nonstick skillet with cooking spray on medium-high heat. Ladle batter into hot pan. Nestle a sea scallop into each johnny cake. Flip when edges begin to brown and cook an additional two minutes. Serve with warmed sauce and micro-greens.
POLENTA-CRUSTED SWORDFISH WITH A BLACK BEAN, AVOCADO, TOMATO, AND FRESH CORN SALSA
by Chef All Kovalencik, Company of the Cauldron from Savor Nantucket
3-1/2 pounds swordfish, cut 2-inches thick
1 cup polenta or yellow cornmeal
2 whole avocados, pitted and diced
1 small red onion, finely chopped
1 tsp ground cumin
1/2 tsp. ground coriander
1/2 tsp garlic powder
1/2 tsp onion powder
1 jalapeno pepper, finely diced
1/4 cup olive oil
5 whole key limes, zested and juiced
1 bunch cilantro, finely chopped
1 tbl rice wine vinegar
3 ears fresh corn, stripped from cob
1/2 cup black beans, cooked in rich chicken stock
2 whole tomatoes, seeded and chopped
1 tablespoon brown sugar
1 bunch scallions, chopped
Cut swordfish into six two-inch pieces. Combine 1/2 of the spices with all the polenta in mixing bowl with salt and pepper. Rub swordfish with a little olive oil and dredge in polenta mixture.
Mix the black beans, tomatoes, chopped avocados, red onion, cilantro, jalapeno, lime juice, and zests, half the olive oil, and the rest of the spices. Add salt, pepper, brown sugar, and rice wine vinegar to taste and set aside.
Pan sear swordfish at medium-high heat in olive oil for two minutes on each side. Place on rack in a hot oven at 400 degrees until just cooked through (5 to 10 minutes). Serve swordfish over mashed potatoes. Top with salsa and garnish with fried sage leaf.
GRILLED BLUEFISH WITH LEMON-GINGER MARINADE
by Chef Pamela A. McKinstry from A Kitchen Collection: Sconset Café
four 6 to 8 oz fresh bluefish fillets with skin
1/2 cup lemon juice
2 cloves garlic, minced
1 Tbl. fresh ginger root, peeled and grated
1 tsp. lemon zest, finely chopped
2 Tbl. vegetable oil
2 Tbl. olive oil
1/4 tsp. salt
1/4 tsp white pepper
Mix the marinade ingredients (all but the bluefish) together and pour over the bluefish fillets in a glass baking pan. Marinate the fish, turning occassionally, for 2-4 hours in the refrigerator.
Prepare your barbecue for medium-heat grilling with either wood or charcoal. The grill rack should be set at least 3 inches above the flame, otherwise lower the flame.
Remove the bluefish from the marinate and grill it, skin side down for 3 minutes. Turn the fillet carefully and grill 3 more minutes on the skinless side. Transfer the fish to a warm plate and discard the skin.
Heat the remaining marinade in a non-aluminum pan and pour it over the bluefish; serve immediately.