~ by Corinne Muffly, Educator ~
A series of articles dedicated to helping parents find places and activities on Nantucket to enjoy with their children.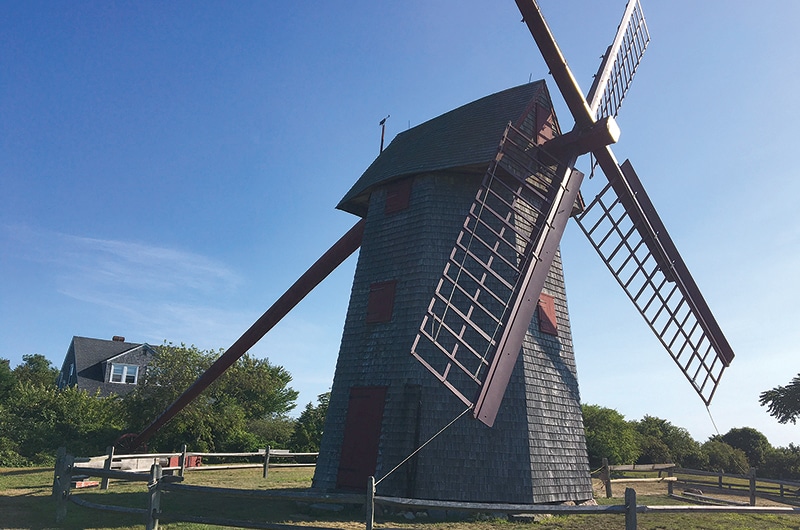 If you are looking for a leisurely yet informative excursion to really allow you to connect with the genuine history of Nantucket, I highly suggest the walking tours. This may come as a surprise to you, but Nantucket is more than white trimmed houses with grey shingles, beaches, and seafood. There is real meaningful history around every corner on this hot spot. After all, this used to be the whaling hub in the 19th century.
There are several different tours offered such as the historic mansions and windmill tour, mansions on the cliff and Brant Point, 'Sconset, and a few others as well. There are also popular ghost walks offered at night that visit the oldest house, burial grounds, and other haunted locations.
I recently went on an early morning tour led by a very knowledgeable tour guide, Bill. The description of the tour had the words non-stop exercise in the title, so I was unsure what to expect. Nonetheless, I showed up with sneakers and a water bottle ready to go. I'm glad I did because it is a walking tour after all. Each of the tours meets at the top of Main Street on the steps of the bank and there are no reservations required. The tour costs about $15- $20, depending on the type of tour and child rates are different. Cash only too. I did want to bring my son along, who required a stroller so I called the number listed and I'm glad I did. I had planned to go on a different tour, but the guide suggested I try the Historic Mansions and the 1746 Windmill tour because it was more accessible for strollers. The tours that stick around town are better for strollers.
This tour was about a two-mile walk that highlighted historic mansions and beautiful gardens, with historic commentary provided by Bill. We casually strolled up Fair Street and snuck down a quaint shell road lined with carriage houses connecting back to Main Street. Here we viewed the well-known "three bricks" belonging to the Starbuck brothers across from their cousin William Hadwen's house. Continuing on through the peaceful streets, I listened as Bill spoke of the past occupants of these historic mansions and their importance to the island. He spoke of the past value of many of the homes comparing now and then prices that would make your jaw drop. We arrived at the Mitchell home that stretched down almost the length of Candle House Lane. As we walked, the gardens tucked behind hedges and fences did not disappoint. Had I been allowed, I would have happily frolicked through all of them.
After venturing through infrequently traveled roads and paths we reached our destination. The windmill is pretty much the center of the island and did in fact have a wellneeded breeze blowing through.
There were originally four windmills on Nantucket and this one is the oldest functioning mill in the country. The mill is open weekdays from 11 am -4 pm. Fun fact: the windmill is where couples used to court. How romantic! Growing up on Nantucket, I learned a great deal about the history around me, but it was really nice getting a refresher and I learned a whole lot more, too! Things you almost take for granted walking by as you stroll through town now hold more meaning. I am thankful to call Nantucket my home.